How to Communicate Effectively to Modern Audiences (0.75 hour course)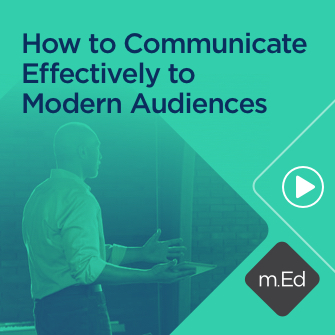 How to Communicate Effectively to Modern Audiences (0.75 hour course)
•
Runs on Windows, Mac and mobile.
Overview
As modern audiences change, how should our communication and preaching also change to faithfully communicate the Word of God? In How to Communicate Effectively to Modern Audiences, Grant Fishbook shares pastoral insights on connecting with an audience that is tired of canned stories and hungry for authenticity and personal transformation. Reflect with Pastor Fishbook on how to faithfully communicate the Word of God when preaching with methodologies taught in Bible college and seminary years ago don't engage congregations today, and learn his method for preparing to preach the Word of God weekly.
Learning Objectives
Upon successful completion you should be able to:
Understand key trends in modern audiences which impact their engagement with biblical preaching
Learn a homiletical methodology for preparing for weekly preaching
Course Outline
Trends in Modern Audiences
Trends in Modern Teaching
Other Considerations
My Personal Methodology
Product Details
Title: How to Communicate Effectively to Modern Audiences
Instructor: Grant Fishbook
Publisher: Lexham Press
Publication Date: 2017
Product Type: Logos Mobile Education
Resource Type: Courseware, including transcripts, audio, and video resources
Courses: 1
Video Hours: 0.75
About the Instructor
Grant Fishbook earned his master's in global urban leadership from Bakke Graduate University. Grant is the teaching pastor of Christ the King Church in Bellingham, WA. He has a passion for creatively communicating the Bible in a way that allows spiritually curious people to eavesdrop on deeply spiritual conversations. His love of leadership, the church, and broken people has kept him on the front lines for more than twenty years.
Getting the most out of Mobile Ed
Logos Mobile Education is a highly effective cross-platform learning environment that integrates world class teaching with the powerful study tools and theological libraries available in Logos Bible Software. Every course provides links to additional resources and suggested readings that supplement the lecture material at the end of every transcript segment.
This course comes with an Activities resource that functions as a type of "workbook" for the course. This resource includes learning activities such as: places for you to respond to reflection questions, exercises that will challenge and show you how deepen your understanding of this course by using specific Logos tools and resources, tutorial videos on different features of Logos Bible Software, and links to relevant Logos guides and tools. A link to open the Activities resource is conveniently placed at the end of every segment.
More details about these resources