Baker Studies on Preaching Collection (41 vols.)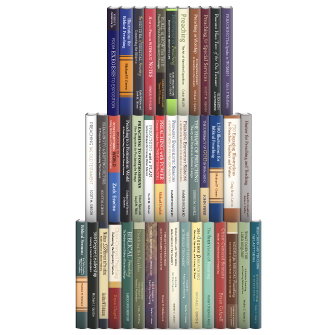 Baker Studies on Preaching Collection (41 vols.)
•
Runs on Windows, Mac and mobile.
Overview
The Baker Studies on Preaching Collection assembles 41 volumes filled with practical advice, strategies, and tips for preaching accurate, engaging, and impactful sermons. Learn how to effectively minister to both genders in your congregation; discover approaches to preaching the Old Testament; and gain insight into the use of narrative exposition. This collection also includes numerous sermon preparation tools, such as tips for preaching without notes, collections of illustrations for biblical preaching, guides for preparing a preaching plan, and ideas for special services. Beginners and experienced preachers alike will find this collection useful in making God's Word come alive.
In the Logos editions, these valuable volumes are made even more useful by the incredible features of Logos Bible Software. Scripture citations link directly to English translations, and important terms link to dictionaries, encyclopedias, and a wealth of other resources in your digital library. Powerful searches help you find exactly what you're looking for. Tablet and mobile apps let you take the discussion with you. With Logos Bible Software, the most efficient and comprehensive research tools are in one place, so you get the most out of your study.
Key Features
Guides to engaging twenty-first century congregations
Tools for transforming your sermon preparation and presentation
Insights from today's top preachers
Individual Titles

In From Exegesis to Exposition, Dr. Robert Chisholm shows seminarians and seminary-trained pastors how to "preach accurate, informative, and even exciting sermons that are solidly rooted in the Hebrew text and do not require an inordinate amount of time to prepare." He reminds pastors and seminarians that it is never too late to renew their commitment to the importance of using Hebrew in ministry, regain a knowledge of the essentials of the language, and learn how to use the Hebrew Bible effectively.
From Exegesis to Exposition is an excellent resource for intermediate students learning Hebrew because, according to Chisholm, too many seminary courses neglect teaching students how to make the transfer from parsing verbs to crafting relevant text-based sermons. This practical guide provides a comprehensive corrective, moving readers from the beginning stages of exegesis to the finished sermon. Chisholm's approach to the exegesis process is to ground the text in its historical-cultural context. It is important to know what the text meant to the original audience. He focuses on the mechanics of the Hebrew language, emphasizing syntax, verbs and pronouns, as well as the linguistic aspects of the language—narrative, poetry, anthropomorphisms, etc. What Chisholm has accomplished is to help bridge the gap between the study of Hebrew and applying it to preaching and teaching.
Teachers, students, and preachers interested in sound scholarship combined with practical effect when studying and teaching the Hebrew Scriptures will be glad to see this book.
—Dorian Coover-Cox, Bibliotheca Sacra
Robert Chisholm received his ThD at Dallas Theological Seminary and is professor and chair of the Department of Old Testament Studies at the seminary. He has served as a member of the faculty since 1981 and his expertise includes Old Testament exegesis, Old Testament narrative, Old Testament prophetic literature, and Hebrew language. In addition to several scholarly articles, he has written Interpreting the Minor Prophets and A Workbook for Intermediate Hebrew. He is senior Old Testament editor for the NET Bible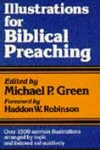 Illustrations for Biblical Preaching
Author: Michael P. Green
Publisher: Baker
Publication Date: 1989
Pages: 448
It's a dangerous mission to preach to a king. It's even more dangerous to preach to a king nursing a guilty conscience. It is most dangerous to preach to a king with a guilty conscience who has already murdered a man as a cover-up for his sin. When Nathan, a prophet, confronted David, his king, about adultery, he thought about the dynamics of the situation—and he told David a story. Actually, the story itself was the sermon. Like the sword in the umbrella, it had a sharp point. And David, with all his defenses up, could not avoid its penetration. When preachers stand up in the pulpit, they face audiences with their guard up. A few in the congregation wait eagerly for the sermon to begin. Most wait eagerly for the sermon to conclude. Like Nathan before them, the preachers have to smash through barricades erected by indifference, confusion, comfort, and guilt. Preachers must turn ears into eyes and free listeners to think with pictures in their heads. Appropriate illustrations do that. They do everything a sermon must do to communicate—explain, prove or apply a truth. Effective preachers stalk and store illustrations to tell the truth in fresh ways. The anecdotes, quotes, poems and observations in this book are the best on the market today.
Illustrations for Biblical Preaching is full of short yet profound stories, poems, and anecdotes on hundreds of topics ranging from Adoption to Zeal. The resource also includes illustrations of Biblical passages with large sections on both the Old and New Testaments.
Michael Green has spent his life working as a church leader, lecturer, writer, and an evangelist. He is currently corector of an emerging Anglican Church in North Carolina.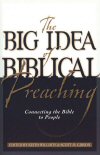 Haddon Robinson has influenced generations of students and preachers through his widely used classic text, Biblical Preaching, in which he shows preachers how to communicate the Bible's big ideas with precision. But does Robinson's "big-idea" approach to expository preaching still work in today's diverse cultures and fast-paced world?
The Big Idea of Biblical Preaching presents a strong defense of the ongoing relevance of this approach to expository preaching. An experienced and skilled group of contributors to this volume includes:
Keith Willhite teaches preaching serves as professor of pastoral ministries at Dallas Theological Seminary. He is a former pastor and the founder and president of the popular ministry-consulting firm, Strategenuity.
Scott M. Gibson is the Haddon W. Robinson Professor of Preaching and Ministry, director of the Center for Preaching at Gordon-Conwell Theological Seminary, and one of the founders of the Evangelical Homiletics Society. He is the author or coauthor of several books on preaching and lives in Massachusetts.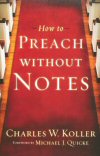 Effective speaking is key in reaching people with the Gospel and growing our churches. And delivering powerful messages without being tied to manuscripts, outlines, or notes is the key to effective speaking. A classic that has stood the test of time, How to Preach without Notes shows you how to do just that.
Among the topics discussed are the biblical conception of preaching, the advantages of preaching without notes, homiletical devices, the importance of structure, and the systematic filing of materials. For almost 50 years, pastors and seminary students have benefited from the principles found in this book. Now you can too!
Charles W. Koller taught ministerial students at Northern Seminary for more than 20 years, in addition to serving as its president. An influential preacher and a popular conference speaker, Koller earned his ThD from Southwestern Baptist Theological Seminary.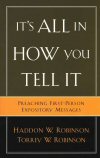 Have you become bored with a faithful, yet predictable, style of preaching the Bible? If so, you may be robbing your audience, and yourself, of the joyful surprises offered by fresh, innovative preaching.
With this clear and comprehensive guide, you can learn to make God's Word come alive through story and drama. Haddon and Torrey Robinson reveal ways to get inside the minds of biblical characters, shift the camera angles on familiar scenes of Scripture, and present a first-person expository message that will capture the attention of contemporary listeners—and energize your preaching as well.
Haddon Robinson has done it again—given us a book that combines his deep commitments to both expository and culturally sensitive preaching. This book significantly advances our understanding and practice of the first-person narrative sermon. Preachers who put this book into practice will not only broaden their preaching repertoire but will experience all over again the power of Robinson's expository preaching method.
—Duane K. Kelderman, associate professor of preaching, Calvin Theological Seminary
Haddon W. Robinson is Harold John Ockenga Distinguished Professor of Preaching at Gordon-Conwell Theological Seminary in South Hamilton, Massachusetts. His book, Biblical Preaching, has sold more than 200,000 copies and has been used extensively in Bible colleges and seminaries since 1980.
Torrey W. Robinson has pastored churches in Wisconsin and New Jersey and is currently the senior pastor of First Baptist Church in Tarrytown, New York.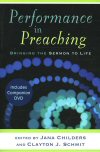 This volume takes a unique approach by examining the role of performance in preaching. The contributors bring a variety of theological and denominational perspectives to the subject, but they are united in their concern for the importance of the performance of the sermon—not in a shallow or theatrical sense but as an essential aspect of bringing God's Word to life for the congregation. To that end, these wide-ranging studies examine theological, artistic, and music aspects of a compelling performance.
Two of our finest teachers of preaching here collaborate on an invigorating book for preachers. Jesus doesn't mean for us to think about the Gospel, even to understand the Gospel. The Gospel of Jesus Christ is meant to be enacted, embodied, and performed. Childers and Schmit show us how we preachers can better enable our listeners to not only hear but also perform the Gospel. One of the best books on the craft of preaching that we've had in a long time.
—Will Willimon, bishop, North Alabama Conference of the United Methodist Church
Jana Childers is professor of homiletics and speech communication at San Francisco Theological Seminary. She is the author of Performing the Word: Preaching as Theatre.
Clayton J. Schmit is provost of the School of Theology at Lutheran Theological Southern Seminary. An ordained minister in the Evangelical Lutheran Church of America, he is the author of Too Deep for Words: A Theology of Liturgical Expression.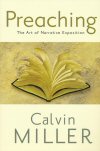 Preaching: The Art of Narrative Exposition
Author: Calvin Miller
Publisher: Baker
Publication Date: 2010
Pages: 288
The challenge of contemporary preaching is packaging a message that holds the attention and touches the hearts of those who listen—while offering biblical substance in the process. Many preachers long to bring exposition and narrative together in a style that leads to transcendent moments. Calvin Miller has preached and equipped preachers for decades. In Preaching, he offers a volume of helpful insights for pastors and homiletics students to deliver the heart of the Gospel via the Jesus-approved vessel of compelling storytelling.
[This book] can change your preaching for a lifetime.
—Haddon Robinson, Harold John Ockenga Professor of Preaching, Gordon-Conwell Theological Seminary
Calvin Miller was research professor and distinguished writer in residence at Beeson Divinity School in Birmingham, Alabama, and the author of more than 40 books. He was a regular contributor to many Christian magazines and publications.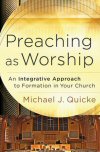 A pastor's role in shaping worship is vital. But what if preaching isn't just one part of worship? What if preaching is worship? In Preaching as Worship, veteran preacher Michael Quicke encourages those who preach to open their eyes afresh to glorious big-picture worship—grounded in Trinitarian theology and focused on the pivotal role of Scripture as it directs gathered worship for community formation—urging them to restore worship as an encounter with God. This unique and insightful book offers a clear call for preachers to rethink their worship responsibilities and the importance of preaching—for the sake of their church members and their God.
Michael Quicke's winsome and insightful exploration of preaching as an integral component and reflection of Trinitarian worship is a welcome contribution to thoughtful literature on both preaching and worship. For too long, one has been viewed as simply a prelude or culmination of the other. Quicke helps us understand how worship and preaching function organically and holistically to honor the persons of the Godhead who also comes to us as one.
—Bryan Chapell, chancellor, Covenant Theological Seminary
Michael J. Quicke is the C. W. Koller Professor of Preaching and Communication at Northern Seminary and preaches and lectures across the world. He is the author of 360-Degree Preaching and 360-Degree Leadership.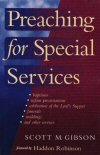 A pastor must be able to step with ease into a number of different speaking venues. In addition to a regular preaching schedule, you, as a pastor, face an endless parade of special occasions at which you are asked to speak. Some occasions are planned, others are unexpected, but for all occasions you must be ready to communicate the Word of God in a way that complements the liturgy and worship.
Preaching for Special Services gives you practical guidance on how to develop and deliver clear, listener-sensitive sermons for special occasions such as weddings, baptisms, and funerals. Each chapter examines the history and theology of preaching for a particular occasion and then centers on the development of the sermon for that event. Scott M. Gibson's approach to sermon construction is based on Haddon W. Robinson's central-idea preaching described in his Biblical Preaching.
Preaching for Special Services also offers an extensive list of resources for each special occasion and specific exercises to help you put the principles in this book into practice.
Scott M. Gibson is the Haddon W. Robinson Professor of Preaching and Ministry, director of the Center for Preaching at Gordon-Conwell Theological Seminary, and one of the founders of the Evangelical Homiletics Society. He is the author or coauthor of several books on preaching and lives in Massachusetts.