Ed. Móvil: AP371 Una respuesta bíblica a la homosexualidad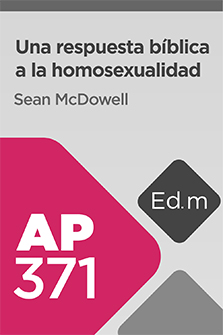 Ed. Móvil: AP371 Una respuesta bíblica a la homosexualidad
•
Runs on Windows, Mac and mobile.
Reseña
Equípate para responder con la verdad a la vez que con gracia al tópico de la homosexualidad y a aquellos que son parte de la comunidad LGBT. Sean McDowell examina algunas de las cuestiones preliminares, por ejemplo la importancia de la homosexualidad en el mensaje de la Biblia, si la homosexualidad es un pecado imperdonable, y por qué tanta gente ha adoptado una visión revisionista sobre la homosexualidad. Obtén una visión profunda y consejos prácticos al aplicar la evidencia bíblica a objeciones comunes sobre los pasajes que tratan este tema en Génesis, Romanos y 1 Corintios.
Resultados del curso
Al completar con éxito el curso, podrás:
Afrontar el problema de la homosexualidad de una manera bíblica y con un profundo sentido de compasión.
Bosquejo del curso
Unidad 1: Presentación de Una respuesta bíblica a la homosexualidad
El paisaje cambiante de la ética sexual: el Proyecto de Reforma
El paisaje cambiante de la ética sexual: experiencias personales
¿Por qué elegir este asunto?
¿Acaso no son todos los pecados iguales?
Por qué algunos adoptan la visión revisionista de la homosexualidad
Tácticas del movimiento revisionista
¿Es este un tema evangélico?
Unidad 2: Antecedentes para el examen de los textos sobre la homosexualidad
Supuestos del movimiento revisionista
¿Por qué la Biblia no habla más sobre la homosexualidad?
¿Por qué no abordó Jesús la homosexualidad?
Enmarcando el asunto: el diseño de Dios para el sexo
Unidad 3: Examen de los textos clave
Diez verdades de La llama de Yahvé
¿Sigue siendo aplicable el relato del Génesis?
Sodoma y Gomorra: una lectura tradicional
Sodoma y Gomorra: objeciones revisionistas
Pasajes de Levítico: toda actividad sexual entre varones está prohibida
Pasajes de Levítico: partes del Código de santidad son reemplazadas por el Nuevo Testamento
Pasajes de Levítico: prostitución cúltica
Romanos 1:26-27: pasiones deshonrosas y relaciones antinaturales
Romanos 1:26-27: impuro o pecaminoso
Romanos 1:26-27: pederastia, homosexualidad y lesbianismo
1 Corintios 6:9-11
Unidad 4: Respuestas a objeciones y preguntas habituales
La influencia de la experiencia sobre la interpretación
La orientación sexual es un concepto nuevo
El celibato es un don, no un mandamiento
Complementariedad de género
Mayor inclusividad del Nuevo Testamento
La Biblia no se dirige a las personas LGBT de hoy
El matrimonio es un reflejo del amor de Cristo por la Iglesia
¿Las personas nacen gay?
¿Se puede ser gay y cristiano?
¿Puede un cristiano asistir a una boda gay?
¿Qué pasa si una pareja gay viene a mi iglesia?
Recursos para proseguir el estudio
Las relaciones cristianas con las personas gay
Detalles de producto
Título: AP371 A Biblical Response to Homosexuality
Instructor: Sean McDowell
Editorial: Lexham Press y Editorial Tesoro Bíblico
Fecha de publicación: 2017
Tipo de producto: Educación Móvil Logos
Formato: Curso en video, audio y texto
Cursos: 1
Horas de video: 4
Acerca del instructor
El Dr. Sean McDowell es profesor asistente de apologética cristiana en la Universidad de Biola. También imparte clases bíblicas en un instituto, lo que le da una visión excepcional de la cultura imperante y que puede compartir con otros educadores, pastores y padres. En 2008 recibió el premio de Educador del año de la ciudad San Juan Capistrano, California. La Asociación Internacional de Escuelas Cristianas ha galardonado Estatus Ejemplar a su entrenamiento de apologética, y está catalogado entre los mejores 100 apologistas. McDowell se graduó summa cum laude del Seminario Teológico Talbot con una doble maestría en teología y filosofía, y consiguió su doctorado en apologética y estudios de cosmovisiones en el Southern Baptist Theological Seminary.
McDowell ha aparecido como invitado en programas de radio como Family Life Today, Point of View, Stand to Reason, Common Sense Atheism, y The Hugh Hewitt Show. Es el autor, coautor, o editor de unos 18 libros, y ha escrito varios libros conjuntamente con su padre, Josh McDowell, incluyendo Más que un carpintero.
Aprovechar Educación Móvil
Educación Móvil es una herramienta poderosa y eficaz del aprendizaje móvil que incorpora las herramientas del estudio que se encuentran en el software Bíblico Logos. Con todas las bibliotecas Logos, podrás ver las lecciones y interactuar con las transcripciones. Para la mejor experiencia de aprendizaje, te recomendamos la biblioteca Premier o superior.
Este curso incluye con un recurso de actividades que hace las funciones de "libro de trabajo" para el curso. Este recurso cuenta con actividades de aprendizaje como: lugares para que respondas a preguntas de reflexión, ejercicios que te retarán y mostrarán cómo ampliar tu entendimiento de este curso usando herramientas y recursos específicos de Logos, y más.
More details about these resources