Baker Academic Bible Interpretation Collection (13 vols.)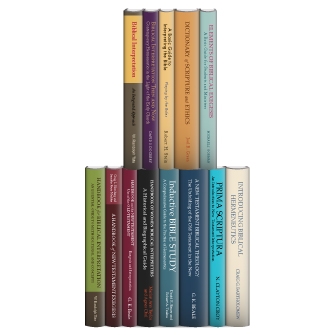 Baker Academic Bible Interpretation Collection (13 vols.)
•
Runs on Windows, Mac and mobile.
Overview
Expand and deepen your exegesis with the Baker Academic Bible Interpretation Collection. This 13-volume collection brings together hundreds of contributors to help you interpret the Bible. It introduces you to the methods, terms, and concepts used by exegetes—and provides you a guide to inductive Bible study.
Discover the impact female interpreters have had in the history of Christianity. Find out how the Old Testament and New Testament storylines relate to each other and weave together in Christ. Learn to interpret Old Testament citations in the New Testament. Explore seven key elements of biblical exegesis.
Whether you're a student, scholar, pastor, or professor, the Baker Academic Bible Interpretation Collection provokes you to read the Bible honestly—to let it surprise, challenge, and correct you as you apply the many steps of interpretation. By using the tools included in the Baker Academic Bible Interpretation Collection, you'll approach Bible study with more depth and understanding. Integrate the practical methods found in this collection with your preferred Bible, the Passage Guide, and the other Bible study tools in Logos Bible Software—then dive into Bible study with a vast knowledge base right before your eyes.
Key Features
Provides readers a guide to biblical interpretation, exegesis, and hermeneutics
Emphasizes the importance of biblical interpretation for understanding the historical and contemporary relevance of Scripture
Compiles contributions from hundreds of scholars
Individual Titles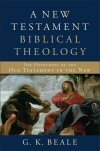 In this comprehensive exposition, a leading New Testament scholar explores the unfolding theological unity of the entire Bible from the vantage point of the New Testament. G. K. Beale, coeditor of the award-winning Commentary on the New Testament Use of the Old Testament, examines how the New Testament storyline relates to and develops the Old Testament storyline. Beale argues that every major concept of the New Testament is a development of a concept from the Old—and is to be understood as a facet of the inauguration of the latter-day new creation and kingdom. Offering extensive interaction between the two testaments, this volume helps readers see the unifying conceptual threads of the Old Testament and how those threads are woven together in Christ. This major work will be valued by students of the New Testament and pastors alike.
Certainly Beale has written his magnum opus, in which he deftly integrates the Scriptures via the new creation theme. The use of the Old Testament in the New Testament forms the backbone of this work so that readers grasp how the storyline of Scripture coheres. We stand in debt to the author for his detailed and profound unfolding of New Testament theology.
—Thomas R. Schreiner, James Buchanan Harrison Professor of New Testament Interpretation, The Southern Baptist Theological Seminary
It is tempting to confess that dogmaticians merely rummage around in the mines of biblical theologians. With this volume, the quarry has been enlarged and deepened, exposing the richest veins. I found it to be not exactly a page-turner, but rather on almost every page I discovered another spot at which to linger before moving on. Drawing on decades of exegetical research and teaching, A New Testament Biblical Theology exists at the intersection of biblical studies and theology. Carrying on the tradition of Geerhardus Vos, Professor Beale has raised the bar for biblical theology in our day. We will be digesting this volume for many years to come.
—Michael Horton, J. Gresham Machen Professor of Systematic Theology and Apologetics, Westminster Seminary California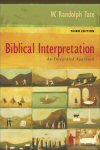 The third edition of Biblical Interpretation focuses on the three "worlds" of biblical interpretation—the world behind the text, the world of the text, and the world in front of the text. A fourth section helps readers combine the three worlds into an integrated hermeneutical strategy. Clear explanations of the various interpretive approaches are supported by helpful biblical examples. Key terms and study questions at the end of each chapter make this book ideal for classroom use. Succinct synopses highlight a host of distinct approaches to understanding the Bible. New synopses and an updated bibliography help readers keep pace with the most recent developments in biblical interpretation.
Tate offers an informed and balanced study of variety in biblical interpretation. His command of primary and secondary sources and his clarity of presentation make this book a vade mecum for students and teachers.
—Phyllis Trible, university professor of biblical studies, Wake Forest University
W. Randolph Tate is a professor of humanities at Evangel University in Springfield, Missouri, where he has taught for more than 25 years. He is the author of several books, including Handbook for Biblical Interpretation: An Essential Guide to Methods, Terms, and Concepts, 2nd ed. and Interpreting the Bible: A Handbook of Terms and Methods.

This one-stop reference book on the vital relationship between Scripture and ethics offers helpful orientation and perspective for students, pastors, and scholars. Written to respond to biblical scholars and ethicists' movement to recover the Bible for moral formation, it is the best reference work available on the intersection of these two fields. The volume shows how Christian Scripture and Christian ethics are necessarily intertwined and offers up-to-date treatment of five hundred biblical, traditional, and contemporary topics, including tithing, euthanasia, the Trinity, population policy and control, healthcare systems in Scripture, the seven deadly sins, idolatry, the image of God, terrorism, the Sermon on the Mount, vegetarianism, and the Dead Sea Scrolls. The stellar ecumenical list of contributors consists of more than two hundred leading scholars from the fields of biblical studies and ethics.
Wide-ranging, thorough, and cautious, the Dictionary of Scripture and Ethics will be a helpful resource for both students and scholars. With its mix of different kinds of articles and its attention throughout to biblical materials, the dictionary meets a significant need and provides something for almost any reader.
—Gilbert Meilaender, Duesenberg Professor in Christian Ethics, Valparaiso University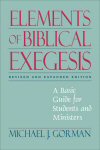 In this revised and expanded edition Michael J. Gorman presents a straightforward approach to the complex task of biblical exegesis. Designed for students, teachers, and ministers, this hands-on guide breaks the task down into seven distinct elements. For each of these, Gorman supplies a clear explanation, practical hints, and suggested exercises to help the reader develop exegetical proficiency. The new edition addresses more fully the meaning of theological interpretation and provides updated print and internet resources for those who want to pursue further study in any aspect of exegesis. Appendixes offer three sample exegesis papers and practical guidelines for writing an exegetical resarch paper.
'Exegesis' is not only a strange word, but it can also be a daunting assignment for the newcomer to formal biblical studies. Equally, teaching exegesis can challenge even the seasoned instructor. For both student and teacher, Michael Gorman is a dependable guide and patient companion along the way. My only question is: Where was Elements of Biblical Exegesis when I was a student?
—Joel B. Green, professor of New Testament interpretation, Fuller Theological Seminary
Michael J. Gorman is a distinguished research professor of Sacred Scripture at St. Mary's Seminary and University in Baltimore. He formerly served as dean of the Ecumenical Institute of Theology at St. Mary's.

Handbook for Biblical Interpretation: An Essential Guide to Methods, Terms, and Concepts
Author: W. Randolph Tate
Edition: 2nd
Publisher: Baker Academic
Publication Date: 2012
Pages: 544
This handbook provides a comprehensive guide to the methods, terms, and concepts used by biblical interpreters. Offering students and nonspecialists an accessible explanation of the complex vocabulary that accompanies serious biblical studies. Articles, arranged alphabetically, explain terminology associated with reading the Bible as literature, clarify the various methods Bible scholars use to study biblical texts, and illuminate how different interpretive approaches can contribute to our understanding. Article references and topical bibliographies point readers to resources for further study. This handbook is now updated and revised to be more useful for students. It is a suitable compliment to any standard hermeneutics textbook.
Randolph Tate's Handbook for Biblical Interpretation is an indispensable reference for any student new to academic biblical studies. I have required the previous edition as a textbook for my biblical hermeneutics classes since its publication. Tate provides just the right amount of information for hundreds of terms that are the working vocabulary of biblical scholarship. The brief bibliographies point to the next level of depth for students ready to investigate further. For those who have been out of seminary for several years, Tate provides longer articles to introduce recent literary and agenda criticisms. No seminarian, seminary graduate, or graduate student of Bible should be without this work.
—Roger L. Hahn, Willard H. Taylor Professor of Biblical Theology, Nazarene Theological Seminary
W. Randolph Tate is a professor of humanities at Evangel University in Springfield, Missouri, where he has taught for more than 25 years. He is the author of several books, including Handbook for Biblical Interpretation: An Essential Guide to Methods, Terms, and Concepts, 2nd ed. and Interpreting the Bible: A Handbook of Terms and Methods.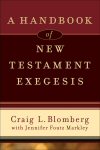 This accessible handbook provides a one-stop guide to the New Testament exegetical method. Seasoned New Testament scholar Craig Blomberg and his former research assistant Jennifer Foutz Markley offer both a broad overview of the exegetical process and a step-by-step approach to studying the New Testament in depth, helping readers understand the text and discuss it responsibly. The book is full of examples—interesting or controversial New Testament texts in the interpretation of which the methods under discussion truly make a difference. Professors and students in New Testament, Greek, hermeneutics, and exegesis courses as well as those involved in ministry will value this work's sound guidance, balanced approach, and manageable size.
Blomberg and Foutz Markley have written a wonderfully clear and accessible handbook for New Testament exegesis. The book covers the various steps of the exegetical process and gives sane and sage advice throughout. What makes the book especially illuminating and interesting are the many examples from the New Testament that illustrate the principles discussed. Professors and students will be grateful for a work that is exegetically rigorous, theologically informed, and practically useful.
—Thomas R. Schreiner, James Buchanan Harrison Professor of New Testament Interpretation, Southern Baptist Theological Seminary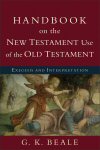 Handbook on the New Testament Use of the Old Testament: Exegesis and Interpretation
Author: G. K. Beale
Publisher: Baker Academic
Publication Date: 2012
Pages: 208
This concise guide by a leading New Testament scholar helps readers understand how to better study the multitude of Old Testament references in the New Testament. G. K. Beale, coeditor of the bestselling Commentary on the New Testament Use of the Old Testament, focuses on the "how to" of interpreting the New Testament use of the Old Testament, providing students and pastors with many of the insights and categories necessary for them to do their own exegesis. Brief enough to be accessible yet thorough enough to be useful, this handbook will be a trusted guide for all students of the Bible.
This handbook provides readers with a wonderful overview of key issues in and tools for the study of the use of the Old Testament in the New. It is written at an accessible level without sacrificing depth. I expect it to become a standard textbook for courses on the subject (as it will be for mine) and the first book to which newcomers will be directed to help them navigate through these sometimes complex waters.
—Roy E. Ciampa, professor of New Testament, Gordon-Conwell Theological Seminary
Handbook of Women Biblical Interpreters: A Historical and Biographical Guide
Authors: Marion Ann Taylor and Agnes Choi
Publisher: Baker Academic
Publication Date: 2012
Pages: 592
The history of female interpreters of the Bible is a neglected area of study. Marion Taylor presents a one-volume reference tool that introduces readers to a wide array of female Bible interpreters from the entire history of Christianity, from the early church to the twenty-first century. Her research has implications for understanding biblical interpretation—especially the history of interpretation—and the contemporary study of women and the Bible.
Contributions by over 125 top scholars introduce foremothers of the faith who address interpretive issues continuing relevance in faith communities today, such as women's roles in the church and synagogue and the idea of religious feminism. Women's interpretations also raise awareness about differences in the ways women and men may read the Scriptures in light of their differing life experiences. This text will prove useful to students, scholars, and pastors, who will be inspired, provoked, and challenged by the women introduced in the handbook. It provides a foundation for further detailed research and analysis.
This handbook is a gold mine, a must for all who care about women and religion or the history of the reception of the biblical texts. Page after page, article after article, I found myself riveted by what I was learning.
—Dale C. Allison Jr., Errett M. Grable Professor of New Testament and Early Christianity, Pittsburgh Theological Seminary
Marion Ann Taylor is a professor of Old Testament at Wycliffe College, University of Toronto, where she has taught for more than 25 years. She has devoted her scholarly research to the history of the interpretation of the Bible and has recently focused on women interpreters of the Bible in the nineteenth century. She is coeditor of Recovering Nineteenth-Century Women Interpreters of the Bible.
Agnes Choi is an assistant professor of New Testament at Pacific Lutheran University in Tacoma, WA.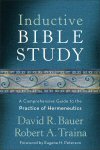 Robert Traina's classic Methodical Bible Study transformed the way many people studied the Bible in the latter half of the twentieth century, becoming recognized as the most authoritative presentation of inductive Bible study available. This new work introduces the practice of inductive Bible study to a new generation of students, pastors, and church leaders. The authors, two seasoned educators with over 60 combined years of experience in the classroom, offer guidance on adopting an inductive posture and provide step-by-step instructions for inductive Bible study. They engage in conversation with current hermeneutical issues, trends, schools, and figures as they set forth well-grounded principles and processes for biblical interpretation and appropriation.
The book offers a holistic and integrated approach to the study of the Bible, showing how readers can bring together the various facets and methods of biblical study to arrive at original, penetrating, well-grounded interpretation and contemporary appropriation. The process presented incorporates various methods of biblical study to help readers hear the message of the Bible on its own terms. Inductive Bible Study includes a sustained example of the entire process, based on 2 Timothy 3:16–17, as well as many examples of specific exegetical aspects and tasks from throughout the biblical canon. It will benefit professors and students in courses on Bible study methods, interpretation, and hermeneutics as well as pastors and church leaders.
I have personally used Bauer and Traina's method of inductive Bible study for more than 25 years and can testify to its effectiveness for understanding Scripture in ways that are both academically responsible and pastorally relevant. The approach allows Scripture to reveal itself, to speak on its own terms in ways that overcome the limitations and presuppositions of its readers. It allows the Bible to surprise us, challenge us, comfort us, or correct us in the very fashion that the original authors and the God who inspired them would want. This volume presents that time-honored approach for a new generation—and it is a remarkable achievement! Students will appreciate a text that is so immediately accessible and, eventually, will come to treasure this volume as a handbook to be consulted repeatedly throughout their professional careers.
—Mark Allan Powell, professor of New Testament, Trinity Lutheran Seminary
David R. Bauer is the Ralph Waldo Beeson Professor of Inductive Biblical Studies and the dean of the School of Biblical Interpretation and Proclamation at Asbury Theological Seminary. He is the author of several books, including An Annotated Guide to Biblical Resources for Ministry.
Robert A. Traina (1921–2010) was a professor of English Bible at The Biblical Seminary in New York and at Asbury Theological Seminary for over 40 years. He received his PhD from Drew University and authored the influential classic Methodical Bible Study.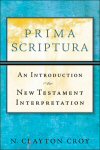 This engaging introduction to New Testament exegesis will appeal to seminarians and undergraduates across the academic spectrum. Clayton Croy, the author of a successful Greek textbook and an expert on Bible study pedagogy, provides an accessible, holistic overview of the entire interpretive process. He argues that while Scripture occupies a place of primary importance in faith and life, it does not do so in a vacuum. It operates in conjunction with two thousand years of Christian tradition, Spirit-guided human reason, and experience. Scripture's authority is therefore primary but not exclusive. Croy begins with the preparation of the interpreter, proceeds to the analysis of the text, and concludes with discussion of the message of Scripture in the context of modern faith communities. He combines a step-by-step plan for historical exegesis with substantive discussion of broader hermeneutical issues.
Prima Scriptura interacts with recent scholarship and maintains both academic rigor and an engaging style, incorporating anecdotes, humor, scriptural illustrations, and examples of the practical payoff of disciplined interpretation. Each chapter includes discussion questions and suggestions for further reading. Professors and students working in exegesis and hermeneutics will value this work.
Clayton Croy's combination of Christian theology, hermeneutical theory, and exegetical practice is ecumenical, fluent, and comprehensive, which allows for a versatility uncommon in introductory texts on this topic. Croy grounds his treatment of exegetical practices on the theological nature of Scripture and on the sort of faithful interpreter who can best render a sacred text for today's world. Each section concludes with excellent annotated bibliographies of resources and teacher-friendly exercises that will make this book useful for the classroom.
—Robert Walter Wall, Paul T. Walls Professor of Scripture and Wesleyan Studies, Seattle Pacific University
N. Clayton Croy is an associate professor of New Testament at Trinity Lutheran Seminary in Columbus, Ohio. His previous books include a commentary on 3 Maccabees, The Mutilation of Mark's Gospel, and A Primer of Biblical Greek. He also contributed to the Dictionary of New Testament Backgrounds.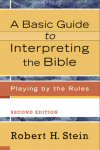 Learn how to identify various biblical genres, understand the meaning of biblical texts, and apply that meaning to contemporary life. Robert Stein provides lessons on multiple biblical genres, including historical narratives, legal codes, poetry, wisdom literature, prophecy, idioms, parables, hyperbole, and letters. Revised to reflect Stein's current thinking and changes to the discipline over the past decade, this new edition of a classic text is an effective teaching tool for a host of biblical study settings.
This is an ideal book both for university and seminary courses and for laypersons who desire a guide to understanding the Scriptures.
—Thomas R. Schreiner, James Buchanan Harrison Professor of Biblical Interpretation, Southern Baptist Theological Seminary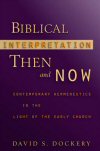 Biblical Interpretation Then and Now: Contemporary Hermeneutics in the Light of the Early Church
Author: David S. Dockery
Publisher: Baker
Publication Date: 2000
Pages: 248
Biblical Interpretation Then and Now examines the use of the Bible in the early church and relates apostolic and patristic interpretation to contemporary trends in hermeneutics. David Dockery traces the developments in early Christian interpretation, noting both continuities and discontinuities. His study begins with Jesus, and observes the developments in interpretation to the time of the historic Council of Chalcedon, noting the philosophy, theology, and traditions which influenced each period.
Provides readers with a generally able and well documented survey of patristic biblical interpretation and a significant discussion of the potential importance of earlier patterns of interpretation to contemporary hermeneutical discussion.
—Richard A. Muller, Calvin Theological Journal
Introducing Biblical Hermeneutics: A Comprehensive Framework for Hearing God in Scripture
In Introducing Biblical Hermeneutics, renowned scholar Craig Bartholomew integrates the latest research in theology, philosophy, and biblical studies. This substantive hermeneutics textbook is robustly theological in its approach, takes philosophical hermeneutics seriously, focuses on the process of interpreting Scripture, and argues that biblical interpretation should be centered in the service of the church.
Bartholomew has provided an exhaustive history of interpretation and philosophical hermeneutics in the key of narrative theology, with forays into trinitarian exegesis and lectio divina. The result is a smorgasbord of evangelical learning in the service of hearing God's word in our day. A lifetime of wide reading and reflection has gone into this project.
—Christopher Seitz, senior research professor of biblical interpretation, Wycliffe College, University of Toronto