The Apostles' Creed: A Guide to the Ancient Catechism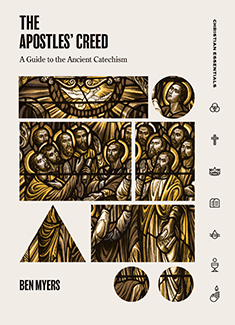 The Apostles' Creed: A Guide to the Ancient Catechism
Runs on Windows, Mac and mobile.
Do You Believe?
Today we're flooded with opinions and ideas. And they all might be interesting, but are they true? Would you die for them?
Ben Myers re-introduces the Apostles' Creed. He helps us to see how difficult and counter-cultural the Creed really is. It doesn't give us sweet, empty words. It's a faith that demands we die so that we might live.
In the early church many converts died for their faith. So they needed to have a good idea what they might die for! Early church pastors and theologians used the Apostles' Creed as the essential guide to the basics of the Christian life.
The Apostles' Creed has united Christians from different times, different places, and different traditions. The truths proclaimed in the Creed are eternal. Will you trust them?
Christian Essentials
The Christian Essentials series passes down tradition that matters. The ancient church was founded on basic biblical teachings and practices like the Ten Commandments, baptism, the Apostles' Creed, the Lord's Supper, the Lord's Prayer, and corporate worship. These basics of the Christian life have sustained and nurtured every generation of the faithful—from the apostles to today. The books in the Christian Essentials series open up the meaning of the foundations of our faith.
Contents
The Ancient Catechism
I
Believe
In God the Father
Almighty

Maker of heaven and earth

And in Jesus Christ, God's only Son, our Lord

Who was conceived by the Holy Spirit
Born of the Virgin Mary
Suffered
Under Pontius Pilate
Was crucified
Died, and was buried
He descended into hell; on the third day he rose again from the dead
He ascended into heaven and is seated at the right hand of the Father
And he will come to judge the living and the dead

I believe in the Holy Spirit

The holy catholic church
The communion of saints
The forgiveness of sins
The resurrection of the body
And the life everlasting

Amen
Product Details
Title: The Apostles' Creed: A Guide to the Ancient Catechism
Author: Ben Myers
Series: Christian Essentials
Publisher: Lexham Press
Publication Date: 2018
Pages: 112
Format: Logos Digital, Hardcover
Trim Size: 5x7
ISBN: 9781683590880
About Ben Myers
Ben Myers is director of the Millis Institute at Christian Heritage College and a research fellow of the Centre for Public and Contextual Theology at Charles Sturt University in Australia. He is the author of Salvation in My Pocket: Fragments of Faith and Theology and Christ the Stranger: The Theology of Rowan Williams.
Sample Pages from The Apostles' Creed