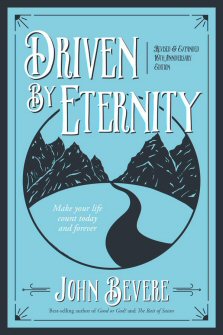 Runs on Windows, Mac and mobile.
Your Custom Discount
Reg. Price $11.99
Sale Price $8.99
Your Price $8.99
You Save $3.00 25%
Your Price
What's Pre-Pub?
$8.99
Reg.: $11.99
Print: $16.99
Overview
One day you will stand before God and give an account of your life. The most important question you can ask yourself now is, will you be ready?
Most Christians know their response to the cross determines where they will spend eternity. But did you know that how you'll spend eternity is determined by what you do in this life?
God wants you to discover your calling—He's not trying to keep you in the dark. In fact, He longs for you to find the meaning and purpose that comes with knowing why you've been placed on this earth.
In Driven by Eternity, best-selling author John Bevere uses an eye-opening allegory and extensive Scripture to unveil how our daily choices shape our eternal existence.
Life beyond the final breath is much more than a destination. Don't wait until it's too late. Discover your God-given destiny and make your life count both today and forever.
In the Logos edition, this volume is enhanced by amazing functionality. Important terms link to dictionaries, encyclopedias, and a wealth of other resources in your digital library. Perform powerful searches to find exactly what you're looking for. Take the discussion with you using tablet and mobile apps. With Logos Bible Software, the most efficient and comprehensive research tools are in one place, so you get the most out of your study.
Key Features
Encourages believers to live with eternity in view
Includes discussion questions for group study
Examines scriptures dealing with the judgment seat of Christ and eternal rewards
Contents
About This Book
Preface
Introduction
Chapter 1: The Eternal
Chapter 2: The Kingdom of Affabel: Life in Endel
Chapter 3: The Kingdom of Affabel: The Day of Judgment I
Chapter 4: Eternal Home of the Dead
Chapter 5: The Judgment of Deceived
Chapter 6: The Great Falling Away
Chapter 7: The Foundation
Chapter 8: The Kingdom of Affabel: The Day of Judgment II
Chapter 9: Heaven
Chapter 10: The Judgment Seat of Christ
Chapter 11: God's Custom House
Chapter 12: Called by God
Chapter 13: Multiplication
Chapter 14: Personal Influence
Appendix: How to Receive Salvation
Notes
Praise for the Print Edition
It's so easy to get caught up in the stresses of our day-to-day and miss living for what matters most. John Bevere's powerful book Driven by Eternity will motivate, inspire, and equip you to live your life today in ways that will impact eternity.
— Craig Groeschel, Pastor of Life.Church and author of #Struggles: Following Jesus in a Self-Centered World
Driven by Eternity is the answer to your exploration for a life of purpose. This vital message will position you to think beyond your day-to-day. This is a must-read!
—John C. Maxwell, best-selling author and speaker
In Driven by Eternity, John uses Scripture to explain how critical it is for us to have a mindset focused on eternity. I believe his teaching will help believers in Christ gain greater wisdom and understanding about how they can live this way today.
—Joyce Meyer, best-selling author and Bible teacher
In Driven by Eternity, John Bevere demystifies eternity and creates a compelling case for how our decisions today will reverberate beyond our final breath. You can't afford to miss this.
—Mark Batterson, New York Times best-selling author of The Circle Maker and Lead Pastor of National Community Church
In Driven by Eternity, John Bevere challenges readers to always be motivated by the eternal. John is a dear friend and I'm honored to recommend this book.
—Jentezen Franklin, senior pastor of Free Chapel, Gainesville, GA,and New York Times best-selling author
Driven by Eternity will transform your perspective of time and how you use it. John brilliantly unpacks biblical truths that will empower you to live each day with a purpose that transcends your temporal reality.
—Bishop T.D. Jakes, New York Times best-selling author and CEO of TDJ Enterprises
About John Bevere
John Bevere is an evangelist, Bible teacher and best-selling author. In 1990, he and his wife, Lisa Bevere, founded Messenger International to communicate the gospel with power to those who believe and those who don't. Their vision is to impart messages that bring freedom and empowerment to the local church.
Sample Pages from the Print Edition