Biblical Greek: Foundational Certificate Program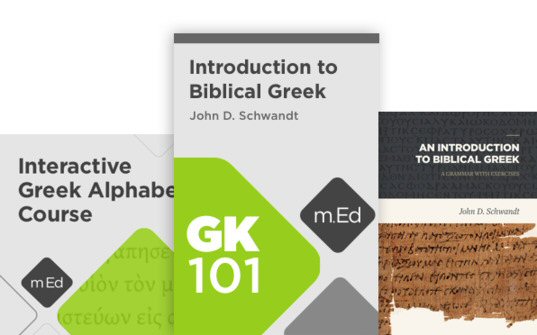 Biblical Greek: Foundational Certificate Program
•
Runs on Windows, Mac and mobile.
Overview
This bundle of Greek resources includes everything you need to learn how to read, translate, and understand the language of the New Testament. The Interactive Greek Alphabet Courses will introduce you to the Greek alphabet and teach you how to pronounce Greek words with an option to use one of two different pronunciation systems: Koine (GK091) and Erasmian (GK092). Introduction to Biblical Greek (GK101), which uses the Koine pronunciation, walks you through the basics of Greek grammar and syntax. You'll learn vocabulary and the various part of speech as you learn how to translate the New Testament. The courses are supplemented with An Introduction to Biblical Greek, an introductory Greek grammar with exercises.
This Biblical Greek Foundational Certificate Program qualifies you to earn a Logos Mobile Education Certificate of Completion. After working through GK101 simply submit your own translation of the first 18 verses of the Gospel of John to programsofstudy@faithlife.com to earn your certificate.
How to Apply for a Mobile Ed Certificate of Completion
Complete all Mobile Ed courses in this certificate program. This involves viewing all videos and taking all quizzes.
Write a 750-word response on any topic covered for each course in the certificate program. Post your response to the appropriate Faithlife group in the comments section. Search course code here to find group.
Email certificate@faithlife.com once you have completed all videos and quizzes and have posted responses in the appropriate Faithlife group for each Mobile Ed course in the certificate program. Please include your full name, title of completed certificate program, and links for each Faithlife group post in your email.
Our certificate program team will review the application and email the Certificate of Completion once you have completed all requirements. Please allow 7–10 business days for review.
For serious theological study you need to be able to recognize the original words of the New Testament since they regularly appear in commentaries and lexicons. This course will make you feel at ease when you encounter such references by teaching you the Greek alphabet and showing you how to pronounce whole words. To help you master the Greek alphabet, each lesson has an interactive activity section with various experiential exercises, such as game-type drills, an alphabet song, and quizzes. There are also reference sections with additional information and materials such as printable charts. This course has two versions that teach different pronunciation systems: Koine (GK091) and Erasmian (GK092). Both versions are bundled together so you can compare them and decide which you want to learn. Whether you are just curious about the alphabet or are planning to study biblical Greek, this course provides a fantastic foundation for recognizing Greek letters and words so you can work with all of the words the Lord has preserved for us in the New Testament.
Learning Objectives
Upon successful completion you should be able to:
Recite the Greek alphabet
Distinguish Greek vowels and the various types of consonants
Understand how diacritical marks affect pronunciation
Pronounce Greek words
Read Greek passages aloud
Begin learning Greek vocabulary words
Reference various Greek pronunciation systems
Contents:
Greek Alphabet and Pronunciation
Course Orientation
The Greek Alphabet
Greek Alphabet Song
Vowels
Consonant Stops
Double Consonants, Consonant Blends, and Liquids
Diacritical Marks
Pronouncing Words
Reading Greek
This course will introduce you to the vocabulary, grammar, and syntax of the Greek New Testament. First, you will learn the sounds and symbols of the Greek alphabet. Then you will be guided through all the parts of speech, as the course surveys the conjugations and declensions and demonstrates how all the parts work together in phrases, clauses, and sentences. Frequent vocabulary lists, grammar exercises, and practice readings from the Greek New Testament are included to help you develop your knowledge and skills.
Learning Objectives
Upon successful completion you should be able to:
Translate basic Greek vocabulary
Translate verbs appropriately in context, accurately reflecting their tense, voice, and mood
Translate nouns, adjectives, and participles appropriately in context, accurately reflecting their gender, number, and case
Recognize and translate definite, indefinite, demonstrative, interrogative, and reflexive pronouns
Recognize and translate prepositions appropriately in context
Understand how word order influences emphasis
Use Greek lexical and grammatical tools for in-depth study of the Greek New Testament
Contents:
Introduction
Introducing the Speaker and the Course
Unit 1: Alphabet and Pronunciation
Pronunciation
English Square of Stops
Greek Square of Stops
Sibilants
Nasals and Liquids
Vowels, Semivowels, and Digraphs
The Alphabet
Punctuation and Accent Marks
Breathing Marks and IōtaSubscript
Elision and Syllabification
Practice
Unit 2: Present Active and Contract Verbs
Present Active Indicatives
Vocabulary 1
Exercises: Present Active Indicatives
Contract Verbs Ending in Vowels and Verb Accentuation
Vocabulary 2
Exercises: Contract Verbs
Unit 3: Second Declension Nouns, Prepositions, and the Article
Second Declension Nouns
Vocabulary 3
Exercises: Nominatives and Accusatives
Genitives and Datives: Part 1
Genitives and Datives: Part 2
Exercises: Genitives and Datives
Prepositions: Part 1
Prepositions: Part 2
Definite Article: Use and Meaning
Definite Article: Morphology
Exercises: Masculine Articles
Second Declension Neuter Nouns
Vocabulary 4
Exercises: Second Declension Masculine and Neuter Nouns
Unit 4: First and Second Declension Nouns and Adjectives
First Declension Feminine Nouns
Vocabulary 5
Exercises: First and Second Declension Nouns
First Declension Masculine Nouns
First Declension Exceptions
Vocabulary 6
Exercises: First Declension Masculine and Feminine Nouns
Adjectives
Vocabulary 7
Unit 5: Present and Imperfect Tenses of "To Be," Imperfects, Second Declension Adjectives, Demonstrative Pronouns, and Uses of ἀυτός
Present Tense of "To Be"
Exercises: Adjectives
Imperfects: Uses
Imperfects: Morphology
Vocabulary 8
Exercises: Imperfects
Imperfect of "To Be"
Demonstrative Pronouns
Uses of ἀυτός
Exercises: Pronouns
Unit 6: Passives, Deponents, Verbal Voice, Imperatives, and Relative Pronouns
Passives: Morphology
Passives: Meaning and Syntax
Vocabulary 9
Exercises: Verbal Voice
Deponents
Imperatives
Relative Pronouns
Vocabulary 10
Exercises: Relative Pronouns and Translating
Unit 7: Infinitives, Personal and Reflexive Pronouns, Middle Voice, Verb Tense, Future Tense, Changes in Verbal Roots, and Questions
Infinitives: Syntax
Infinitives: Uses
Personal Pronouns
Vocabulary 11
Exercises: Infinitives
Middle Voice
Future Tense
Vocabulary 12
Exercises: Future Tense
Changes to Verbal Roots
Vocabulary 13
Reflexive Pronouns
Kinds of Questions
Exercises: Kinds of Questions
Verb Tense
Unit 8: Aorists, Object Clauses after Verbs of Saying or Thinking, Liquid Verbs, Temporal Clauses, and the Preposition παρά
First Aorist: Sigmatic Forms
Imperatives: Aorist vs. Present
Aorist vis-à-vis Present Infinitives
Exercises: Aorist Forms
Second Aorists: Thematic Forms
Athematic Aorists
Aorists and Unrelated Roots
Object Clauses after Verbs of Saying or Thinking
Vocabulary 14
Exercises: Asigmatic Aorists
Liquid Verbs
Temporal Clauses and the Preposition παρά
Vocabulary 15
Unit 9: Third Declension Nouns, Aorists, Third Declension Irregular Adjectives, and Passives
Regular Third Declension Nouns
Irregular Third Declension Nouns
Vocabulary 16
Exercises: Third Declension Nouns
Semivowel Stem Third Declension Nouns
Neuter Third Declension Nouns
Vocabulary 17
Exercises: Translating Aorists
Third Declension and Irregular Adjectives
Vocabulary 18
Exercises: Translating Sentences
Passives for the Aorist and Future
Unit :
Participles: Morphology: Part 1
Participles: Morphology: Part 2
Participles: Meaning and Use
Vocabulary 19
Exercises: Translating Participles
Participles as Genitive Absolutes
Interrogative and Indefinite Pronouns
Vocabulary 20
Exercises: Translating Genitive Absolutes
Aorist Middles
Comparative Adjectives
Vocabulary 21
Exercises: Comparative Adjectives
Contract Verbs: Α-Type andΟ-Type
Vocabulary 22
Exercises: Translating Contract Verbs
Unit 11: Principal Parts, Perfects and Pluperfects, Subjunctives, Infinitives, and μι Verbs
Verbs: Six Principal Parts
Perfect and Pluperfect Tenses
Vocabulary 23–24
Subjunctives: Morphology
Subjunctives: Morphology and Syntax
Vocabulary 25
Exercises: Translating Subjunctives
Infinitives: Other Uses
Exercises: Infinitive Uses
The -μι Verbs
Exercises: δίδωμι
Conclusion

An Introduction to Biblical Greek: A Grammar with Exercises
Author: John D. Schwandt
Publisher: Lexham Press
Publication Date: 2017
Pages: 224
Format: Logos Digital
A complete introductory grammar that builds on a classic approach to learning Greek.
In An Introduction to Biblical Greek, John D. Schwandt integrates the rigor of a classic Greek grammar with the fruit of contemporary language learning. The result is a one-stop introduction to New Testament Greek that is both academically sound and student friendly.
This textbook teaches students the basics of the Greek language through 37 lessons that are supported by translation and writing exercises from the New Testament. These practical lessons and exercises will help readers grasp Greek grammar and vocabulary as they start to translate the text of the New Testament itself. Appendixes on additional grammatical topics offer students the opportunity to dive deeper into their study of the Greek language.
Product Details
Title: Biblical Greek: Foundational Certificate Program
Instructor: John D. Schwandt
Publisher: Lexham Press
Publication Date: 2017
Product Type: Logos Mobile Education
Resource Type: Courseware, including transcripts, audio, and video resources
Courses: 3
Video Hours: 17
Volumes: 1
Pages: 224
About the Instructor
Dr. John D. Schwandt is the Executive Director of Mobile Education for Faithlife. Before coming to Faithlife, he was one of the original professors at New Saint Andrews College where he taught Greek and New Testament for 17 years. He has over a decade of experience teaching online and developing distance educational curricula.
Schwandt earned his doctorate in Bible translation at Gordon-Conwell Theological Seminary in Massachusetts. He earned his master of arts from Westminster Theological Seminary in California, and he completed his undergraduate studies at the University of Idaho.
Schwandt is the founder of the Institute of Biblical Greek (BiblicalGreek.org) and the creator of the National Biblical Greek Exam, an online examination program. He was the general editor of the English-Greek Reverse Interlinear New Testament: English Standard Version (Crossway Books, 2006), and he recorded an audio version of the Greek New Testament for the German Bible Society. You have heard his voice if you have clicked on any Greek word to hear it pronounced in Logos Bible Software.
More details about these resources
Show More