Being Human in God's World: An Old Testament Theology of Humanity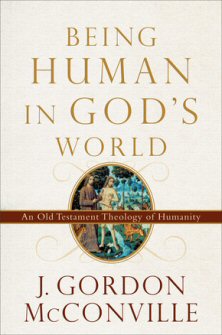 Being Human in God's World: An Old Testament Theology of Humanity
•
Runs on Windows, Mac and mobile.
Your Custom Discount
Reg. Price $22.99
Sale Price $19.99
Your Price $19.99
You Save $3.00 13%
Your Price
What's Pre-Pub?
$19.99
Overview
J. Gordon McConville explores how a biblical view of humanity provides a foundation for Christian reflection on ethics, economics, politics, and church life and practice. He shows that the Old Testament's view of humanity as "earthed" and "embodied" plays an essential part in a well-rounded Christian theology and spirituality, and he applies the theological concept of the "image of God" to all areas of human existence. The book also pays attention to the ways in which the genres of the Old Testament contribute to its articulation of the human experience. Human life, both as depicted in the Old Testament world and as advocated to readers, comprises all possibilities—between flourishing and tragedy, and between the enacted realization of the image of God and its corruption. Yet it is informed by eschatological direction and hope, which ensures the meaningfulness of the ordinary, daily components of life. McConville shows that true engagement with the Old Testament on the subject is a matter not merely of intellectual comprehension but of commitment to personal and communal transformation, which in whole-biblical perspective is ultimately conformation to Christ.
In the Logos edition, this volume is enhanced by amazing functionality. Important terms link to dictionaries, encyclopedias, and a wealth of other resources in your digital library. Perform powerful searches to find exactly what you're looking for. Take the discussion with you using tablet and mobile apps. With Logos Bible Software, the most efficient and comprehensive research tools are in one place, so you get the most out of your study.
Key Features
Explores the Old Testament view of humanity in relation to God, other humans, and the rest of creation
Compares Old Testament perspectives to contemporary issues and spirituality
Contents
Introduction: On Thinking about Being Human
Humanity in the Image of God (Imago Dei)
"Like God" in the Garden of Eden (Gen. 2–3)
The Human "Constitution" in the Old Testament
The Situated Self
The Old Testament's Transformations and the "Spiritual Sense"
Embodiments: Place and Memory
The Political Self
Male and Female
Work and Creativity
The Old Testament and Human Formation: The Psalms
Praise for the Print Edition
What might the Old Testament teach us about being human in community with God, other humans, and the world today? Gordon McConville expertly leads the reader in an engaging theological journey through the Old Testament to answer that question. He offers intelligently argued and biblically grounded understandings of a broad range of topics: human transformation, spirituality, community, health, ecology, knowledge, emotion, language, politics, sexuality, work, and creativity. A spiritual feast of Old Testament insight into what it means to be human that takes seriously both the Bible and our twenty-first-century contexts.
—Dennis Olson, Charles Haley Professor of Old Testament Theology, Princeton Theological Seminary
What does it mean to be human? Gordon McConville explores God's revelation in the Old Testament in response to this question. With insight and profundity, he illuminates our understanding, but more importantly he shows how the Old Testament invites us to spiritual transformation centered on worship. I recommend this book to all who want to understand themselves better and to grow as human beings created in the image of God.
—Tremper Longman III, Distinguished Scholar of Biblical Studies, Westmont College
Gordon McConville has written a superb study of various anthropological issues raised in the Old Testament. Ranging widely across the text, his work provides a clear and stimulating exploration of a very important theological topic in ways that are historically and literarily sensitive. This volume will certainly be a significant resource for biblical and theological studies for the next generation.
—Terence E. Fretheim, Elva B. Lovell Professor of Old Testament Emeritus, Luther Seminary
Gordon McConville's 'biblical spirituality' of being human in God's world is a study that has to do with self-understanding, transformation, and transcendence. McConville addresses all of the pertinent sections and questions of the Old Testament proper: the imago Dei, being 'like God' in Genesis 2-3, the nature of the human 'constitution,' the situated nature of the self, embodiment, politics, gender, work, and creativity--to name a few. His profundity and dexterity with Scripture is everywhere on display, but he also regularly delves into wider theological literature and even further afield into other relevant studies. Readers will be convinced that 'the inextricability of theology and anthropology is a hallmark of the Old Testament's discourse,' and will be inspired by this wise book that McConville has offered to us, 'not as a theory but as a preamble to a practice.'
—Brent A. Strawn, professor of Old Testament, Emory University
Product Details
About J. Gordon McConville
J. Gordon McConville (PhD, Queen's University, Belfast) is professor of Old Testament theology at the University of Gloucestershire, where he has taught for more than twenty years. Prior to coming to Gloucestershire, he held positions at Tyndale House, Trinity College Bristol, and Wycliffe Hall, Oxford University. He has authored or edited many books, including the Dictionary of the Old Testament: Prophets and commentaries on Deuteronomy, Joshua, 1 and 2 Chronicles, and Ezra, Nehemiah, and Esther. McConville is the general editor of the Exploring the Old Testament series and coauthored the Prophets and Historical Books volumes in the series.
Sample Pages from the Print Edition