Scripture and Its Interpretation: A Global, Ecumenical Introduction to the Bible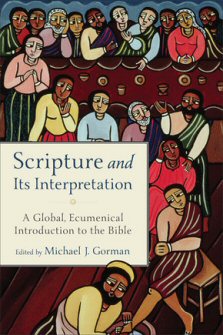 Scripture and Its Interpretation: A Global, Ecumenical Introduction to the Bible
•
Runs on Windows, Mac and mobile.
Your Custom Discount
Reg. Price $34.99
Sale Price $28.99
Your Price $28.99
You Save $6.00 17%
Your Price
What's Pre-Pub?
$28.99
Overview
Top-notch biblical scholars from around the world and from various Christian traditions offer a fulsome yet readable introduction to the Bible and its interpretation. The book concisely introduces the Old and New Testaments and related topics and examines a wide variety of historical and contemporary interpretive approaches, including African, African-American, Asian, and Latino streams.
In the Logos edition, this volume is enhanced by amazing functionality. Important terms link to dictionaries, encyclopedias, and a wealth of other resources in your digital library. Perform powerful searches to find exactly what you're looking for. Take the discussion with you using tablet and mobile apps. With Logos Bible Software, the most efficient and comprehensive research tools are in one place, so you get the most out of your study.
Key Features
Presents a variety of perspectives on Scriptural interpretation
Examines both contemporary and historical ideologies
Includes questions for reflection and discussion, an annotated bibliography, and a glossary
Contents
Part 1: The Bible

"The Bible: A Book, a Library, a Story, an Invitation" by Paul P. Zilonka and Michael J. Gorman
"The Setting: Biblical Geography, History, and Archaeology" by Karen J. Wenell
"The Scriptures of Israel (The Christian Old Testament)" by Claire Mathews McGinnis
"The Writings of the New Covenant (The New Testament)" by Michael J. Gorman
"Significant Noncanonical Writings" by Christopher W. Skinner
"From Books to Library: The Formation of the Biblical Canons" by Michael W. Holmes
"From There to Here: The Transmission and Translation of the Bible" by Michael L. Barré

Part 2: The Interpretation of the Bible in Various Traditions and Cultures

"The Reception of the Bible and Its Significance" by Christine E. Joynes
"Premodern Interpretation of the Bible" by Carole Monica C. Burnett
"Modern and Postmodern Methods of Biblical Interpretation" by Joel B. Green
"Theological Interpretation of the Bible" by Stephen Fowl
"Protestant Biblical Interpretation" by Michael J. Gorman
"Roman Catholic Biblical Interpretation" by Ronald D. Witherup
"Orthodox Interpretation of Scripture" by Edith M. Humphrey
"Pentecostal Biblical Interpretation / Spirit Hermeneutics" by Craig S. Keener
"African Biblical Interpretation" by Bungishabaku Katho
"African American Biblical Interpretation" by C. Anthony Hunt
"Latino/Latina Biblical Interpretation" by M. Daniel Carroll R.
"Asian and Asian American Biblical Interpretation" by K.K. Yeo

Part 3: The Bible and Contemporary Christian Existence

"The Bible and Spirituality" by Patricia Fosarelli and Michael J. Gorman
"Scripture and Christian Ethics: Embodying Pentecost" by Brent Laytham
"The Bible and Politics" by Christopher Rowland
"Scripture and Christian Community" by Jonathan Wilson-Hartgrove
"The Bible and Christian Mission" by N.T. Wright
Praise for the Print Edition
This book is a treasure-house of resources for teachers and students of the Bible, as well as for anyone who wants to become more deeply informed about the collection of texts that are Sacred Scripture for the Christian church. Written by a lineup of distinguished scholars, the volume provides balanced attention to history and hermeneutics, with particular attention to the reception of the biblical writings in various global and ecclesial contexts. I am not aware of any other book that packs so much valuable information about the Bible into such a concise and readable form. Its essays demonstrate the distinctive, twofold character of fine teaching: they are accessible for serious introductory study while, at the same time, full of mind-expanding perspectives for readers who may have studied the Scriptures for a lifetime.
—Richard B. Hays, George Washington Ivey Professor of New Testament, Duke Divinity School
This is an excellent introduction to the Bible, going well beyond the basic issues of who wrote when, where, and why. It sets out clearly the complex process of how particular writings (and not others) became designated as canonical; poses challenging questions about how Scripture is, can, or should be interpreted; and provides a fascinating account of how biblical interpretation has developed within the various denominations and different parts of the world. The volume is a strong reminder to readers of the extent to which their own reading of and response to the Bible has been shaped by their often very different cultures and traditions. It demonstrates that when the Bible is read in different contexts, it has a richness of relevance that individuals in their own contexts rarely appreciate—revealing what a truly catholic reading actually involves.
—James D.G. Dunn, Emeritus Lightfoot Professor of Divinity, Durham University
This beautifully produced volume merits a place in the library and on the teaching agenda of every church and seminary. All adult students of Scripture, from beginners to the most experienced, could benefit from this multifaceted yet theologically coherent collection of essays, which is both historically grounded and thoroughly contemporary in outlook.
—Ellen F. Davis, Amos Ragan Kearns Distinguished Professor of Bible and Practical Theology, Duke Divinity School
Product Details
Title: Scripture and Its Interpretation: A Global, Ecumenical Introduction to the Bible
Editor: Michael J. Gorman
Publisher: Baker Academic
Publication Date: 2017
Pages: 463
Resource Type: Collected Essays
Topic: Biblical Interpretation; Scripture
About Michael J. Gorman
Michael J. Gorman (PhD, Princeton Theological Seminary) is the Raymond E. Brown Professor of Biblical Studies and Theology at St. Mary's Seminary and University in Baltimore. He formerly served as dean of the Ecumenical Institute of Theology at St. Mary's. Gorman is the author of numerous books, including Elements of Biblical Exegesis: A Basic Guide for Students and Ministers.
Sample Pages from the Print Edition