Bible Study Magazine—September–October 2010 Issue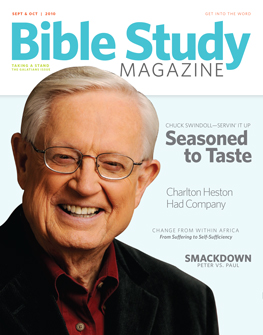 Bible Study Magazine—September–October 2010 Issue
Want more Bible Study Magazine? Subscribe today and get six issues per year for just $19.99—33% off the cover price!
Get Bible Study Magazine now by purchasing the September–October 2010 back issue for $3.95. That's 20% off the newsstand price of $4.95!
Bible Study Magazine is a print magazine (not an emagazine) published by Lexham Press. Six times a year, Bible Study Magazaine delivers tools and methods for Bible study as well as insights from respected teachers, professors, historians, and archeologists.
Read pastor profiles, author interviews, and stories of individuals whose thoughtful engagement with Scripture has shaped their thinking and defined their ministries. Bible Study Magazine reveals the impact of God's Word in their lives—and the power of Scripture in yours.
There is a limited supply of back issues of the September–October 2010 Bible Study Magazine.
Feature Stories
Discover new ways to connect the Bible with your ministry and life through in-depth interviews and articles from the biggest names in the church and biblical scholarship.
Bible Study Tips
Explore the Word—thoughtful and engaging authors tackle the tough passages in Scripture, explain difficult concepts, and confront complex interpretations in a way that helps the Gospel make sense in your life.
On the Cutting Edge
Keep up to date on the latest news in biblical research, including archaeological and historical findings.
A New Kind of Bible Study
Encounter God by yourself or with other believers with an ongoing Bible study in each issue.
On Teaching
Get advice on how to preach or teach the Bible in any setting from well-known pastors and teachers who use the Bible every day.
Tool Box
Learn how to effectively use the latest Bible study tools with our how-to guides.
In the News
Keep informed about the latest news in biblically related topics, discoveries, and events.
Thoughts from the Ancients
Read the Bible together with those who have come before you, and learn from the wisdom of the early church—in its own words.
Word Studies
Get a close-up view of the Bible! Each issue contains insights about specific words found in the Bible and tutorials on how to do word studies.
If Only Someone Would Explain It to Me
Enrich your understanding of the Bible with explanations of biblical and theological concepts by top scholars.
Did You Know?
Discover interesting facts about the place of the Bible in the contemporary and the ancient world.
What They Don't Tell You in Church
See things you never noticed in biblical passages you have read dozens of times.
Biblical Humor
The funniest stories and the best comics related to the Bible, useful for any setting.
Book Reviews
Stay on top of the latest books about Bible study. Each issue contains reviews of books and commentaries to equip you in your study of God's Word.
Chuck Swindoll: Seasoned to Taste
Born in El Campo, Texas, Swindoll (age 75) was raised in what he describes as a "God-fearing" household. After high school, he married his wife, Cynthia, and pursued mechanical engineering via military service. Following a tour of duty in the United States Marines, he was stationed on the Japanese island of Okinawa. His experiences there steered his life in a completely different direction.
—Karen Jones
Change From Within
Since being forced to flee Sierra Leone in 1997 during its violent civil war, Dr. John Jusu—now a professor, ordained minister and tireless advocate for those in need— has come a long way. Born in 1963 in Bumpe, a village in Sierra Leone, West Africa, Jusu has witnessed terrible suffering, including the atrocities committed by war rebels, whose trademark was to hack off victims' hands and feet. Jusu is passionate about curing the ills that still plague diamond-rich Sierra Leone and Africa. He is fighting against poverty, illiteracy, corruption and hiv/aids. He believes creating a proactive church is one way to bring a cure.
—Karen Jones
Fallen Angels: Cyril of Jerusalem on enduring Faith
How can people know the gospel if they don't have access to a Bible, can't read a Bible, or don't have one translated into their own language? Cyril of Jerusalem tackled this problem by teaching his students a creed: condensed, essential principles of faith that were easy to remember. The creed he taught them was likely the Apostle's Creed. When someone attacked their faith, or taught them something different, they could cling to the teachings of the creed. When addressing people about to be baptized, Cyril echoes Paul (Gal 1:8–9): When what you hear does not match up with the basics of your faith, run away.
—Rick Brannan
Smack Down: Peter vs. Paul
"I opposed him to his face, because he stood condemned." (Gal 2:11 ESV) Harsh words coming from a pastor—even harsher considering he was addressing another pastor. The confrontation in Antioch between Paul and Peter over whether or not Jews should eat with non-Jews is puzzling. Why was Paul so angry with Peter, and why is he recounting this story to the Galatians?
—Chelica Hiltunen & John D. Barry