Jonah and the Meaning of Our Lives: A Verse-by-Verse Contemporary Commentary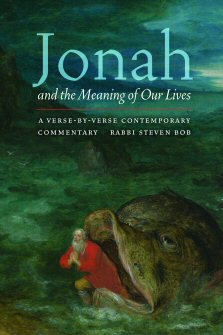 Jonah and the Meaning of Our Lives: A Verse-by-Verse Contemporary Commentary
•
Runs on Windows, Mac and mobile.
Your Custom Discount
Reg. Price $16.99
Sale Price $12.99
Your Price $12.99
You Save $4.00 23%
Your Price
What's Pre-Pub?
$12.99
Reg.: $16.99
Print: $19.99
Overview
The Book of Jonah stands unique among the biblical books of the prophets because it is almost entirely narrative. And, in contrast to all the other prophets portrayed as admirable individuals who bravely speak God's word, Jonah stands out as flawed and fleeing from God. We are drawn to Jonah because God gives him an opportunity to redeem himself. His experience inspires us to find our own second chances—and our own paths to meaningful growth.
Jonah and the Meaning of Our Lives draws on commentaries of Rashi, Ibn Ezra, Kimchi, Abarbanel, and the Malbim, as well as contemporary culture and personal experiences to reveal the hidden meanings of this perplexing biblical story. In so doing, it explores many of the larger questions and topics we face, including human nature, our relationship with God, and how we understand ourselves and lead our lives. Rabbi Steven Bob's verse-by-verse commentary intimately connects the ancient wisdom of the text with the reality of our own lives, providing us with inspiration and guidance.
In the Logos edition, this volume is enhanced by amazing functionality. Important terms link to dictionaries, encyclopedias, and a wealth of other resources in your digital library. Perform powerful searches to find exactly what you're looking for. Take the discussion with you using tablet and mobile apps. With Logos Bible Software, the most efficient and comprehensive research tools are in one place, so you get the most out of your study.
Key Features
References multiple rabbinical commentaries
Reveals fresh insights on this perplexing Bible story
Uses the text to provide guidance for the modern reader
Contents
Our Names and Identities: Who Are We?
Understanding the Other: Who Are They?
Coming to Terms with Violence: What Is Evil?
Appreciating Context: What Makes Jonah Run?
Descent and Salvation: How Low Can You Go?
Overcoming Uncertainty: How Should I Act?
Redirecting Lives: Which Way Does the Wind Blow?
Our Faith and Theirs: How Do We View Other Religions?
Overcoming Despair: Why Does He Sleep So Deeply?
Fate and Free Will: What Path Will We Follow?
What We Really Know: Does Knowledge Lead to Virtue?
I Am a Jew: How Do We Describe Our Identity?
Narrative Imagery: How Can We Understand Our Story?
Fear and Awe: What Makes Us Tremble?
Troubled Waters: How Can We Calm the Sea?
The Winning Team: What Do We Need from Other People?
The Giants Win the Pennant: How Can We Differentiate between the Possible and the Impossible?
The Buck Stops Here: Can We Accept Responsibility?
The Scientific Method: How Can We Solve Our Problems One Step at a Time?
Human Kindness: How Can We Serve God through Simple Acts?
A Rickety Ladder: How Do We Understand the Suffering of the Innocent?
Telling Our Story: What Swallowed Jonah, a Fish or a Whale?
Nothing Left to Lose: When Do We Turn to God?
Happy Thanksgiving: Why Should We Care about Other People?
Strong Waves and Big Rocks: What Overwhelms Us?
I Once Was Lost, but Now I'm Found: How Can We Grow?
Feeling Trapped: Is There a Way Out?
Recovering from a Perfect Storm: From Where Does Our Hope Come?
Seeking Community: How Can We Overcome Isolation?
Don't Look Back: How Can We Avoid the Traps of the Past?
The Power of the Public Pledge: Which Promises Will We Keep?
The Hands of God: How Can We Experience the Presence of the Divine?
Genuine Forgiveness: Who Deserves a Second Chance?
Good Guys and Bad Guys: When Can We Accept the Other?
Hineini: How Do We Respond When Called?
The Freedom to Choose: Can We Respond to a Warning?
Who, What, Why, and When: Can We Ask the Probing Questions?
Letting the Current Carry Me: How Do We Respond to Reality?
Telling Tall Tales: How Do We Sort Out the Truth?
Controlling Our Inclinations: Can We Change Our Evil Ways?
The Fred Bob Principle: What Circumstances Will Lead to Success?
Bringing Water to Our Lives: Do We Appreciate Those Who Help Us?
Seeing Evil: Can We Recognize Our Own Flaws?
Playing a Part: How Do We Shape the Narrative of Our Lives?
Getting Lost: How Do We Regain Our Path?
Narcissism: What Is Our Place in the World?
Connecting the Dots: How Can We Make Sense of Our Lives?
The Kikayon: What Can We Learn from a Plant?
Time, Time, Time: How Do We View the Length of Our Lives?
Facing Challenges: How Do We Use Our Strengths to Overcome Our Weaknesses?
I Want to Be Big: Can We Learn Patience?
Brief Moments: What Makes an Enduring Impact?
Communities of Meaning: How Can We Create Connections?
Praise for the Print Edition
There is hardly a better-known biblical story than Jonah. Yet Rabbi Steven Bob shows us in this skillfully written book an even more familiar Jonah, one we can see in the mirror every day. Life's enigmas and dilemmas are somehow less anxiety-producing in light of the lessons we find in Jonah's experiences.
—Rabbi Norman M. Cohen, author of Jewish Bible Personages in the New Testament
Starting with classic insights from Rashi, David Kimchi, and Isaac Abarbanel, and then moving on to Moby Dick, Bob Dylan, Kurt Vonnegut, and Major League Baseball, the biblical book of Jonah comes alive with stories and lessons that speak to the heart.
—Mark Dov Shapiro, author of Gates of Shabbat: A Guide for Observing Shabbat
I first met the prophet Jonah in Sunday school. I thought of him as a friend, a friend whom I got to know better in seminary. Now, twenty-five years later, I have met him again in a fresh, conversational, and insightful way through Rabbi Bob.
—Rev. Wendy J. Boden, Southminster Presbyterian Church, Glen Elynn, Illinois
About the Author
Rabbi Steven Bob has served as senior rabbi of Congregation Etz Chaim, in Lombard, Illinois, since 1981. He is the author of Go to Nineveh: Medieval Jewish Commentaries to the Book of Jonah, Translated and Explained.
Sample Pages from the Print Edition