Mobile Ed: ED161 Christian Education: Foundations and Technology (11 hour course)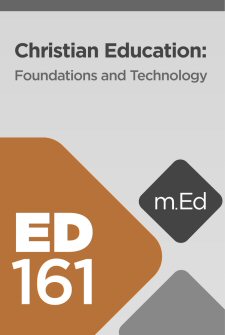 Mobile Ed: ED161 Christian Education: Foundations and Technology (11 hour course)
•
Runs on Windows, Mac and mobile.
Overview
In Christian Education: Foundations and Technology, Andrew Peterson provides a broad overview of what it takes to create and run a Christian course, program, or school. The course begins by exploring foundations such as biblical theology, motivations, and goals, and then moves on to technical aspects such as instructional design, modes of communication, and media. Dr. Peterson then discusses aspects of teaching K–12 students, with a focus on educational psychologies, teaching methods, and academic disciplines. He concludes by examining adult Christian education in the contexts of church ministry, workplace, and civil community.
Learning Objectives
Upon successful completion you should be able to:
Develop a basic plan for developing a Christian course, school, or education ministry
Conduct a needs assessment and situation analysis to design an effective program or course
Construct a biblical educational psychology by using the best of Christian and secular thinking
Understand four modes of communication and how they relate to current technology
Explain the pros and cons of using a variety of media such as audio, video, laptops, and online forums
Design a digital learning center for your church
Explain why Christian education is so important for adults in the workplace or public square
Course Outline
Introduction
Introducing the Speaker and the Course
Structure and Overview of Christian Education
Overview of Case Studies
Unit 1: Biblical Foundations: Normative Standards
Introducing Biblical Foundations
Introduction to Normative Standards
Biblical and Spiritual Foundations
Systematic Theology
Doctrine of Scripture
Doctrine of God
Doctrine of Man
Doctrine of Christ
Doctrine of Salvation
Doctrine of Eschatologies
Doctrine of the Church
Doctrine of the Sacraments
Unit 2: Biblical Foundations: Motivational Intentions
Introducing Motivational Intentions
The Beginning of Wisdom
Biblical Studies
Hero Transformation on the Journey
Narrative of Jesus Christ Our Lord
Maker of Heaven and Earth
Pentateuch and Education
Historical Books and Education
Poetical Books and Education
Prophetic Books and Education
New Covenant and Education
Unit 3: Biblical Foundations: Situational Goals
Introducing Situational Goals
Expanding the Church
Church History
Early Church
Patristics Era
Islamic Competition and Education
Scholasticism
Reformation
Puritans
Modernism
Postmodernism
Unit 4: Innovative Technologies: Instructional Design
Introducing Innovative Technologies
Introducing Instructional Design
Needs Assessment
Situation Analysis
Team Organization
Scope and Sequence
Objectives Specified
Teaching/Learning Principles
Media Selection
Prototype Construction
Formative and Summative Evaluation
Data Analytics for Retention and Recruitment
Unit 5: Innovative Technologies: Modes of Communication
Introducing Modes of Communication
One-on-One (Private Ministry of the Word)
One-to-Many (Public Ministry of the Word)
Teaching for Edification and Progressive Sanctification
Preaching for Evangelism and Apologetics
Print for Reading
Synchronous One-Way
Synchronous Two-Way
Asynchronous One-Way
Asynchronous Two-Way
Many-to-Many: Wikis, Membergates
Unit 6: Innovative Technologies: Media for Communication
Introducing Media for Communication
Desktop Computers
Mobile Laptops
Electronic Books and Bible Software
Audio Recorders and Players
Video Recorders and Players
Mobile Smartphones
Mobile Tablets
Interactive Smart Whiteboards and Televisions
Online Interactive Social Simulations
Smart Watches
Unit 7: K–12 Students: Children
Introducing K–12 Students
Introducing Children
Growing Children
Christian Worldview for Children
Family-Centered Education
Holistic and Consistent Environment
Content Specific
Educational Psychologies on a Secular Spectrum
Objectivist Educational Psychology
Subjectivist Educational Psychology
Eclectic Mix of Educational Psychologies
Biblical Educational Psychology
Unit 8: K–12 Students: Youth
Introducing Youth
Moving from Childhood to Youth
Meaning of Commandments
History of God's Providence
Future Time Outlook
Blessings and Cursings
Clarifying Environments Program
Student Perspectives
Personalization
Productive Principle
Autotelic Principle
Unit 9: K–12 Students: Academic Disciplines
Introducing Academic Disciplines
Christian Worldview with Meaning and Purpose
History
Literature
Math
Science
Fine Arts
Music
Physical Education and Nutrition
Other Languages
Competency-Based Education (CBE)
Unit 10: Adult Learners: Church Ministries
Introducing Adult Learners
Introducing Church Ministries
The Church
Expository Preaching for Education in the Church
Small Group Teaching in the Church
Diaconal Mercy Missions
Foreign Missions
Digital Learning Center
Content: Intellectual Material and Education
Context: Ministry Skill Sets and Education
Community: Character Formation Education
Educational Ecosystems
Unit 11: Adult Learners: Workplace Training
Introducing Workplace Training
Cultural Mandate
Vision and Mission
Financials and Education
Customer Acquisition and Service
Topic of the Month
Marketing Plan
Product Mix
Human Resources
Strategy
Budget
Unit 12: Adult Learners: Civil Community
Introducing Civil Community
God's Law in Any Community
Church Role in Community
Family Role
Neighborhood Role
Magistrate Role
Creation Ordinances
Ten Commandments and the Case Laws
Discontinuity from Old Covenant Temple Economy
Just War Theology and Ethics for Data Science
Continuity: Old Covenant to New in Sermon on the Mount
Conclusion
Fleshing Out the Great Commission
Product Details
Title: ED161 Christian Education: Foundations and Technology
Instructor: Andrew Peterson
Publisher: Lexham Press
Publication Date: 2017
Product Type: Logos Mobile Education
Resource Type: Courseware, including transcripts, audio, and video resources
Courses: 1
Video Hours: 11
Getting the most out of Mobile Ed
Logos Mobile Education is a highly effective cross-platform learning environment that integrates world class teaching with the powerful study tools and theological libraries available in Logos Bible Software. Every course provides links to additional resources and suggested readings that supplement the lecture material at the end of every transcript segment.
This course comes with an Activities resource that functions as a type of "workbook" for the course. This resource includes learning activities such as: places for you to respond to reflection questions, exercises that will challenge and show you how deepen your understanding of this course by using specific Logos tools and resources, tutorial videos on different features of Logos Bible Software, and links to relevant Logos guides and tools. A link to open the Activities resource is conveniently placed at the end of every segment.
More details about these resources