9Marks Journal Collection, 2006-2016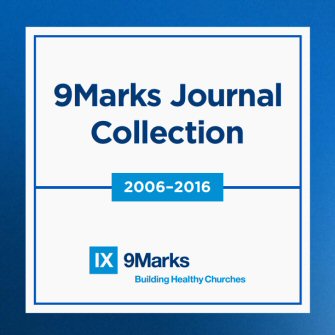 Overview
"Biblical thinking for building healthy churches." This tagline on every cover encapsulates the purpose and goal of the 9Marks Journal. For over a decade, this journal continues to equip pastors with tools for their trade—both practical and theological. Brimming with articles and book reviews, each issue is packed with biblical vision and practical resources for equipping today's church leaders to carry out their mission of building up the church.
The 9Marks Journal covers everything from church discipline, to the missional church, to elder training, to marriage and divorce matters, to preaching Christ from the Old Testament, to much more. Through these diverse, biblically grounded articles, 9Marks seeks to assist all members of the church to work together in building healthy churches that reflect the character of God and serve as shining beacons of God's glory to the world around us.
In the Logos edition, these volumes are enhanced by amazing functionality. Important terms link to dictionaries, encyclopedias, and a wealth of other resources in your digital library. Perform powerful searches to find exactly what you're looking for. Take the discussion with you using tablet and mobile apps. With Logos Bible Software, the most efficient and comprehensive research tools are in one place, so you get the most out of your study.
Key Features
Includes over a decade of articles, reviews, and insights on the most pressing issues of our time
Provides practical, pastoral guidance from a biblical perspective to assist in building healthy churches
Accessible to pastors and laypersons alike
Product Details
Title: 9Marks Journal Collection, 2006-2016
Series: 9Marks Journal
Publisher: 9Marks
Issues: 54
Resource Type: Academic Journals
Individual Issues
The Emerging Church: September 2006
Biblical Theology: November–December 2006
Hospitality and Friendship: January 2007
Elders – Part 1: February 2007
Elders – Part 2: March–April 2007
Preaching: May–June 2007
The Gospel: July–August 2007
Race and Ethnicity: September–October 2007
Church and Culture: November–December 2007
Corporate Prayer: January–February 2008
Cooperation: March–April 2008
Living As a Church: May–June 2008
Family & Parenting: September–October 2008
Counseling in the Church: November–December 2008
Raising Up the Next Generation of Pastors: January–February 2009
Young Pastors: March–April 2009
Multi-site Churches: May–June 2009
Missions: July–August 2009
Church Discipline – Part 1: September–October 2009
Church Discipline – Part 2: November–December 2009
A New Evangelical Liberalism : January—February 2010
Deacons : May—June 2010
Pastoring Women : July—August 2010
Hell: Remembering the Awful Reality : September—October 2010
Book Reviews on the Mission of the Church : November—December 2010
Church and Parachurch: Friends or Foes? : March—April 2011
Church Membership: Holding the Body Together : May—June 2011
The Pastor and his Staff, Part 1 : July—August 2011
The Pastor and his Staff, Part 2 : September—October 2011
Revitalize: Why We Must Reclaim Dying Churches—and How : November—December 2011
Don't Be Too Cool for Sunday School : January—February 2012
The Underestimated Doctrine of Conversion : March—April 2012
Wanted: Apostolic Pastors : May—June 2012
Mercy Ministry in the Church : July—August 2012
Discipling in the Church : September—October 2012
Lay Elders: A User's Guide – Part 1 : November—December 2012
Lay Elders: A User's Guide—Part 2 : Jan—Feb 2013
Pastoring Christians for the Workplace : March—April 2013
Church and Churches : May—June 2013
Is Scripture Enough? : July–August 2013
Evangelism – Part 1 : September–October 2013
Evangelism – Part 2 : November–December 2013
Prosperity Gospel : January–February 2014
The Church Singing : May–June 2014
Biblical Theology: Guardian and Guide of the Church : Summer 2014
Vanishing Church? : Fall 2014
Complementarianism & the Local Church : Winter 2015
Expositional Preaching : Spring 2015
Multi-Ethnic Churches : Summer/Fall 2015
Missions: Adding Wisdom to Zeal : Fall 2015
Confessions, Covenants, and Constitutions: How to Organize Your Church : Winter 2016
The Church Praying : Spring 2016
Authority: God's Good and Dangerous Gift : Summer/Fall 2016
Healthy Churches around the World : Fall / Winter 2016
More details about these resources
Show More