Reformed Expository Commentary Upgrade (5 vols.)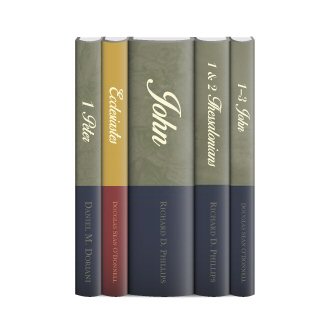 Reformed Expository Commentary Upgrade (5 vols.)
•
P&R 2014–2015
Runs on Windows, Mac and mobile.
Overview
The Reformed Expository Commentary is attuned to the biblical text. Each volume is written from a Reformed perspective and focuses on Christ through the lens of redemptive history. Each volume applies the Bible to our contemporary setting in ways that assist modern Christians to live out the gospel.
With Logos, you can use these volumes more efficiently for research and sermon preparation. Every word from every book has been indexed and catalogued to help you search the entire Reformed Expository Commentary series for a particular verse or topic. With Logos, this series will integrate into the passage guide. Whenever you enter your passage and click go, results from this commentary series will appear on the text you're studying. This gives you instant access to exactly what you're looking for in less time than it would take you to walk over to the bookshelf and begin flipping through a print volume.
For more from this series, see here.
Key Features
Provides doctrinal, redemptive-historical, and practical commentary
Includes doctrinally Reformed expositions by pastor-scholars
Offers material well suited for pastors and students
More details about these resources