Outlines of Dogmatic Theology (3 vols.)
Overview
Sylvester Joseph Hunter's famous 3-volume Outlines of Dogmatic Theology presents a complete course in dogmatic theology. First written to train priests for ministry—yet written in a manner accessible to the laity—this volume offers an accessible, readable, and informative introduction to Catholic dogma. Hunter ties together the various traditions and streams of theological discourse to provide a framework for understanding the church's theology and dogma.
Key Features
Exegetical overview of key points in the life of Christ
Includes expositional studies of each Roman Catholic Sacrament
Logos editions allow for quick and easy document navigation
Individual Titles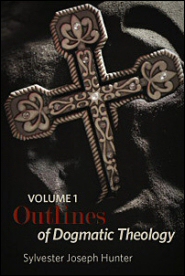 The first volume of Hunter's Outlines of Dogmatic Theology defines and defends Christian revelation as a legitimate source of knowledge—as it is found both in the words of Scripture and in the tradition of the Church. This volume also contains lengthy expositions on the meanings of faith, the Church, and the pope.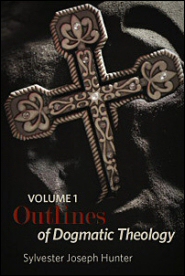 In the second volume of his Outlines of Dogmatic Theology, Hunter includes treatises on the knowledge and existence of God—including the philosophical proofs of God's existence. He also writes at length on the Trinity.
The second half of this volume contains lengthy treatises on creation and angels, in which Hunter discusses the distinction between the material and spiritual world, drawing heavily from both Scripture and the tradition of the Church. He also writes on Christ's incarnation and redemptive work, outlining the key moments in Christ's life—baptism, transfiguration, and resurrection—and their theological and historical implications.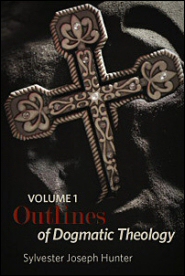 In the final volume of Outlines of Dogmatic Theology, Hunter covers the nature and necessity of grace, and the interplay between grace and free will. This volume also includes a treatise on the doctrine of justification—one of the most important and divisive doctrines of the Protestant Reformation. He compares justification as it is understood from various theological viewpoints, including Catholic, Lutheran, and Calvinist. This volume concludes with treatises on the sacraments—including detailed exposition of each Roman Catholic sacrament—and a treatise on eschatology.
Product Details
Title: Outlines of Dogmatic Theology (3 vols.)
Author: Sylvester Joseph Hunter
Publisher: Benziger Brothers
Volumes: 3
Pages: 1,616
About Sylvester Joseph Hunter
Sylvester Joseph Hunter (1829–1896), attended St. Paul's School before enrolling at Trinity College, Cambridge. He graduated in 1852 and began practicing law, publishing two legal textbooks. In 1857, Hunter converted to Catholicism, following his two sisters into the church. He entered the Society of Jesus in 1861 and was ordained as a priest in 1870. Hunter quickly became a respected writer and scholar, earning a teaching post at Stonyhurst College. He also began training Jesuit priests in 1875, and was appointed as Rector of St. Beuno's College. Sylvester Joseph Hunter died in 1896, only two years after the first edition of his 3-volume Outlines of Dogmatic Theology was published.
More details about this resource