Reformed Expository Commentary Upgrade (2 vols.)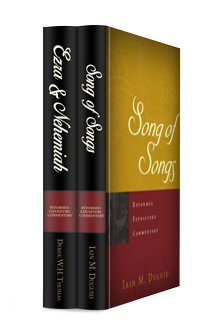 Reformed Expository Commentary Upgrade (2 vols.)
•
P&R 2016
Runs on Windows, Mac and mobile.
Your Custom Discount
Reg. Price $34.99
Sale Price $28.99
Your Price $28.99
You Save $6.00 17%
Your Price
What's Pre-Pub?
$28.99
Overview
The Reformed Expository Commentary series is for those who want to experience the word of God in all its power. Scholarly yet practical, its expositions are accessible to both pastors and lay readers. In these two volumes, Dr. Thomas tackles the intriguing books of Ezra and Nehemiah, providing a rich resource that explains how these books fit within the overall biblical story line. Dr. Duguid deomnstrates how the poetic book of Song of Songs points us towards God, whose love is perfected in Christ.
In the Logos edition, these volumes are enhanced by amazing functionality. Important terms link to dictionaries, encyclopedias, and a wealth of other resources in your digital library. Perform powerful searches to find exactly what you're looking for. Take the discussion with you using tablet and mobile apps. With Logos Bible Software, the most efficient and comprehensive research tools are in one place, so you get the most out of your study.
Key Features
Demonstrates what Ezra and Nehemiah can teach us about kingdom life in our own time
Provides profound insight into the love that Christ has for his bride, the church
Includes doctrinally Reformed expositions by biblically sound theologians
Product Details
Title: Reformed Expository Commentary Upgrade
Series Editors: Richard D. Phillips and Philip Graham Ryken
Series: Reformed Expository Commentary
Publisher: P&R
Publication Date: 2016
Volumes: 2
Pages: 840
Christian Group: Reformed
Resource Type: Commentaries
Individual Titles
The books of Ezra and Nehemiah tell a vital story of a community revived and restored by God's grace through gifted individuals—preparing the way for the coming Messiah. In his practical and devotional expository commentary, pastor-theologian Derek W.H. Thomas shows what this gripping narrative can teach us about kingdom life in our own time. In their different ways, Ezra and Nehemiah both prioritized the Word of God and the practice of prayer. If the church of our day is to recover and be renewed, Thomas argues, these commitments are just as vital for us as well.
Derek Thomas has the happiest knack of leading his readers right into the heart of the biblical text. . . . He tackles the intriguing (and too-neglected) books of Ezra and Nehemiah, and through him we not only enter into fruitful contact with the Bible but also meet with two of the most attractive characters that the Old Testament offers.
—Alec Motyer, previously Old Testament editor, The Bible Speaks Today commentary series
Dr. Thomas has shown an entire generation of Christians how to preach?the Old Testament. This commentary on Ezra and Nehemiah is a rich resource for preachers and for any other Christian who wishes to understand how these Old Testament books fit within the biblical story line and their meaning for Christians today.
—R. Albert Mohler Jr., president, The Southern Baptist Theological Seminary
Derek W.H. Thomas's Ezra & Nehemiah is a must-have for the serious Bible student, whether a layman or a pastor. . . . With penetrating insight and judicious selections from pertinent commentators and theologians from the past and present, this commentary on a fascinating epoch of the redemption story speaks richly to the needs of our souls.
—Peter A. Lillback, president, Westminster Theological Seminary
Dr. Thomas loves great narrative, traces plotlines with skill, understands how biblical theology works, and brings out telling contemporary application. In his hands the books of Ezra and Nehemiah express their inherent power to reveal the character of God, the power of his word, the nature of the life of faith and prayer, and the purpose of the church.
—Sinclair B. Ferguson, professor of systematic theology, Redeemer Seminary
Derek W.H. Thomas is minister of preaching and teaching at First Presbyterian Church in Columbia, South Carolina. He is editorial director of the Alliance of Confessing Evangelicals and distinguished visiting professor of systematic and historical theology at Reformed Theological Seminary.
To many of us, Song of Songs is a puzzling book. Often we're not sure whether we should read it as romantic poetry or as allegory, and an answer either way raises new questions. Why is a love poem a whole book of the Bible? If it's allegorical, what are we to make of the imagery used? And if we're not married or dating, should we be reading this book at all?
As a part of Scripture, Song of Songs is God-breathed and useful to instruct all Christians, single or married, divorced or widowed, straight or struggling with same-sex desires. Pastor-scholar Iain Duguid steers a middle way between allegorical and literal approaches, showing that this book's celebration of the love between a man and woman can not only shape our thinking about human relationships but also give us profound insight into the love that Christ has for his bride, the church.
So is the Song of Songs really about sex or Jesus? Iain Duguid steers a wise and pastoral path between those simplistic choices. He demonstrates how this poetic book on the excellencies of human love is not merely a practical marriage guide nor an allegorical representation of the coming Christ. Rather, this book is the best song of all songs because it provides divinely inspired insights into the blessings and weaknesses of human love in order to point us toward the goodness and necessity of the grace of God, whose love is perfected in Christ alone.
—Bryan Chapell, pastor, Grace Presbyterian Church, Peoria, IL
This book helps us. As a wise and seasoned pastor, Iain gently weeps with us in our broken search for false loves. Yet he strongly rouses our affections to the One whose love is true, satisfying, lasting, romantic, and alluring. Practical, tasty, and invigorating, Iain's prose and poetry offer a timely guide for those who desire the lovers of Solomon's Song to disciple them in Jesus.
—Zack Eswine, pastor, Riverside Church, Webster Groves, MO; director of homiletics, Covenant Theological Seminary
Iain Duguid takes a book of the Bible that many Christians are intimidated by and showcases it in its rightful place as the finest of songs. Perhaps we've been as insecure about tackling the allegorical and literal interpretations in this song as we may be in our own relationships. Not anymore! This commentary will prove that of all the songs written to explore the age-old questions of love, the Song of Songs is the one that we cannot and do not want to get out of our heads.
—Aimee Byrd, author, Housewife Theologian and Theological Fitness; cohost, Mortification of Spin
Iain M. Duguid (PhD, University of Cambridge) is professor of Old Testament at Westminster Theological Seminary, Philadelphia. He has written numerous works of biblical exposition, including Esther & Ruth in the Reformed Expository Commentary series, Ezekiel in the NIV Application Commentary series, and Numbers in the Preaching the Word series.