Mobile Ed: TH215 Trinitarian Theology (3 hour course)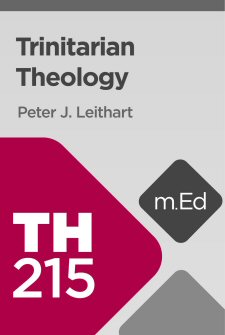 Mobile Ed: TH215 Trinitarian Theology (3 hour course)
•
Runs on Windows, Mac and mobile.
Overview
Delve into Trinitarian theology and understand how the Trinity is a biblically rooted doctrine inherent in the gospel. Explore the God who's revealed in Scripture, the God who's revealed in the NT, the God who's revealed in Jesus, is the God of the gospel, who is Father, Son, and Spirit. Understand the distinction between the ontological and the economic Trinity and develop the concept of perichoresis, the mutual indwelling of the Father, Son, and Spirit in the life of God. The Trinitarian theology is the development of that great good news and of our share in it as disciples of Jesus Christ.
Course Outline
Unit 1: Trinity: Unique to Christianity
Greco-Roman Polytheism and Jewish Monotheism: Framework for Trinitarian Theology
The Practical Nature of the Doctrine of the Trinity
Unit 2: God of the Gospel
Triune Life of God Evident throughout the New Testament
Trinitarian Theology: Jesus Inserted into Jewish Confessions of Faith
Trinity in Assertions the New Testament Makes about Jesus and the Spirit
Trinity in the Structure of the Gospel
Jesus as Yahweh of Israel
Unit 3: A Brief History of Trinitarian Theology
Early Trinitarian Theology Worked Out in Response to Modalism
Early Trinitarian Theology Worked Out in Response to Arianism: Part 1
Early Trinitarian Theology Worked Out in Response to Arianism: Part 2
Moddle Ages Trinitarian Theology
Modern Trinitarian Theology
Contemporary Trinitarian Theology
Themes in Contemporary Trinitarian Theology
Unit 4: Basic Categories of Trinitarian Theology
Essence
Person
Ontological and Economic
Rahner's Rule
Filioque
Unit 5: What Difference Does Trinitarian Theology Make?
Trinity and Attributes: Part 1
Trinity and Attributes: Part 2
Triune Ontology
Perichoresis
Perichoretic Worldview: Part 1
Perichoretic Worldview: Part 2
About the Instructor
Peter J. Leithart received an AB in English and History from Hillsdale College in 1981, and a Master of Arts in Religion and a Master of Theology from Westminster Theological Seminary in Philadelphia in 1986 and 1987, respectively. In 1998 he received his PhD at the University of Cambridge in England. He has served as editor and writer for American Vision in Atlanta, Georgia (1987-1989), and as a pastor of Reformed Heritage Presbyterian Church (now Trinity Presbyterian Church), Birmingham, Alabama from 1989-1995. From 1998-2013, he taught Theology and Literature at New Saint Andrews College and between 2003 and 2013 served as pastor of Trinity Reformed Church. He is currently President of the Theopolis Institute, a pastoral training institute in Birmingham, Alabama.
Getting the most out of Mobile Ed
Logos Mobile Education is a highly effective cross-platform learning environment that integrates world class teaching with the powerful study tools and theological libraries available in Logos Bible Software. Every course provides links to additional resources and suggested readings that supplement the lecture material at the end of every transcript segment.
This course comes with an Activities resource that functions as a type of "workbook" for the course. This resource includes learning activities such as: places for you to respond to reflection questions, exercises that will challenge and show you how deepen your understanding of this course by using specific Logos tools and resources, tutorial videos on different features of Logos Bible Software, and links to relevant Logos guides and tools. A link to open the Activities resource is conveniently placed at the end of every segment.
More details about these resources