Mobile Ed: MI252 Philosophy and Practice of Urban Ministry (4 hour course)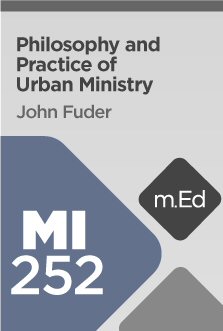 Mobile Ed: MI252 Philosophy and Practice of Urban Ministry (4 hour course)
•
Runs on Windows, Mac and mobile.
Overview
Build from the foundation of the biblical material that speaks about God's heart for the city, and apply this to ministry in the city. Examine urban communities in the U.S. and overseas, and incorporate effective postures and practices of hands-on, engagement to your ministry.
Course Outline
Introduction
Introducing the Speaker and the Course
Unit 1: Postures for Urban Ministry
The Strategic Opportunity of Cities
The Lifestyle of the Urban Apostle
Servanthood and Brokenness
The Biblical Principle of Compassion
The Definition of Compassion
Informed by Prayer
Praying for Impact
Unit 2: Philosophies for Urban Ministry
Incarnational Ministry
Becoming an Insider
Forming Friendships in a New Place
Reimaging Relocation
Unit 3: Preparing for a New Culture
Key Elements of Reconciliation
Roadblocks to Effective Ministry
The Culture of the City
The Posture of the City Church
Addressing the Felt Need
Evangelism and Social Concern
Holistic Discipleship
Effective Cross-Cultural Communication
Unit 4: Practices for Urban Ministry
Exegeting a Culture
The Priority of Networking
The Effective Urban Church
The New Faces of the Church
The Importance of Church Planting
Conclusion
About John Fuder
Dr. John Fuder is the director of Justice and Compassion Ministries at Re:source Global and the director of city engagement for Park Community Church in Chicago. Dr. Fuder served in urban ministry for 15 years in California, and was professor of urban studies at Moody Theological Seminary in Chicago for 17 years. Currently, Dr. Fuder is teaching, training, and coaching the broader body of Christ to engage more deeply in contextualizing the Gospel in their local communities.
Getting the most out of Mobile Ed
Logos Mobile Education is a highly effective cross-platform learning environment that integrates world class teaching with the powerful study tools and theological libraries available in Logos Bible Software. Every course provides links to additional resources and suggested readings that supplement the lecture material at the end of every transcript segment.
This course comes with an Activities resource that functions as a type of "workbook" for the course. This resource includes learning activities such as: places for you to respond to reflection questions, exercises that will challenge and show you how deepen your understanding of this course by using specific Logos tools and resources, tutorial videos on different features of Logos Bible Software, and links to relevant Logos guides and tools. A link to open the Activities resource is conveniently placed at the end of every segment.
More details about these resources