Mobile Ed: Reflecting on the Word: Video Devotionals (Year A)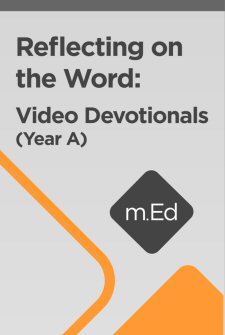 Mobile Ed: Reflecting on the Word: Video Devotionals (Year A)
•
Runs on Windows, Mac and mobile.
Overview
Reflecting on the Word: Video Devotionals (Year A) consists of forty-seven video devotionals from top biblical and theological scholars. The passages are keyed to seasons of the church year, allowing you to work through the reflections in sequence or in any order you prefer. Each segment includes a Scripture passage read aloud followed by a reflection. Questions at the end of each reflection allow you to respond to the material.
The audio resource for this course is not yet completed, but will be downloaded once it is available.
Course Outline
Introduction
The Church Year by Peter J. Leithart
Anticipating Christ
Romans​ 13:11–14 by David A. deSilva
Psalm​ 72:1–7, 18–19 by Greg Forster
Luke​ 1:46–55 by Peter J. Leithart
Matthew​ 1:18–25 by Craig L. Blomberg
The Birth of Christ
Isaiah​ 9:2–7 by Peter J. Leithart
Titus​ 3:4–7 by Robert N. Wilkin
John​ 1:1–14 by Peter J. Leithart
Hebrews​ 2:10–18 by Mark L. Ward, Jr.
Philippians​ 2:5–11 by Craig L. Blomberg
Ecclesiastes​ 3:1–13 by Peter J. Leithart
Psalm​ 147:12–20 by R. Michael Allen
Christ Revealed
Matthew​ 2:1–12 by William Varner
Psalm​ 29 by Ben Witherington III
Psalm​ 40:1–11 by Mark L. Ward, Jr.
Psalm​ 27:1, 4–9 by R. Michael Allen
1 Corinthians​ 1:18–31 by Tremper Longman III
Hebrews​ 2:14–18 by K. Scott Oliphint
1 Corinthians​ 2:1–16 by Michael S. Heiser
1 Corinthians​ 3:1–9 by Steven E. Runge
Leviticus​ 19:1–2, 9–18 by Jay Sklar
Matthew​ 17:1–9 by Lane G. Tipton
Matthew​ 6:24–34 by Steven E. Runge
Matthew​ 7:21–29 by David A. deSilva
The Suffering of Christ
2 Corinthians​ 5:20–6:10 by Lane G. Tipton
Genesis​ 3:1–7 by Joel Willitts
John​ 3:1–17 by Robert N. Wilkin
Romans​ 5:1–11 by Steven E. Runge
Ephesians​ 5:8–14 by Mark L. Ward, Jr.
Romans​ 8:6–11 by Joshua Jipp
Christ's Road to the Cross
Matthew​ 21:1–11 by Kenneth L. Waters, Sr.
Hebrews​ 9:11–15 by Steven E. Runge
Psalm​ 71:1–14 by R. Michael Allen
Hebrews​ 12:1–3 by David A. deSilva
Exodus​ 12:1–14 by Tremper Longman III
Psalm​ 22 by Greg Forster
1 Peter​ 4:1–8 by R. Michael Allen
The Resurrection of Christ
Acts​ 10:34–43 by Joel Willitts
John​ 20:19–31 by Ben Witherington III
Luke​ 24:13–35 by Joshua Jipp
Acts​ 2:42–47 by Joshua Jipp
John​ 14:1–14 by Robert N. Wilkin
1 Peter​ 3:13–22 by Lane G. Tipton
Luke​ 24:44–53 by Joel Willitts
John​ 17:1–11 by K. Scott Oliphint
Romans​ 12:9–16 by Richard S. Park
The Reign of Christ
Acts​ 2:1–21 by Ben Witherington III
Matthew​ 25:31–46 by Ben Witherington III
Product Details
Title: Reflecting on the Word: Video Devotionals (Year A)
Publisher: Lexham Press
Publication Date: 2016
Product Type: Logos Mobile Education
Resource Type: Courseware, including transcripts, audio, and video resources
Courses: 1
Video Hours: 7
More details about these resources