Mobile Ed: New Testament Background Bundle (5 courses)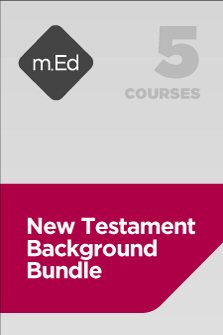 Mobile Ed: New Testament Background Bundle (5 courses)
•
Runs on Windows, Mac and mobile.
Overview
Dive into the New Testament manuscripts, their reliability and background, and how they impact us today with distinguished scholars Craig A. Evans, Michael S. Heiser, and David A. deSilva. Get a closer look into how we got the New Testament, the intertestamental period, and the early Christian environment.
Getting the most out of Mobile Ed
Logos Mobile Education is a highly effective cross-platform learning environment that integrates world class teaching with the powerful study tools and theological libraries available in Logos Bible Software. Every course provides links to additional resources and suggested readings that supplement the lecture material at the end of every transcript segment.