Jacob Arminius: The Man from Oudewater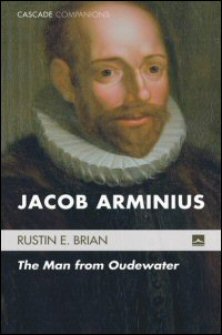 Overview
Jacob Arminius was a Dutch theologian whose views have become the basis of Arminianism and the Dutch Remonstrant movement, and are quite influential on Wesleyan, and therefore Methodist, theology as well. Arminius attempted to reform Reformed theology and ended up lending his name to a movement that resisted some of the primary tenets of Calvinism. Rustin E. Brian outlines the life and theology of Arminius, shedding fresh light on his life, theology, and writings. In hopes of better understanding Arminian theology and Arminianism, Brian concludes with a constructive comparison and contrast of Arminius and several prominent theological figures: Pelagius, John Wesley, and Karl Barth.
In the Logos edition, this volume is enhanced by amazing functionality. Important terms link to dictionaries, encyclopedias, and a wealth of other resources in your digital library. Perform powerful searches to find exactly what you're looking for. Take the discussion with you using tablet and mobile apps. With Logos Bible Software, the most efficient and comprehensive research tools are in one place, so you get the most out of your study.
Key Features
Outlines the life and theology of Jacob Arminius
Sheds fresh light on Jacob Arminius' life, theology, and writings
Compares Jacob Arminius with several prominent theological figures
Contents
Introduction: The Man behind the Adjective
Arminius's Early Life
Arminius's Pastoral Career
Arminius's Academic Career
Interpretation of Scripture
Christology and Trinity
Grace, Predestination, and Election
Arminius ≠ Pelagius
John Wesley, the Faithful Arminian
Arminius and Karl Barth
Conclusion: What Does It Mean to Be an "Arminian" Today?
Praise for the Print Edition
Much important and serious scholarship has been done in recent years to recover Arminius's theology for a new generation of Christians. Rustin Brian adds to this recovery, providing a creative introduction to Arminius that draws upon and adds to this scholarly conversation while making the great theologian more accessible to lay readers.
—Mark H. Mann, coeditor, Reconsidering Arminius: Beyond the Reformed and Wesleyan Divide, Associate Professor of Theology and Director of the Wesleyan Center, Point Loma Nazarene University
Whether worn as a badge of honor or hurled in derision, the term 'Arminian' says both too little and too much. In this short book, Brian introduces us to 'the man behind the adjective,' telling us just enough about his background and beliefs to spark a conversation about Arminius's place in the history of theology and the way theology might benefit from listening to him. What would a Reformed Wesleyan look like? Maybe like this.
—Matt Jenson, associate professor of theology, Torrey Honors Institute, Biola University
Jacob Arminius is a theologian known more from the perspective of his antagonists than from his own substantive theological work. Dissatisfied with any theology that set God's will above God's truth and self-diffusive goodness, Arminius resisted the pull of some powerful modern theological tendencies. His theology needs reconsideration in light of the collapse of those theological tendencies. In this important work, Rustin Brian provides what we need—an excellent introduction to Arminius as a theologian in his own right.
—D. Stephen Long, Cary M. Maguire University Professor in Ethics, Southern Methodist University
About Rustin E. Brian
Rustin E. Brian is an ordained pastor in the Church of the Nazarene, currently pastoring Renton Church of the Nazarene in Renton, WA, and Adjunct Professor of Theology at Northwest Nazarene University and Seattle Pacific University. He is the author of Covering Up Luther: How Barth's Christology Challenged the Deus Absconditus that Haunts Modernity.
Sample Pages from the Print Edition
More details about this resource