Mobile Ed: CM210 Preaching Biblical Narrative (8 hour course)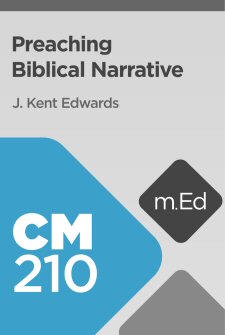 Mobile Ed: CM210 Preaching Biblical Narrative (8 hour course)
•
Runs on Windows, Mac and mobile.
Overview
In this course Dr. J. Kent Edwards helps you make the stories of the Bible come alive for your congregation. Most of the Bible is comprised of narrative—of stories about God working in and through people. These stories can be confusing and can be a challenge to communicate to a congregation from the pulpit. This course begins by explaining why it's important to preach through the biblical narratives. Dr. Edwards then provides guidance in understanding the individual stories by pointing to the big idea of the biblical story, and he walks you through the steps of crafting a narrative sermon.
Learning Objectives
Upon successful completion you should be able to:
Identify several challenges to biblical preaching
Summarize the theological, historical, pragmatic, and personal reasons for preaching
Describe the marks of a biblical sermon
Discuss the differences between topical preaching and preaching through the Bible
Course Outline
I. Introduction
II. Why We Should Preach Biblical Narratives
III. Understanding Biblical Narratives
IV. Exegeting Biblical Narratives
V. Preaching Biblical Narratives
VI. Conclusion
Product Details
Title: CM210 Preaching Biblical Narrative
Instructor: J. Kent Edwards
Publisher: Lexham Press
Publication Date: 2016
Product Type: Logos Mobile Education
Resource Type: Courseware, including transcripts, audio, and video resources
Courses: 1
Video Hours: 8
About the Instructor
Dr. J. Kent Edwards' ambition is to change people's lives with the Word of God and equip others to do the same. Dr. Edwards is known for his passion for preaching, and brings over 30 years of Christian leadership experience, both as a senior pastor and a church planter. He is a popular conference and seminar speaker and regularly lectures nationally and internationally.
Getting the most out of Mobile Ed
Logos Mobile Education is a highly effective cross-platform learning environment that integrates world class teaching with the powerful study tools and theological libraries available in Logos Bible Software. Every course provides links to additional resources and suggested readings that supplement the lecture material at the end of every transcript segment.
This course comes with an Activities resource that functions as a type of "workbook" for the course. This resource includes learning activities such as: places for you to respond to reflection questions, exercises that will challenge and show you how deepen your understanding of this course by using specific Logos tools and resources, tutorial videos on different features of Logos Bible Software, and links to relevant Logos guides and tools. A link to open the Activities resource is conveniently placed at the end of every segment.
More details about these resources