Jesus and Brian: Exploring the Historical Jesus and his Times via Monty Python's Life of Brian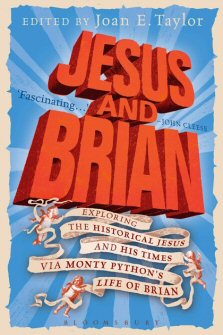 Jesus and Brian: Exploring the Historical Jesus and his Times via Monty Python's Life of Brian
•
Runs on Windows, Mac and mobile.
Your Custom Discount
Reg. Price $18.99
Sale Price $12.99
Your Price $12.99
You Save $6.00 31%
Your Price
What's Pre-Pub?
$12.99
Reg.: $18.99
Print: $20.99
Overview
Monty Python's Life of Brian film is known for its brilliant satirical humour. Less well known is that the film contains references to what was, at the time of its release, cutting edge biblical scholarship and Life of Jesus research. This research, founded on the acceptance of the Historical Jesus as a Jew who needs to be understood within the context of his time, is implicitly referenced through the setting of the Brian character within a tumultuous social and political background.
This collection is a compilation of essays from foremost scholars of the historical Jesus and the first century Judaea, and includes contributions from George Brooke, Richard Burridge, Paula Fredriksen, Steve Mason, Adele Reinhartz, Bart Ehrman, Amy-Jill Levine, James Crossley, Philip Davies, Joan Taylor, Bill Telford, Helen Bond, Guy Stiebel, David Tollerton, David Shepherd and Katie Turner. The collection opens up the Life of Brian to renewed investigation and, in so doing, uses the film to reflect on the historical Jesus and his times, revitalising the discussion of history and Life of Jesus research. The volume also features a Preface from Terry Jones, who not only directed the film, but also played Brian's mum.
In the Logos editions, these volumes are enhanced by amazing functionality. Important terms link to dictionaries, encyclopedias, and a wealth of other resources in your digital library. Perform powerful searches to find exactly what you're looking for. Take the discussion with you using tablet and mobile apps. With Logos Bible Software, the most efficient and comprehensive research tools are in one place, so you get the most out of your study.
Key Features
Provides a unique perspectives on key questions about the historical Jesus debate
Includes top tier scholarship
Features essays on archaeology, textual criticism, and first-century cultural issues
Contents and Contributors
Introduction: Jesus and Brian: the Conference and the Book by Joan E. Taylor
Monty Python's Life of Brian and the Jesus Film by William Telford
The Church of England's Life of Python by Richard Burridge
When Brian met Moses: Life of Brian (1979), Wholly Moses (1980) and the 'Failure' of Biblical Parody by David Shepherd
'Blasphemy!' On Free Speech Then and Now by David Tollerton
The Meaning of Monty Python's Jesus by James Crossley
The Gospel of Brian by Philip R. Davies
The Historical Brian: Reception Exegesis in Practice by Joan E. Taylor
Romani Ite Domum–Expressions of Identity and Resistance in Judaea by Guy D. Stiebelf
'You'll probably get away with Crucifixion': Laughing at the Cross in Brian and the Ancient World by Helen Bond
Brian as a Teacher of Righteousness by George Brook
Brian and the Apocalyptic Jesus: Parody as a Historical Method by Bart Ehrman
'Are You a Virgin?': Biblical Exegesis and the Invention of Tradition by Paula Fredrikson
Beards for Sale: The Uncut Version of Brian, Gender and Sexuality by Amy-Jill Levine
'What Have the Romans Ever Done for Us?' Brian and Josephus on Anti-Roman Sentiment by Steve Mason
Hook-Nosed Heebies: Brian, Jesus and Jewish Identity by Adele Reinhartz
'The Shoe is the Sign!' Costuming 'Brian' and Dressing the 1st Century by Katie Turner
Praise for the Print Edition
This is not the silly book the title suggests it is. Rather, it is a serious (but not too serious) exploration of the Pythons' classic comedy Life of Brian vis-à-vis the historical Jesus and his Sitz im Leben.
—W. J. Pankey, professor, William Rainey Harper College
Catering to the needs of students of the biblical past, most chapters deal with ancient history and interpretation via the movie. The contributors write with humour and also very profound knowledge of ancient history, texts and contexts. In doing so, they often challenge the reader to go beyond some of the cliches surrounding the movie's understanding. And it's good to know that the Pythons got Pilate's dress right.
—Mladen Popovic, University of Groningen, The Netherlands
These are very serious essays, well researched and carefully written.
—Dianne Bergant, Bible Today
Product Details
Title: Jesus and Brian: Exploring the Historical Jesus and his Times via Monty Python's Life of Brian
Editor: Joan E. Taylor
Publisher: T&T Clark
Publication Date: 2015
Pages: 304
Resource Type: Essays
Topic: Historical Jesus
About Joan E. Taylor
Joan E. Taylor is the prize-winning author of Christians and the Holy Places, and a leading authority on the Jewish world of Jesus, including women within that world. She is Professor of Christian origins and Second Temple Judaism at King's College London.