Mobile Ed: The Gospels and History Bundle (7 courses)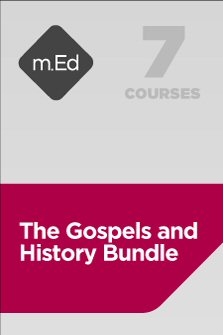 Mobile Ed: The Gospels and History Bundle (7 courses)
•
Runs on Windows, Mac and mobile.
Overview
Examine the historical reliability of the Gospels with courses taught by top New Testament scholars like Craig Keener, Michael Licona, and Craig Evans. Overcome common objections to the Gospels involving their authorship, date, and apparent contradictions. Understand the genre of the Gospels and gain insight into how their genre influences their interpretation and historical reliability. Learn methods of historical investigation and apply them to the resurrection of Jesus. Study the historical reliability of miracle accounts in the Gospels in light of modern miracle stories. Compare the teachings of Jesus with other instruction in the ancient world and see how Jesus was perceived by early non-Christian witnesses.
Getting the most out of Mobile Ed
Logos Mobile Education is a highly effective cross-platform learning environment that integrates world class teaching with the powerful study tools and theological libraries available in Logos Bible Software. Every course provides links to additional resources and suggested readings that supplement the lecture material at the end of every transcript segment.