Mobile Ed: NT201 The Cultural World of the New Testament (6 hour course)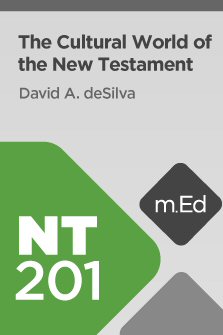 Mobile Ed: NT201 The Cultural World of the New Testament (6 hour course)
•
Runs on Windows, Mac and mobile.
Overview
Join Dr. David deSilva as he describes important cultural concepts from the first century and shows how these concepts shed light on the New Testament. Learn why the author of 1 Peter spoke to the shame Christians were experiencing, and what cultural norms they had to fight against as they sought to follow Christ. Discover how grace and gratitude were viewed differently than they are today. Learn what purity meant for Jews, how patronage and reciprocity impacted everyday decisions, how families and households operated, and more. Dr. deSilva pulls from a variety of sources to explain these concepts and uses the books of Hebrews and 1 Peter to illustrate them.
This course will give you a better understanding of the environment early Christians were in as they broke the rules of society for the sake of the gospel.
Learning Objectives
Upon successful completion you should be able to:
Understand cultural elements present in the first century that drive meaning of New Testament texts
Avoid misinterpretation of potentially foreign cultural elements
Relate ancient Jewish and Hellenistic culture to modern settings
Course Outline
Honor and Shame
Reading 1 Peter Attuned to Honor and Shame
Patronage and Reciprocity
Reading Hebrews Attuned to Patronage and Reciprocity
Family and Household
Reading 1 Peter Attuned to Family and Household
Purity and Pollution
Reading Hebrews Attuned to Purity and Pollution
Product Details
Title: NT201 The Cultural World of the New Testament
Instructor: David A. deSilva
Publisher: Lexham Press
Publication Date: 2015
Product Type: Logos Mobile Education
Resource Type: Courseware, including transcripts, audio, and video resources
Courses: 1
Video Hours: 6
About the Instructor
Dr. David A. deSilva is the trustees' distinguished professor of New Testament and Greek at Ashland Theological Seminary in Ohio, where he's taught since 1995. He's written over 20 books in the areas of New Testament and Second Temple Judaism and is a leading expert on the cultural world of the New Testament.
Getting the most out of Mobile Ed
Logos Mobile Education is a highly effective cross-platform learning environment that integrates world class teaching with the powerful study tools and theological libraries available in Logos Bible Software. Every course provides links to additional resources and suggested readings that supplement the lecture material at the end of every transcript segment.
This course was produced with screencast videos. These videos provide tutorials showing you how to use Logos Bible Software in ways that are tied directly into the content of the course. We are now producing Activities resources as a replacement for screencast videos. We plan on updating this course to include this additional Activities resource in the future for no extra charge.
More details about these resources