Mobile Ed: OT348 Book Study: Proverbs (6 hour course)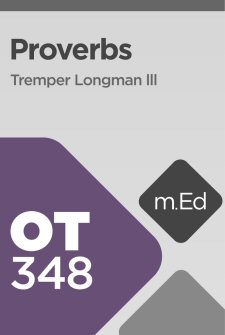 Mobile Ed: OT348 Book Study: Proverbs (6 hour course)
•
Runs on Windows, Mac and mobile.
Overview
Tremper Longman opens up the book of Proverbs with this comprehensive study. Longman gives a big picture view of Proverbs, discussing critical ANE background texts, the nature of wisdom, the identification of Woman Wisdom, how to read proverbs Christologically, and the different types of proverbs and teaching found in the book. He includes a helpful comparison with two other Old Testament Wisdom books, Job and Ecclesiastes.
Learning Objectives
Upon successful completion you should be able to:
Define wisdom according to the book of Proverbs
Explain the importance of right timing in the application of proverbs
Breakdown the anatomy of both wise and foolish words
Discuss the relevant ANE wisdom texts
Articulate the relationship of Jesus to Woman Wisdom
Outline the structure of Proverbs and explain why it is so crucial to understand
Course Outline
Introduction
Introducing the Speaker and the Course
Unit 1: Introduction to Proverbs
Structure
What Does the Preface Convey?
What Does the Book Teach?
Who Wrote the Book?
Unit 2: Proverbs and ANE Literature
The Ancient Perspective
Mesopotamian Wisdom
Egyptian Instructions
Father-Son Connections
Amenemope and Proverbs
Wisdom Themes
Implications
Unit 3: The Nature of Wisdom
To Whom Is Proverbs Written?
Wisdom's Ethical and Theological Dimensions
Who Is Woman Wisdom?
Woman-Wisdom in Proverbs 8
The Choice of Women
With Whom to Dine?
Jesus: Epitome of God's Wisdom 1
Jesus: Epitome of God's Wisdom 1
Jesus and Woman Wisdom
Associated Not Identified
Reading Proverbs Christotelically
Unit 4: Proverbs 10-31
Overview
Secular or Theological Wisdom?
How to Read a Proverb
What Is a Proverb?
Examples of Parallelism
Better-Than Proverbs and Numbers
How Imagery Works
Other Literary Devices
The Question of Truth and Promise
Always True?
Timing Is Everything
How to Know the Right Time
Ultimately Revelation
Proverbs Do Not Make Promises
Unit 5: Reading Proverbs Canonically
Overview
Job and Proverb's Wise Man
Job's Complaint
You Sin, You Suffer
Job's Argument
Elihu's Argument
God's Argument
Ecclesiastes: Two Speakers
Life and Death
Ultimate Meaning
The Frame Narrator
Implications for Reading Proverbs
Unit 6: The Organization of Proverbs 10-31
Overview
Reading Proverbs Topically
Anatomy of Foolish Speech
Anatomy of Wise Speech
Consequences and James
Conclusion
About Tremper Longman III
Tremper Longman III is the Robert H. Gundry Professor of Biblical Studies at Westmont College. He has written over 25 books, including commentaries on Job, Proverbs, Ecclesiastes, Song of Songs, Jeremiah, Lamentations, Daniel, and Nahum. His books have been translated into 17 different languages. In addition, as a Hebrew scholar, he is one of the main translators of the popular New Living Translation, and has served as a consultant on other popular Bible translations, including The Message, the New Century Version, the Holman Standard Bible, and the Common Bible. He has also edited and contributed to a number of study Bibles and Bible dictionaries, most recently The Baker Illustrated Bible Dictionary.
He earned his BA from Ohio Wesleyan University, his MDiv from Westminster Theological Seminary, and both his MPhil and PhD from Yale University. Dr. Longman and his wife, Alice, have three sons and two granddaughters.
Getting the most out of Mobile Ed
Logos Mobile Education is a highly effective cross-platform learning environment that integrates world class teaching with the powerful study tools and theological libraries available in Logos Bible Software. Every course provides links to additional resources and suggested readings that supplement the lecture material at the end of every transcript segment.
This course comes with an Activities resource that functions as a type of "workbook" for the course. This resource includes learning activities such as: places for you to respond to reflection questions, exercises that will challenge and show you how deepen your understanding of this course by using specific Logos tools and resources, tutorial videos on different features of Logos Bible Software, and links to relevant Logos guides and tools. A link to open the Activities resource is conveniently placed at the end of every segment.
More details about these resources