Medieval Historical Theology Collection (2 vols.)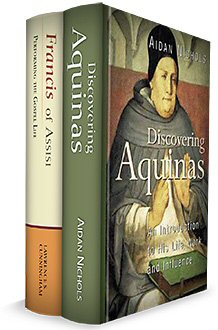 Medieval Historical Theology Collection (2 vols.)
•
Runs on Windows, Mac and mobile.
Overview
Francis of Assisi and Thomas Aquinas are two of the greatest saints in Catholic Church history. Though their lives and ideas were diverse, these men have had deep impacts on the church—both in the past and present.
The Medieval Historical Theology Collection contains biographies on Francis of Assisi and Thomas Aquinas. Each volume contains an introduction to the life, thought, and influences of each saint. Additionally, they expound on the philosophy and theology of each man, and the significance their scholarship and lives had in church history. This collection is bound to bring a renewed appreciation to these key historical figures.
With the Logos Bible Software edition of the Medieval Historical Theology Collection, you have an abundance of resources that offer applicable and insightful material for your study. You can easily search the subject of natural and supernatural revelation, and access an assortment of useful resources and perspectives from a variety of pastors and theologians.
Key Features
Biographies on two of the greatest Catholic saints
Focuses on the life, thought, and impact of Francis of Assisi and Thomas Aquinas
Ideal for clergy, students, and laity looking for an introduction to the study of each saint
Individual Titles

Thomas Aquinas is one of the great figures of church history, and his ideas continue to have a powerful effect on theologians and contemporary writers from very different backgrounds and traditions. In Discovering Aquinas, Aidan Nichols offers a lively and authoritative introduction to the life, thought, and ongoing influence of this singular churchman.
This book could not have come at a better time. After a lengthy period of declining interest in Aquinas, we are starting to see a Thomistic renaissance, including a renewed appreciation for the way Aquinas' work so brilliantly weaves together philosophy, theology, spirituality, revelation, and ethics. As Nichols writes, "It is because of the wonderfully integrated character of the wisdom of Thomas Aquinas—integrated not only as supernatural with natural but also as thinking with love—that the church in our day should not leave him as a fresco on a wall but find inspiration from his teaching and example."
By means of writing as felicitous as it is insightful, Nichols chronicles the compelling facts of Aquinas's life, explores the major facets of his thought, establishes Aquinas's historical importance, and shows why many today are regarding him as a vital partner in current debates about the future of Christianity.
This book offers both novice and expert a well-reasoned account of Aquinas' thought based on faithful readings of primary sources and with a strong argument for its relevancy today. . . . The coherence of Aquinas' thought is convincingly portrayed and must be taken seriously by any student of Christian theology.
—Toronto Journal of Theology
Dom Aidan Nichols sets out in this short book to explain why the current neglect of Thomas is a misfortune, and he pleads for a renewal of Thomist studies. . . . As an introduction to Aquinas' thought, this book can be highly recommended.
—Churchman Journal
This is an excellent introduction to the work, influence, and significance of St. Thomas Aquinas in a small compass. Written with the general reader in mind, the book does not enter into the intricacies of Thomas' thought, but provides what the author calls a miniature, a work that will portray the beauty of its subject by imparting its essential features in the hope that viewers, or in this case readers, will be moved to pursue the details on their own.
—Sixteenth Century Journal
A very good introduction to a particular and influential kind of reading of Thomas. It is subtle, sophisticated, and well worth its price.
—Scottish Journal of Theology
Aidan Nichols is the prior of Blackfriars in Cambridge, England, and a leading Roman Catholic writer and theologian. His other books include A Grammar of Consent, Looking at the Liturgy, No Bloodless Myth, The Panther and the Hind, and Christendom Awake: On Reenergizing the Church in Culture.

Francis of Assisi is counted among the most important personalities of history. The life and ideals of this humble, semiliterate medieval friar have had a shaping influence on the Christian church that has spilled over into Western culture at large. This biography by Lawrence Cunningham looks anew at Francis's life and legacy, seeking to counter efforts to romanticize him yet without diminishing his deep piety or abiding significance.
Pursuing a realistic view of the saint, Cunningham argues against common stereotypes that sentimentalize Francis as a "blesser of animals," as a "church rebel," or as a precursor of the "spirituality" movement. According to Cunningham, really seeing Francis requires the lens of theology rather than the lens of quaint spirituality so often used. Francis was a devotedly orthodox Catholic whose life must be understood as a response to reforming elements abroad in the church of his day. Francis' originality derived from his success in articulating the "ideal gospel life": his message and actions were a kind of "acting out" of the Scriptures.
Imbued with peerless scholarship, this book is also charmingly written. Cunningham is a master storyteller as well as a brilliant biographer—qualities that his Francis of Assisi fully displays. It will at once inform and delight anyone interested in the fascinating life of Francis or his impact on church history.
An engaging and informative contribution to the vast literature on the man commonly described as, next to the Virgin Mother, the most popular of saints. Among the merits of this little book is Cunningham's guide to that literature and his description of the frequently conflicting reasons through history for the celebration of Francis.
—First Things
A stimulating account of one of the most attractive figures in the history of Christendom. . . . This study is one of the best and most perceptive portraits of the saint in recent years.
—Catholic Historical Review
Lawrence S. Cunningham's small study of St. Francis demonstrates the value of sound critical judgment and solid theology for grounding healthy devotion to the saints and deepening the faith in the Christian realities to which they dedicated themselves. . . . Cunningham's solid historical scholarship is omnipresent, although it is so smoothly and thoroughly integrated that the work is in no way pedantic, nor is there any trace of jargon or obfuscation.
—America
This beautifully produced and beautifully written book by a well-known scholar and frequent writer on Franciscan spirituality argues against the entirely too familiar sentimental image of Francis that is coterminous with what the author calls "spirituality light"—a spirituality disengaged from religion that comforts its practitioners rather than challenging them.
—Cistercian Studies Quarterly
Lawrence S. Cunningham is John A. O'Brien Professor of Theology at the University of Notre Dame. An acknowledged expert on St. Francis and Christian spirituality, he is also the author of Saint Francis of Assisi and the editor and translator of Brother Francis: Writings By and About Saint Francis of Assisi.
Product Details
Title: Medieval Historical Theology Collection
Publisher: Eerdmans
Volumes: 2
Pages: 396
More details about these resources