Dan B. Allender Counseling Collection (3 vols.)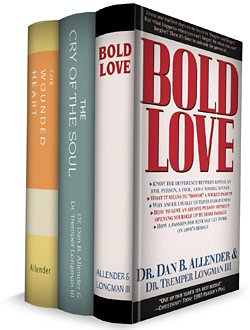 Dan B. Allender Counseling Collection (3 vols.)
•
Runs on Windows, Mac and mobile.
Overview
In a society where masking your emotions is the norm, it's difficult to come to grips with the reality that there is deep spiritual suffering in and amongst ourselves. Dealing with emotions, apart from Christ, is hopeless. In the Dan B. Allender Counseling Collection (3 vols.), author and psychologist Dan B. Allender gives his unique perspective on emotions, love, and childhood sexual abuse. He presents biblical ways to deal with the dark issues surrounding these topics.
This collection looks at how emotions are dealt with in both society and your spiritual walk with Christ. Whether you're struggling to understand the real meaning of love, are frustrated with your ability to control negative emotions, or are burdened with a past that included sexual abuse, you will find that there is healing that can be done. Dr. Allender focuses on the hope that is found when you feel there is nothing that can heal your broken soul: Jesus Christ. Understanding that Christ wants to release you from your chain of burdens is key in healing your soul.
Filled with practical helps and biblical encouragement, the Dan B. Allender Counseling Collection (3 vols.) will equip those who have suffered with negative emotions and those who counsel them, to grasp the hope and freedom found in Christ and live our lives in spiritual victory.
With Logos, countless Scripture passages are only a click away. Whether you are a counselor or are being counseled, the Logos edition of the Dan B. Allender Counseling Collection (3 vols.) brings the words of Scripture closer than ever to life's greatest challenges. In Logos, you can search the entire collection by subject or topic to find the exact resources you're looking for. When you search by Scripture passage, you'll learn exactly what the Bible says about a particular topic. Whether you are a regular counselor looking for a comprehensive set of practical tools, or you're dealing with some of the topics covered in these books, the Dan B. Allender Counseling Collection (3 vols.) can help you tackle today's toughest issues.
Key Features
Gives definitions, characteristics, and causes for each topic of study
Numerous real-life stories
Practical tools and a biblical focus to help heal and restore
Individual Titles

We've come to view love as being nice. Forgiving and forgetting. Yielding to the desires of others. Yet the kind of love modeled by Jesus Christ has nothing to do with manners or unconditional acceptance. Rather, it is disruptive, courageous, and socially unacceptable.
In Bold Love, Dr. Dan Allender and Dr. Tremper Longman III draw out the aggressive, unrelenting, passionate power of genuine love. Far from helping you "get along" with others, Bold Love introduces the outlandish possibility of making a significant, life-changing impact on family, friends, coworkers—even your enemies.
"Bold love is anything but passive," writes Dr. Allender. "It is unpredictable, cunning, and creative. It is a violation of the natural order of things. In many cases it will unnerve, offend, disturb, or even hurt those who are being loved. But in the end it will also compel them to deal with the internal disease that is robbing them (and others) of true beauty."
So if it feels like you've turned the other cheek so many times your head is spinning, it's probably time to take a second look at your practice of love. Because there's nothing redemptive about a love that just accepts people for who they are.
One of this year's ten best books!
—Christianity Today, 1993 Reader's Poll
The best modern book on love I've ever read.
—Dr. C. John Miller, Director, World Harvest Mission
Tremper Longman III (Ph.D., Yale University) is Robert H. Gundry Professor of Biblical Studies at Westmont College. Tremper has authored or co-authored twenty books and written numerous articles.

So often we find ourselves caught between extremes. Either we feel too much or not at all. We tend to ignore our feelings or fight them off as if they were an enemy. But all emotion—whether positive or negative—can give us a glimpse of the true nature of God. We want to control our negative emotions and dark desires. God wants us to recognize them as the cry of our soul to be made right with Him.
Beginning with the Psalms, Dr. Dan Allender and Dr. Tremper Longman III explore what Scripture says about our darker emotions. In this ground-breaking work they reveal that often our attempts to control our emotions—far from an attempt to be Christlike—are really a form of rebellion against God or an attempt to flee from Him.
This book shows that emotions are neither an embarrassment nor an impediment to spirituality, but the very stuff God uses as He shapes His salvation in us.
—Eugene H. Peterson, author of The Message
If we are to be rescued from the incessant tendency to psychologize the gospel, this book will be a good start. Dan and Tremper give us not more psychological information, but biblical encouragement to be faithful.
—Michael Card, singer and songwriter
Tremper Longman III (Ph.D., Yale University) is Robert H. Gundry Professor of Biblical Studies at Westmont College. Tremper has authored or co-authored twenty books and written numerous articles.

You may think you don't know anyone who has been sexually abused, but the statistics indicate otherwise. The Wounded Heart is an intensely personal and specific look at this most "soul deadening" form of abuse. Personal because it may be affecting you, your spouse, a close friend or neighbor, or someone you know well at church; and specific because it goes well beyond the general issues and solutions discussed in other books.
Dr. Allender's book reaches deep into the wounded heart of someone you know, exploring the secret lament of the soul damaged by sexual abuse and laying hold of the hope buried there by the One whose unstained image we all bear. Includes information about false memory issues.
These powerful pages bring the realities of damaging human experience into the perspective of a loving God. With professional skill and spiritual insight from the crucible of experience, Dr. Allender blends a keen understanding of the dynamics of sexual abuse with the practical application of Christian truth. An excellent and timely book!
—John Powell, Professor, Counseling Center, Michigan State University
Dr. Allender acts as a true surgeon of the soul in making a diagnosis which, while compassionate, is never sentimental. He brings the wounded survivor of abuse to the Great Physician for healing. I welcome this book: a next step for those who have begun the healing process, and a place to start for others.
—Maxine Hancock, author of Child Sexual Abuse
Product Details
Title: Dan B. Allender Counseling Collection
Publisher: NavPress
Volumes: 3
Pages: 864
About Dan B. Allender
Dan B. Allender received his M.Div. from Westminster Theological Seminary and his Ph.D. in Counseling Psychology from Michigan State University. Dan taught in the Biblical Counseling Department of Grace Theological Seminary for seven years (1983–1989). From 1989–1997 Dan worked as Professor in the Master of Arts in Biblical Counseling program at Colorado Christian University, Denver, Colorado. Currently, Dan serves as Professor of Counseling Psychology at The Seattle School of Theology and Psychology in Seattle, Washington.
More details about these resources