The Numerical Bible Vol. 4: Ezekiel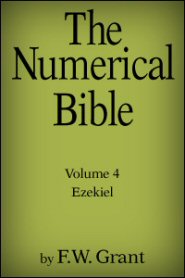 Overview
In a book famous for its bizarre symbolism, Ezekiel's visions include bones, beasts, eyes, and wheels. Grant's unhesitating look at Ezekiel brings the symbolism to the fore. In fact, he concentrates on the very aspects of Ezekiel's prophecy which often inhibit commentators and discourage readers. He devotes careful attention to the division of the book, the structure of Ezekiel's visions, the significance of the numbers, and the possibilities for prophetic fulfillment—even into the modern era. This volume also includes a historical chart of the Old Testament prophets, along with illustrations of the temple and a map of the geographic areas mentioned in Ezekiel's prophecy.
Key Features
Outlines of the structure
Chapter-by-chapter commentary and critical notes
Product Details
Title: The Numerical Bible Vol. 4: Ezekiel
Author: Frederick W. Grant
Publisher: Loizeaux Brothers, Inc.
Publication Date: 1902
Pages: 339
About Frederick W. Grant
Born in London in 1834, Frederick W. Grant converted to Christianity while reading the Bible. He attended King's College before traveling to Toronto. At the time, the Church of England was expanding in Canada, and Grant became ordained. He later moved to the United States, and lived in Brooklyn, New York before moving to Plainfield, New Jersey. Grant was also deeply influenced by the teachings of the Plymouth Brethren. Grant died in 1902.
More details about these resources