The Numerical Bible Vol. 2: Joshua to 2 Samuel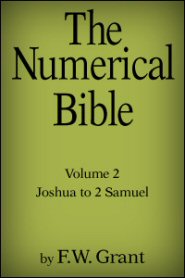 The Numerical Bible Vol. 2: Joshua to 2 Samuel
•
Runs on Windows, Mac and mobile.
Overview
In his second volume, Grant contends that the historical books explore the nature of covenant history, yet closely resemble the structure and intent of the Pentateuch. He begins with a sharp challenge against the claims of higher critics, who dispute the historicity and authorship of these books. Instead, Grant argues, the authenticity of these books and their place in the canon affirms the power of God, and much like the Pentateuch, contains elements of a new beginning and a need for obedience. Yet the importance of these books in the biblical canon lies not in their relation to what comes before—the Pentateuch—but to what comes next—God's punishment and Israel's captivity. Thus, these books anticipate the dispensational purpose of Israel's captivity and constitute a new stage in God's revelation.
Key Features
Outlines of the structure
Chapter-by-chapter commentary and critical notes
Product Details
Title: The Numerical Bible Vol. 2: Joshua to 2 Samuel
Author: Frederick W. Grant
Publisher: Loizeaux Brothers, Inc.
Publication Date: 1902
Pages: 489
About Frederick W. Grant
Born in London in 1834, Frederick W. Grant converted to Christianity while reading the Bible. He attended King's College before traveling to Toronto. At the time, the Church of England was expanding in Canada, and Grant became ordained. He later moved to the United States, and lived in Brooklyn, New York before moving to Plainfield, New Jersey. Grant was also deeply influenced by the teachings of the Plymouth Brethren. Grant died in 1902.
More details about these resources