SPCK New Testament Studies Collection (6 vols.)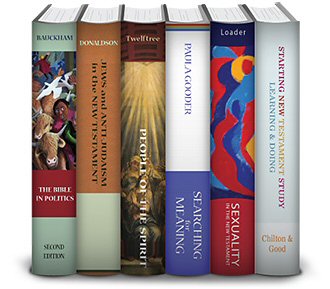 SPCK New Testament Studies Collection (6 vols.)
•
Runs on Windows, Mac and mobile.
Overview
The SPCK New Testament Studies Collection (6 vols.) introduces a diverse collection of volumes relating to New Testament interpretation. This collection analyzes different methods that have been used to unfold Scripture. It addresses topics such as traditional and modern methods of interpretation, the moral implications of misinterpreting New Testament text, human sexuality, whether the New Testament is anti-Semitic or not, and Luke's view of the church and its mission and structure.
The SPCK New Testament Studies Collection (6 vols.) includes tools to help you properly interpret Scripture while using different methods to explore your topic of interest. These methods include reading the Bible politically, relating biblical teaching to current issues, and using the appropriate method for your study (traditional or modern criticism). After gaining new insight to biblical interpretation, Starting New Testament Study, an introduction to the New Testament books, encourages you to use your new-found knowledge to start carefully interpreting New Testament books for yourself and taking your Bible study to a deeper level.
With the Logos Bible Software edition, all Scripture passages in SPCK New Testament Studies Collection (6 vols.) are tagged to original language texts and English translations. This makes these resources more powerful and easier to access than ever before for scholarly work or personal Bible study. With the advanced search features of Logos Bible Software, you can perform powerful searches by topic or Scripture reference—finding, for example, every mention of "sexuality," or "Luke."
Key Features
Analyzes various methods of biblical interpretation
Illustrates the risks of misinterpreting Scripture
Great resource for learning how to properly interpret the New Testament books
Product Details
Title: SPCK New Testament Studies Collection
Publisher: SPCK
Volumes: 6
Pages: 1,280
Individual Titles

The Bible in Politics: How to Read the Bible Politically, 2nd ed.
Author: Richard Bauckham
Publisher: SPCK
Publication Date: 2010
Pages: 192
The political interpretation of the Bible has many pitfalls for the unwary. It is all too easy to read our own prejudices into the text, and much harder to move intelligently, without anachronism, between the political societies of biblical times and the very different societies of today.
This is why Richard Bauckham's The Bible in Politics has been so enduring. It teaches the reader how to read the Bible politically, helping to relate biblical teaching to current issues. This more nuanced reading of the Bible leads to an understanding of the social relevance of the Bible that is more disciplined, more informed, more imaginative and more politically fruitful.
The new edition of this important book contains a substantial new introduction, dealing with pressing contemporary concerns such as globalization and climate change, and making this book essential reading for a new generation of Christians who want to be effective instruments of God's will, both locally and globally, today.
Richard Bauckham is Professor Emeritus at the University of St Andrews, Scotland. Prior to that, he was Professor of New Testament Studies and Bishop Wardlaw Professor at St. Andrews. Bauckham has published widely in theology and biblical studies.

Written by a world authority, this book considers the key question of whether or not the New Testament is anti-Semitic. An accessible and balanced approach makes this an ideal book for students. It is also ideal for ministers who want to be aware of the risk of anti-Semitism when preaching and teaching.
An excellent and much needed introduction to a difficult subject that will enrich scholars, students and the general reader.
—William S. Campbell, Reader in Biblical Studies, University of Wales Lampeter
This is a sensitive, level-headed approach to a tension-filled topic. Particularly striking is Donaldson's conclusion that the canon of the New Testament offers more options for Christian self-definition today in relation to Judaism than the compilers of the canon themselves were able to utilize.
—John Koenig, Glorvina Rossell Hoffman Professor of New Testament, The General Theological Seminary
In this perceptive and engaging guide, Donaldson demonstrates that interpretative decisions have moral implications that cannot be neglected. His own constructive proposals can only enhance responsible engagement with scriptural texts in today's complex world of faith.
—Bruce W. Longenecker, Professor of Religion and W. W. Melton Chair, Baylor University
This is an engrossing, persuasive, and highly readable introduction to diverse ways in which scholars have interpreted the New Testament in relation to anti-Judaism. Donaldson's excellent book will surely lay the groundwork for future discussions of this important topic.
—Adele Reinhartz, Professor, Department of Classics and Religion, University of Ottawa
Terence L. Donaldson is the Lord and Lady Coggan Professor of New Testament Studies at Wycliffe College, Toronto. He also serves as Director of Advanced Degree Programs at the Toronto School of Theology. He is particularly interested in the theological status of Gentiles within both Second-Temple Judaism and early Christianity.

People of the Spirit: Exploring Luke's View of the Church
Author: Graham Twelftree
Publisher: SPCK
Publication Date: 2009
Pages: 288
People of the Spirit examines Luke's understanding of the Church as found in both his Gospel and the Book of Acts. Topics such as Luke's view of salvation, worship of Jesus amongst the first Christians, Pentecost, mission and the structure of the early church are examined in order to challenge the contemporary church to remain true to the Gospel.
Graham Twelftree teaches New Testament in the Ph.D. and Masters levels. He is a member of the international Studiorum Novi Testamenti Societas and the editorial board of the Journal for the Study of the Historical Jesus.

Searching for Meaning: An Introduction to Interpreting the New Testament
Author: Paula Gooder
Publisher: SPCK
Publication Date: 2008
Pages: 256
Searching for Meaning introduces readers to the different methods used to interpret the New Testament. Top scholars give a short definition of a particular criticism and then Paula Gooder gives a practical example to demonstrate how that criticism can be applied to a biblical text.
A very broad range of methods are introduced, from traditional criticisms such as source criticism and historical criticism to the more modern methods such as feminist criticism and liberation criticism. Readers will understand how different meanings and emphases can be drawn out from a text depending upon the method of interpretation chosen. They will also be given the skills to start analyzing and examining texts for themselves in a meaningful and insightful way.
This is a clearly written and extremely helpful introduction to many different approaches to the interpretation of the New Testament. Experts from around the world and across many disciplines contribute specialized explanations, while Paula Gooder's excellent discussions apply each form of criticism to actual New Testament textual examples. It will become an indispensable tool and is greatly to be welcome.
—Richard A. Burridge, Professor, King's College, London
No other primer in biblical criticism even comes close in terms of representing the actual multiplicity and diversity of contemporary biblical methodology and biblical scholars.
—Stephen D. Moore, Professor, Drew University
Paula Gooder, a member of SPCK's governing body, was a lecturer in biblical studies at Ripon College Cuddesdon, and then at the Queen's Foundation for Ecumenical Theological Studies, before becoming a freelance writer and lecturer. She is a visiting lecturer at King's College London, an honorary lecturer at the University of Birmingham, a senior research scholar at the Queen's Foundation, Birmingham, and Canon Theologian of Birmingham Cathedral.

Sexuality in the New Testament: Understanding the Key Texts
Author: William Loader
Publisher: SPCK
Publication Date: 2010
Pages: 176
Williams Loader considers the key question of what the New Testament says about issues of human sexuality. This accessible guide covers a variety of interpretations of the main texts in this contentious issue.
Loader has brought together sources from the ancient world and opinions from a wide range of scholarship in many contentious areas concerning sexuality. He avoids leading the witness, letting the texts speak for themselves. He states the opinion of other scholars and occasionally of himself, but his aim is to educate and not preach.
—Dr. David Instone-Brewer, Senior Research Fellow in Rabbinics and the New Testament, Tyndale House
William Loader is Professorial Research Fellow of the Australian Research Council, based at Murdoch University, Perth, Australia, and is engaged in research on attitudes towards sexuality in Judaism and Christianity in the Hellenistic Greco-Roman Era.

Starting New Testament Study: Learning and Doing
Author: Bruce Chilton and Deirdre Good
Publisher: SPCK
Publication Date: 2009
Pages: 192
Starting New Testament Study provides an introduction to the books of the New Testament, their authors, and their context for those just beginning to study the Bible.
It has an emphasis on 'learning by doing;' alongside the main narrative sweep come text boxes that introduce readers to areas of critical scholarship, maps, timelines and questions and exercises that encourage direct engagement with the biblical text.
This helpful and encouraging book will enable the beginning student to start analyzing New Testament texts for themselves and will develop their confidence and skills in this area.
Bruce Chilton is the Bernard Iddings Bell Professor of Religion at Bard College, New York, and is the author of numerous books including Starting New Testament Study (with Deidre Good), Rabbi Jesus: An Intimate Biography, and Rabbi Paul: An Intellectual Biography.
Deirdre J. Good is Professor of New Testament at General Theological Seminary, New York. She is the co-author of Starting New Testament Study (with Bruce Chilton). Her other publications include Jesus and Family Values and Jesus the Meek King.