SPCK Pauline Studies Collection (3 vols.)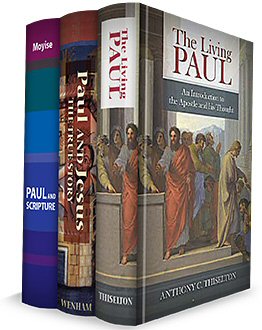 Overview
The Apostle Paul was one of the most prominent leaders of the Christian faith. After converting to Christianity, Paul sought to spread the Gospel through his writings and missionary journeys. Though persecuted throughout his ministry, nothing stopped the apostle from spreading the gospel of Christ; several of his most valuable works were even written during his imprisonment! Thirteen epistles of the twenty-seven New Testament books are attributed to him and form the foundation of Christian living today.
The SPCK Pauline Studies Collection (3 vols.) introduces the life, works, and mission of Paul the Apostle. It gives us a look into the political, social, and religious context of Paul's origins and analyzes the role Scripture played in forming his thought. Though his teachings are well-known and have been some of the major influences of Christian thought and living, Paul's works are still the in the forefront of major controversy. This collection also explores the obstacles Paul's epistles have faced and defends his works in relation to Jesus' teaching. In presenting all aspects of his works, ministry, and thought, this collection seeks to combat Pauline criticism with its solid study and to bring a new-found appreciation for the apostle and his works.
With the Logos edition of the SPCK Pauline Studies Collection (3 vols.), all Scripture references are linked to your Greek texts and preferred English translations, giving you the tools you need for academic research, sermon preparation, or personal study. This collection is a vital addition to the libraries pastors, students, and anyone interested in understanding the most significant developments in Pauline studies in recent decades.
Key Features
Three titles of exploration on Pauline studies
Appendixes, indexes, and bibliographies
Includes a timeline of Paul's ministry
Individual Titles

The Living Paul: An Introduction to the Apostle's Life and Thought
Author: Anthony Thiselton
Publisher: SPCK
Publication Date: 2009
Pages: 192
In this accessible book, Anthony Thiselton introduces the apostle Paul, sometimes described as the founder of Christianity, to students and the general reader.
Drawing upon a lifetime of study, research and teaching . . . Thiselton brings it all together to provide this wide-ranging yet concise introduction to the apostle's life and world, as well as to the main areas of his thought and his theology. Masterful in its scope.
—Richard Burridge, dean, King's College London
Thiselton's richly synthetic yet immensely readable book provides a superb general introduction to St. Paul's life and writings.
—David Lyle Jeffrey, Distinguished Professor of Literature and Humanities, Baylor University
In the hands of a master scholar and teacher, Paul's letters come alive for a wide readership. This is an outstanding, reliable guide to the great apostle's life and thought.
—Graham Stanton, Lady Margaret's Professor of Divinity, University of Cambridge
Anthony C. Thiselton is Professor of Christian Theology at the University of Nottingham. He is known internationally for his work on hermeneutics. More recently he has published 1 Corinthians: A Shorter Exegetical and Pastoral Commentary and Hermeneutics of Doctrine.

Paul and Jesus
Author: David Wenham
Publisher: SPCK
Publication Date: 2002
Pages: 208
Many people today have a negative view of Paul. He is accused of not being a faithful follower of Jesus because of his failure to refer much to Christ's early life and teaching in his letters. He is seen as a freelance who did his own thing with the Christian faith, changing Jesus' good ideas and introducing bad ones, especially about women and sex. He is also often thought to be arrogant and obscure.
But was Paul a narrow-minded maverick who meddled with the gospel? In this book, David Wenham seeks to address these doubts about the 'apostle to the Gentiles' and to tell something of the true story of Paul and Jesus.
David Wenham (Ph.D., Manchester) is vice principal and tutor of New Testament at Trinity College, Bristol, having previously spent many years at Wycliffe Hall, Oxford, where he served as dean and vice principal.

Paul and Scripture
Author: Steve Moyise
Publisher: SPCK
Publication Date: 2010
Pages: 160
This is the only short book available that summarizes the role scripture played in Paul's thought. Accessibly written at undergraduate level, it outlines the key arguments in the debate. Written by an international expert on the subject, Paul and Scripture also contributes to contemporary Church discussions about the proper interpretation of scripture.
Clear and accessible. . . . Students in particular will welcome this helpful overview, with its lucid explanations and fair survey of the field.
—David G. Horrell, Professor of New Testament Studies, University of Exeter
Product Details
Title: SPCK Pauline Studies Collection
Publisher: SPCK
Volumes: 3
Pages: 560
More details about these resources