This Year
Go Beyond the Reading Plan
---
How do you want to grow in your faith, ministry, or studies?
Let's get there together.
I Want to Be More Consistent

---
Form a habit with daily reading plans and encouraging devotionals.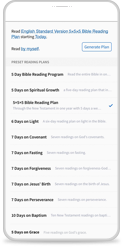 Let's Go Further Together
Go through the New Testament with us this year in the Logos 5x5x5 reading plan. It only takes five minutes a day, five days a week. We'll post a question or insight each week in the Logos group on Faithlife to help you engage with Scripture.
Join the Reading Plan
I Want a New Theological Challenge

---
Learn something new this year with seminary-level video courses and study aids.
I Want to Grow as a Ministry Leader

---
Sharpen your ministry skills with teaching and leadership resources.