The book of Job explores themes of suffering and righteousness. The central question concerns the motivation behind Job's faithfulness to Yahweh (Job 1:8–9). Does Job's trust in God derive from his many God-given blessings or because he values God for being God (1:10–11)? When all of Job's blessings are stripped away, he questions God about the reason for his suffering. Job wrestles with the conflict of suffering while believing in a just God.
—Faithlife Study Bible, Lexham Press
Everything You Need to Study & Teach Job
Expository Preaching Kits are curated resources all focused on helping you teach a single book of the Bible—keeping you prepared without weighing you down.
Francis I. Andersen, Tyndale Old Testament Commentaries (TOTC), InterVarsity Press, 1976, 318 pp.
For Francis Andersen, the Old Testament book about Job is one of the supreme offerings of the human mind to the living God and one of the best gifts of God to humanity. ""The task of understanding it is as rewarding as it is strenuous. . . . One is constantly amazed at its audacious theology and at the magnitude of its intellectual achievement. Job is a prodigious book in the vast range of its ideas, in its broad coverage of human experience, in the intensity of its passion, in the immensity of its concept of God, and not least in its superb literary craftsmanship. . . . From one man"s agony it reaches out to the mystery of God, beyond words and explanations.""
Level: Basic
Type: Devotional
David J. A. Clines, Word Biblical Commentary (WBC), Thomas Nelson, 1989–2015, 1,644 pp.
Learn how every element of Job is an essential element in the weaving of a literary and theological masterpiece. Examine the enigmatic origins and context of Job, its textual tradition, its complex structural relationships, and keys to its elegant poetry. This volume never loses sight of the big picture or the details. It constantly surveys the progress of Job, unravels the identity of its characters, and attempts to identify the distinctive viewpoints of the book's speakers. The textual notes, which center on explaining why the English versions of Job differ so amazingly from one another, support the author"s carefully worded translation.
Level: Advanced
Type: Technical
John E. Hartley, New International Commentary on the Old Testament (NICOT), Eerdmans, 1988, 605 pp.
This commentary on Job follows in the tradition of the NICOT series by providing an up-to-date evangelical commentary based on thorough scholarship. John E. Hartley deals carefully with this book whose language, text, and theology are not only among the most intriguing in the Old Testament but also among the most difficult to grasp.
Level: Intermediate
Type: Expository
Robert L. Alden, New American Commentary (NAC), B&H, 1993, 414 pp.
Is suffering compatible with serving God? In the book of Job, the problem of human pain confronts the person of God. The book leads to the conclusion that God"s goodness and greatness deserves and demands our love and worship. Robert Alden"s commentary serves as a skillful and sensitive guide through this highly relevant handbook for suffering servants of God.
Level: Intermediate
Type: Expository
John H. Walton, NIV Applicaton Commentary (NIVAC), Zondervan, 2012, 480 pp.
The title character of the book of Job suffers terribly, but we should not mistakenly think that this book is just about Job. It is about all of us, and ultimately about God. Many have thought that the book simply restates the perennial questions that plague humankind in a world full of suffering. But often our questions are too limited, and we must learn to ask better questions so that we might find more significant answers. The book of Job answers our original questions obliquely, letting these answers prompt deeper questions and leading us to discover the wealth that the book has to offer.
Level: Intermediate
Type: Devotional
"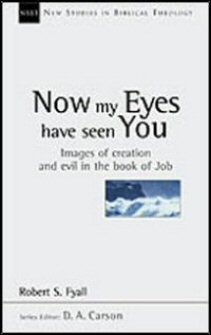 For Robert Fyall, the mystery of God's ways and the appalling evil and suffering in the world are at the heart of Job's significant contribution to the canon of Scripture. He offers a holistic reading of Job, with particular reference to its depiction of creation and evil and finds significant clues to its meaning in the striking imagery it uses. He takes seriously the literary and artistic integrity of the book of Job, as well as its theological profundity. He concludes that it is not so much about suffering per se as about creation, providence, and knowing God, and how—in the crucible of suffering—these are to be understood. He encourages us to listen to this remarkable literature, to be moved by it, and to see its progress from shrieking protest to repentance and vision.
Learn more
This volume fills an important gap in the study of the Hebrew Bible by providing the first comprehensive treatment of intertextuality in Job which addresses intertextual resonances between Job and texts in all three divisions of the Hebrew canon, along with non-canonical texts throughout history, from the ancient Near East to modern literature. Though comprehensive, this study will not be exhaustive, but will invite further study into connections between Job and these texts, few of which have previously been explored systematically. Thus, the volume's impact will reach beyond Job to each of the "intertexts" discussed.
Learn more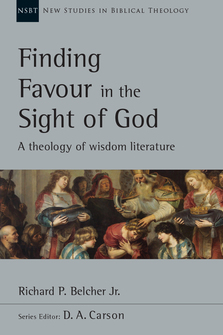 There has been an explosion of interest in wisdom literature, and many studies are now available. There is every opportunity for people to "get wisdom, get insight" (Prov. 4:5). However, in today's world it seems the practical sensibilities that come from wisdom are found in very few places. Wisdom literature is needed now more than ever. By walking in the way of wisdom, we will "find favour and good success in the sight of God and man" (Prov. 3:4).
Learn more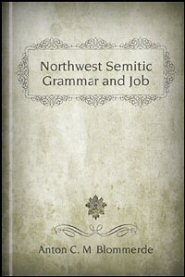 This study is chiefly concerned with some grammatical peculiarities which either have been discovered for the first time in Ugaritic or Phoenician and afterwards also in Hebrew, or were already known from Hebrew but have received renewed attention under the impulse of Northwest Semitic studies. In two sections, the study tries to shed new light on a series of passages from Job by applying these grammatical principles.
Learn more
This collection of essays focuses on the book of Job, exploring the complex interplay of methodology and hermeneutics. There are two major parts: approaches that are primarily historical, i.e. the recovery of what the text "meant"; and those that are contextual, i.e., that take seriously the context of reading. Both approaches engage the theological issue of how this reading helps us to better appropriate what the text "means."" Contributors include Stephen Cook, Corrine Patton, James Watts, Mark S. Smith, Douglas J. Green, Victoria Hoffer, Ellen F. Davis, and Claire Matthews McGinnis.
Learn more