The Second Coming of Systematic Theologies
Wayne Grudem's Systematic Theology, Second Edition is finally here!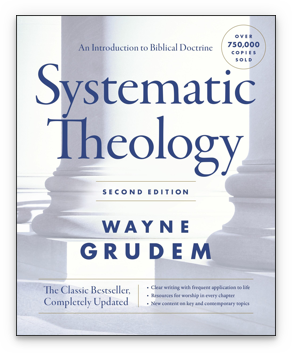 The Most Referenced Systematic Theology—Updated and Upgraded
For 25 years, the most widely used resource in its field
Several hundred pages of new content
All 57 chapters have been thoroughly revised and expanded
Completely revised, stronger chapter on the clarity of Scripture
New, more powerful chapter on creation and evolution, including a longer critique of theistic evolution and an extensive discussion on the age of the earth
And much more
'I thank God for this precious gift to Christ's people worldwide.'
'With the arrival of this long-awaited second edition, it is fitting that the book that has so guided me and my generation can be refreshed in such a way that it can equally impact my children and theirs. I have every confidence that it will.'
'Wayne Grudem's second edition of his Systematic Theology displays all the virtues of the first. The lucidity and simplicity of Grudem makes his work an ideal textbook.'
Your Order Includes Free Bible Software
In Logos, It's Much More Than a Book
In Logos, Grudem's scholarship becomes a gateway to a brand new ways to explore theology:
Preview Scripture references on hover.

Launch a word study.

Look up a topic and see everywhere it's discussed in a built-in digital library.
It's the perfect way to study a provocative scholar's work so you can come to your own conclusions.
A Wayne Grudem Classic. Now Followed by a Wayne Grudem Masterpiece.
Wayne Grudem is a New Testament scholar turned theologian, author, and research professor of Bible and theology at Phoenix Seminary, Arizona. He earned a BA from Harvard University, an MDiv from Westminster Theological Seminary, and a PhD from the University of Cambridge. In 2001, Grudem moved to Phoenix Seminary after teaching for more than twenty years at Trinity Evangelical Divinity School, where he was also the chairman of the Department of Biblical and Systematic Theology.