Logos 7: The All-in-One Bible Study Solution

Logos is fine-tuned for serious Bible study, leading to more insights that fuel your passion for God's Word.

A Biblical Library For Your Entire Church

Unlock the entire Mobile Ed video archive and Faithlife TV Plus for every member in your church, at one low annual price.
It's a suite of digital tools, a robust theological library,
and a powerful search engine fine-tuned for Bible study.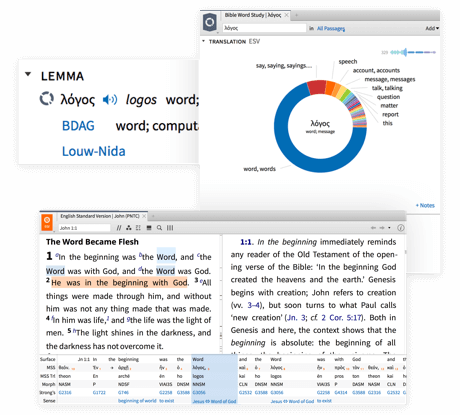 Maximum Insight, Minimum Time
Our tools are carefully designed to help you do everyday Bible study tasks with more precision and less frustration. Explore cultural and historical context, do in-depth exegesis, study the original Greek and Hebrew, and lots more with intuitive, interactive tools created with input from real pastors and scholars.
We Have the Books You Rely On
Book lovers rejoice: our base packages include vast collections of trusted biblical resources specially tagged to work seamlessly with our study tools. And with over 100,000 books (and counting) available in Logos, there are over 100,000 reasons to start studying with Logos.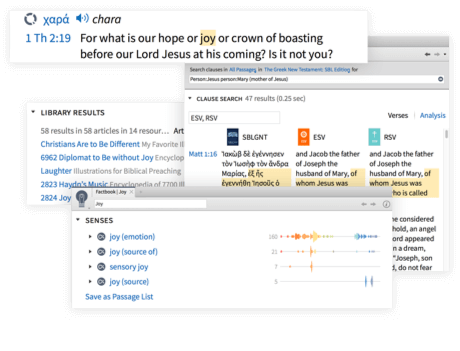 Everything You Need, Right When You Need It
Discover insights that would remain forever hidden in a paper library. Open a passage, and Logos automatically pulls in only the most relevant excerpts from across all your books. Search for anything, and Logos scours every word in every resource, taking you to the right page in the right book—every time.
We're with You Every Step of the Way
Get started with premade layouts tailored for specific types of study and common Bible study tasks. Or choose from dozens of carefully designed learning plans that pull together essential readings, media, and more on key topics and books.
Plus, we'll provide free training videos to get your study up and running in no time—not to mention personalized support from real people who know Logos inside and out.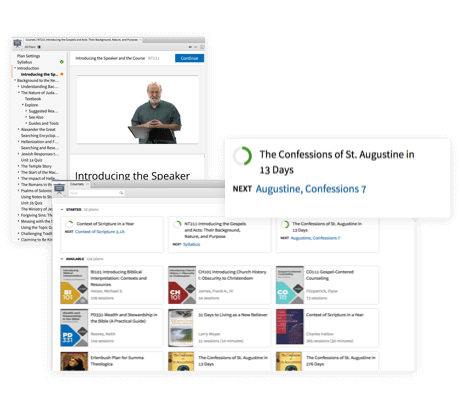 Always Up to Date, Never Out of Reach
When you purchase a Logos base package, it's yours to keep forever. We provide updates so you can use Logos on your future computers or operating systems. You never have to worry about losing access to your books or software.
Perfect for Every Type of Study
From personal devotions to preparing sermons, we fine-tuned Logos 7 to
make the study you love even better.