Problem:
Logos seems to be running slower than expected.
Solution:
Here are some suggestions which together should improve the performance dramatically.
Some tweaks in Logos
These tweaks have been identified which have improved performance for people who have had performance issues despite perfectly good hardware.
Turn off the visual filter for "Links to Open Panels". This causes some performance degradation, particularly in some resources. Try turning it off in each resource and see if it makes any difference.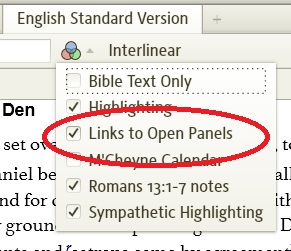 Upgrade your computer's hardware
If your computer does not meet the minimum system requirements to run Logos, we recommend upgrading your hardware to at least the minimum system requirements to the performance of Logos 4.
If your computer meets the minimum system requirements, upgrading to the recommended requirements will also improve the performance of Logos 4.
Turn off Power Saving Features
If you are running a Mac Laptop you will have power saving features turned on by default.
Click on the Battery icon on the menu bar and then select Energy Saver Preferences
Uncheck Automatic Graphics Switching
Close Energy Saver Preferences