September's Publisher Spotlight
Get 40% off Zondervan Resources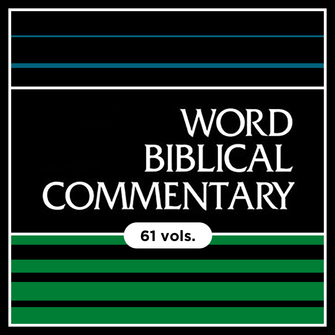 Word Biblical Commentary | WBC (61 vols.)
The Word Biblical Commentary delivers the best in biblical scholarship, from the leading scholars of our day who share a commitment to Scripture as divine revelation. This series emphasizes a thorough analysis of textual, linguistic, structural, and theological evidence. The result is judicious and balanced insight into the meanings of the text in the framework of biblical theology. These widely acclaimed commentaries serve as exceptional resources for the professional theologian and instructor, the seminary or university student, the working minister, and everyone concerned with building theological understanding from a solid base of biblical scholarship.
$1,199.99
Save 40%
Your Price: $719.99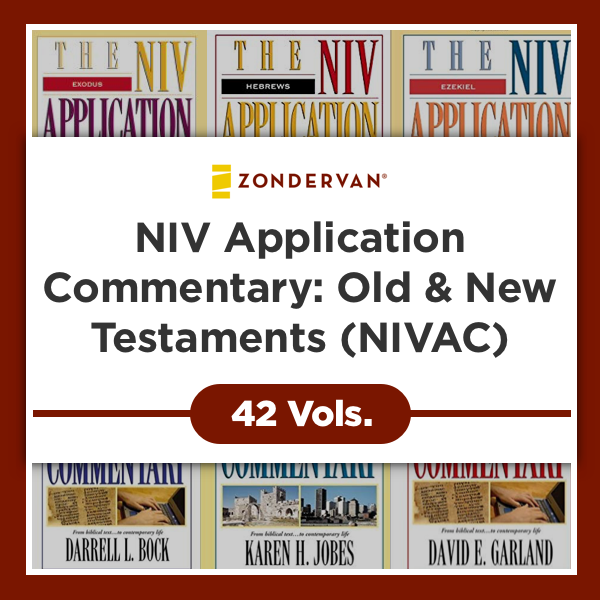 NIV Application Commentary: Old Testament & New Testament, 42 Volumes (NIVAC)
The NIV Application Commentary (NIVAC) series shows you how to bring the Word's ancient message into our postmodern context. It explains what the Bible meant and how it speaks so powerfully today. It treats all the elements of traditional exegesis, and its authors bridge the gap between the Bible's world and the world of today, between the original context and the contemporary context by focusing on both the timely and the timeless aspects of the text. The NIV Application Commentary discusses the Bible in a way that engages contemporary life and culture.
$999.99
Save 40%
Your Price: $599.99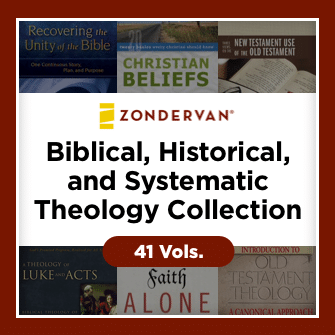 Zondervan Biblical, Historical, and Systematic Theology Collection (41 vols.)
This collection of Zondervan resources includes content covering theological studies of the Bible and it background, history, and systematics, providing beginning and advanced theology students, laypeople, ministers, and scholars alike the tools needed for study. Scholars including D.A. Carson, Douglas J. Moo, Tremper Longman, III, John Walton, Andrew E. Hill, among others provide material covering a broad array of topics related to historical background, theological and cultural contexts, interpretive issues, charts, graphs, timelines, literary criticism, original languages, and more.
$1,432.99
Save 40%
Your Price: $859.79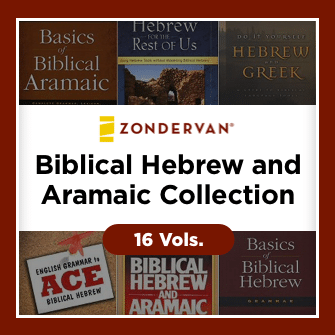 Zondervan Hebrew and Aramaic Language Collection (16 vols.)
Discover nuances in language that were previously inaccessible to you—and get meaning out of it even if you don't know Hebrew! With Hebrew audio readings, interactive workbooks, quick-reference guides, and texts for all levels of Hebrew and Aramaic learning, this collection is essential for everyone. Renowned authors and professors Miles V. Van Pelt, Gary D. Pratico, Edwards Goodrick, and others guide you through the spectrum of the learning to read and navigate the Old Testament original languages.
$469.99
Save 40%
Your Price: $281.99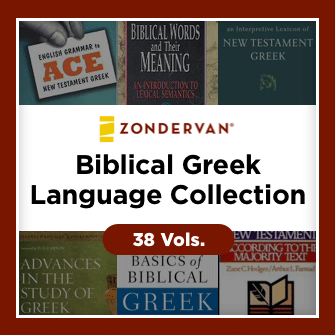 Zondervan Biblical Greek Language Collection (38 vols.)
No matter where you are in your journey of learning Greek, from beginning student to advanced Greek exegete, this collection of Zondervan grammars, lexicons, workbooks, and other resources will help to reveal the nuances of the original biblical texts. Respected professors like Bill Mounce, Constantine Campbell, Moisés Silva, and others will equip you with the tools you need to explore the riches of the Septuagint and Greek New Testament texts.
$864.99
Save 40%
Your Price: $518.99