Thomas Cranmer Collection (10 vols.)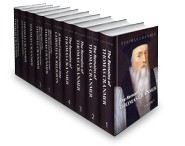 Overview
The Thomas Cranmer Collection (10 vols.) is a vital set of writings by and about English Reformer and former archbishop of Canterbury Thomas Cranmer. Known for his advocacy for the English Bible and his work on The Book of Common Prayer, Cranmer also has many important doctrinal writings contained in letter, article, and book form. These writings make up The Remains of Thomas Cranmer (4 vols.) and a less lengthy book entitled A Short Instruction into Christian Religion and were published at various points between 1530—1556.
As important as Cranmer's writings are to the Christian faith, the story of his life and the historic role he played as an advocate for the English Church and Archbishop of Canterbury during the time of Henry VIII are equally fascinating. Included in Logos Bible Software's Thomas Cranmer Collection (10 Vols) are biographical resources written by John Strype, Arthur James Mason, Albert Frederick Pollard, and Charles Hastings Collette.
The Thomas Cranmer Collection (10 vols.) will give any scholar, historian, or theologian insight into one of the early English Church's most well-known and influential Reformers. The writings and biographical information contained in this set will add great historical and theological content to your Logos Bible Software collection.
Key Features
Biographical volumes covering the life and works of Thomas Cranmer
Compilation of letters from Cranmer to English royalty and members of the English Church
Historical content encompassing Cranmer and the English Reformation
Product Details
Title: Thomas Cranmer Collection (10 vols.)
Volumes: 10
Pages: 4,249
About Thomas Cranmer
Thomas Cranmer was born in 1489, in Nottinghamshire, England. A scholar of Jesus College of Cambridge, he went on to become the Archbishop of Canterbury, remaining so during the reigns of English kings Henry VIII and Edward VI. During his time as archbishop, Cranmer along with Thomas Cromwell supported the translation of the Bible into English. Well-known for his interaction with Henry VIII, his work on The Book of Common Prayer, and his teachings on the doctrine of transubstantiation, Cranmer also helped establish the structure of the Church of England. Cranmer was martyred in 1556 in Oxford.