Christ Alone Exalted: The Complete Works of Tobias Crisp (2 vols.)
Christ Alone Exalted: The Complete Works of Tobias Crisp (2 vols.)
•
Runs on Windows, Mac and mobile.
Overview
Published by Robert Lancaster, Christ Alone Exalted: The Complete Works of Tobias Crisp (2 vols.) contains a total of fifty two sermons as well as memoirs of Tobias Crisp's life. The collection was first published in 1643, the year of Crisp's death. Later, in 1690, his complete works were republished by one of his sons with some additional materials. The final copy was published in 1791 by John Gill, an English Baptist minister.
The sermons of Tobias Crisp are saturated with scriptural references and the doctrine of free grace, and they highlight well-known, well-loved texts from the New Testament. His passion for evangelism and persuasive debating skills shine through in these sermons, and they will add depth to your Logos collection.
Key Features
Memoirs of Tobias Crisp
52 easily searchable sermons
Introduction by Henry Pinnel
Individual Titles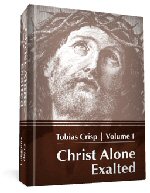 Beginning with a four-page biography of Crisp, this volume also holds an extensive introduction by Robert Lancaster, the first publisher of the complete works, as well as an introduction by George Cokayn. Following the introductory section are twenty-three sermons covering well-loved books of the Bible such as Isaiah, John, Romans, and 1 Corinthians.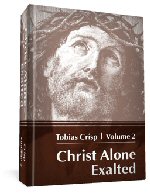 Volume 2 contains twenty-nine sermons, beginning with Isaiah 6 and ending with a sermon on Galatians, entitled "A funeral sermon, occasioned by the death of Mr. Brunsell, Vicar of Wroughton." Encompassing subjects such as Christ's cleansing blood and Christ as the head of the Church, these sermons are encouraging and inspiring.
Product Details
Title: Christ Alone Exalted: The Complete Works of Tobias Crisp (2 vols.)
Author: Tobias Crisp
Publisher: John Bennett
Volumes: 2
Pages: 858
About Tobias Crisp
Tobias Crisp, younger brother of Sir Nicholas Crisp and son of former sheriff of London Ellis Crisp, was born in 1600 in England. After studying at Cambridge, Crisp spent his forty-three years of life preaching and debating on the gospel of free grace in London. He died of smallpox in 1643.
More details about these resources