The Complete Works of Andrew Fuller (3 vols.)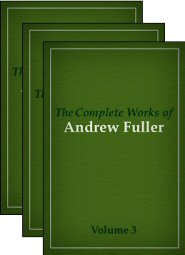 The Complete Works of Andrew Fuller (3 vols.)
•
Runs on Windows, Mac and mobile.
Overview
Andrew Fuller was a significant Baptist preacher in England, contemporary of George Whitefield and Charles Wesley. He is best known for his enthusiastic views on evangelical Calvinism and his rejection of hyper-Calvinism popular at the time. Fuller's theology matched that of Jonathan Edwards, John Owens, and John Bunyan. He believed in the inerrancy of Scripture and salvation by faith alone. Fuller is most famous for his defense of Calvinism and evangelical thinking, believing that Scripture supported both views. He promoted these ideas with vigor throughout his life, believing that a theology based entirely on scripture alone was essential to proper doctrine. Fuller also was involved in the Baptist Missionary Society founded by William Carey, believing that missions was an important part of Christianity.
Students, professors, and those interested in Calvinism studies and Reformed thinking will find these works to be invaluable. This comprehensive set includes all of Fuller's writings: letters, sermons, essays, books, views on preaching, expositions on scripture, and sermon reviews.
Key Features
Includes memoir of Fuller's life by his son, Andrew Gunton Fuller
Contains Fuller's well-known The Gospel Worthy of All Acceptation
Prominent work on Evangelical Calvinism
Detailed table of contents and indexes
Product Details
Title: The Complete Works of Andrew Fuller (3 vols.)
Author: Andrew Fuller
Publisher: American Baptist Publication Society
Volumes: 3
Pages: 2,427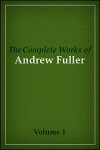 This first volume contains Fuller's biography as written by his son, Andrew Gunton Fuller. It is supplemented by excerpts from Fuller's diaries and letters, followed by ninety-two sermons and forty-eight expositions on various scriptures. It finishes with Fuller's views on preaching and sermon construction.
The second installment of Fuller's work includes his longer works, such as The Gospel Worthy of All Acceptation and The Gospel Its Own Witness, as well as his responses to critics and other theologians. There are several letters to his opponents, as well as his advocates. Included are Fuller's imaginary dialogues between biblical characters.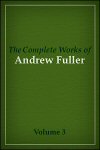 Contained in the last volume of Fuller's works are his expository discourses on the book of Genesis and the Apocalypse. There are many short letters, essays, sermons, and reviews, as well as a general index.
About Andrew Fuller
Andrew Fuller, the son of poor Baptist farmers, was born in Wicken, Cambridgeshire, England, on February 5, 1754. He became a Baptist preacher at the young age of seventeen and formed a theology based on the writings of Jonathan Edwards and John Calvin, professing a new kind of Calvinism promoting evangelical missions. He sought to combine his theology with practical matters of salvation and worked tirelessly with missionaries, becoming a forerunner to modern ideas of missions. Fuller pastored for thirty-one years while engaging in theological debates and questions.
More details about these resources