Logos Bible Software 7
SDA Platinum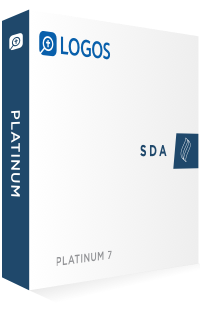 Logos 7 Base Package Combo Savings Applied
$2,149.99
Paid in full today
For 23 months with $94.65 down
SDA Platinum contains 1591 library resources you don't own.
Get them all in a SDA Platinum base package today for only $2,149.99.
Included in this base package
A carefully curated theological library containing 1591 resources that will be added to the resources you already own.
The Logos 7 software, upgraded to include the Logos 7 Full Feature Set.
30-day money-back guarantee
Free customer support
Runs on Windows & Mac
Access library in mobile & web apps
Overview
Do better study with a huge collection of biblical and ministry oriented resources. Learn from top scholars with hundreds of theological, historical, and exegetical resources. Explore the Bible's context, message, and the church's advance through history with this world-class library.
Do More with Logos 7
Bible Study
Connect your favorite commentary with any Bible

Build a concordance of any resource to find the terms, people, and concepts that appear most often

See the author, audience, and theme of any book of the Bible

Get blueprints for studying the Bible and focused topics
Greek and Hebrew
Instantly access Greek and Hebrew words behind the English translations

Immediately get definitions, morphology, and syntactical values of every word in a passage

Transliterate Greek and Hebrew text

Find every occurrence of important grammatical constructions for further study

Discover textual differences across ancient manuscripts

Simplify lexicon look up
Preaching & Teaching
Discover key literary devices

Automatically create slides and handouts from your sermon

Reveal cultural concepts of the biblical world

Get 1800 years of theological insight on any passage
Academic
Discover semantic roles for Greek and Hebrew verbs

Find passages based on discourse genre

See purpose of speech in a social setting
Quick Compare
SDA Starter

11

SDA Bronze

89

SDA Silver

156

SDA Gold

289

SDA Platinum

352

Commentaries
SDA Starter

4

SDA Bronze

6

SDA Silver

30

SDA Gold

56

SDA Platinum

235

Original-Language Tools & Resources
SDA Starter

12

SDA Bronze

410

SDA Silver

425

SDA Gold

437

SDA Platinum

446

Theology
SDA Starter

0

SDA Bronze

0

SDA Silver

2

SDA Gold

12

SDA Platinum

49

Journals
SDA Starter

6

SDA Bronze

6

SDA Silver

10

SDA Gold

14

SDA Platinum

18

Dictionaries and Encyclopedias
SDA Starter

1

SDA Bronze

1

SDA Silver

1

SDA Gold

1

SDA Platinum

1

Courses
Resource Highlights
Journal of the Adventist Theological Society (24 vols.) (1990–2013)
The archives of Journal of the Adventist Theological Society (JATS) is finally available, upon popular demand from SDA pastors and scholars around the world. This peer-reviewed scholarly journal is also read by nearly 2,000 non-SDA members of the Evangelical Theological Society.
Lifeworks of Hans K. LaRondelle—Part 2 (248 docs.)
Hope for the Heart Biblical Counseling Library (102 vols.)
The Bible Speaks Today: New Testament (22 vols.)
System Requirements
Windows
Minimum OS update: Win 7 SP1, Win 8.1, or Win 10 Anniversary Update (Version 1607)
2GB RAM
1024x768 Display
30GB Free Space - Internal HDD/SSD Only (may require additional space depending on your library)
Internet connection (for activation, updates, and some features)
Mac
OS X "El Capitan" 10.11 or higher
2GB RAM
30GB Free Space - Internal HDD/SSD Only (may require additional space depending on your library)
Internet connection (for activation, updates, and some features)