Mobile Ed: NT343 Book Study: Paul's Letter to the Ephesians (8 hour course)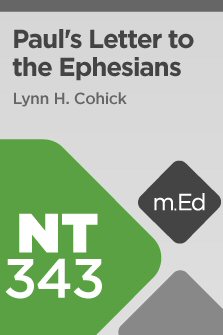 Mobile Ed: NT343 Book Study: Paul's Letter to the Ephesians (8 hour course)
•
Runs on Windows, Mac and mobile.
Overview
Learn from New Testament and Pauline studies expert Dr. Lynn Cohick as she guides you through each chapter and theological concept in Ephesians, including salvation, the Trinity, and the church. She devotes additional time to exploring God's vision for marriage, and the institution of slavery. She also explains various interpretive theories—like the new perspective on Paul—and how these theories compare with traditional ideas.
Dr. Cohick's goal is for you to become better equipped to read the rest of Paul's letters and more confident in reading the Bible as a whole by better understanding the theology, history, and interpretive possibilities of Paul's Letter to the Ephesians, and for you to grow in your faith each step of the way.
Learning Objectives
Upon successful completion you should be able to:
Follow the thematic arc of Paul's letter to the Ephesians
Compare the traditional view on Paul's ideas to the new perspective
Connect concepts like spiritual adoption to the heart
Course Outline
Introduction to Ephesians
Adopted by God (Eph 1:1–23)
We Are No Longer Strangers (Eph 2:1–22)
The Mystery of the Gospel (Eph 3:1–21)
Being Equipped for Ministry (Eph 4:1–32)
How We Imitate God (Eph 5:1–33)
Special Topic: Ephesian Household Codes
Special Topic: Marriage in the NT World
Put On the Armor of God (Eph 6:1–21)
Conclusion
Product Details
Title: NT343 Book Study: Paul's Letter to the Ephesians
Instructor: Lynn H. Cohick
Publisher: Lexham Press
Publication Date: 2015
Product Type: Logos Mobile Education
Resource Type: Courseware, including transcripts, audio, and video resources
Courses: 1
Video Hours: 8
About the Instructor
Dr. Lynn H. Cohick is professor of New Testament at Wheaton College. Dr. Cohick's special interests include women in the ancient world, the ways that Jews and Christians lived out their faith in the Graeco-Roman world, and building understanding between Jews and Christians today. She has written commentaries on Ephesians and Galatians, Women in the World of the Earliest Christians and coauthored The New Testament in Antiquity.
Getting the most out of Mobile Ed
Logos Mobile Education is a highly effective cross-platform learning environment that integrates world class teaching with the powerful study tools and theological libraries available in Logos Bible Software. Every course provides links to additional resources and suggested readings that supplement the lecture material at the end of every transcript segment.
This course was produced with screencast videos. These videos provide tutorials showing you how to use Logos Bible Software in ways that are tied directly into the content of the course. We are now producing Activities resources as a replacement for screencast videos. We plan on updating this course to include this additional Activities resource in the future for no extra charge.
More details about these resources