Bible Study Magazine—March–April 2016 Issue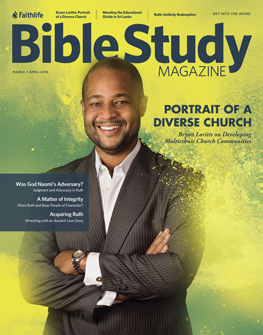 Bible Study Magazine—March–April 2016 Issue
Overview
Get Bible Study Magazine now by purchasing the March–April 2016 back issue for $3.95. That's 20% off the newsstand price of $4.95!
Bible Study Magazine is a print magazine (not an emagazine) published by Lexham Press. Six times a year, Bible Study Magazine delivers tools and methods for Bible study as well as insights from respected teachers, professors, historians, and archeologists.
Read pastor profiles, author interviews, and stories of individuals whose thoughtful engagement with Scripture has shaped their thinking and defined their ministries. Bible Study Magazine reveals the impact of God's Word in their lives—and the power of Scripture in yours.
We have a limited supply of back issues of the March–April 2016 Bible Study Magazine. Get your copy while you still can!
Each Issue of Bible Study Magazine Includes:
Feature Stories
Discover new ways to connect the Bible with your ministry and life through in-depth interviews and articles from the biggest names in the church and biblical scholarship.
Bible Study Tips
Explore the Word—thoughtful and engaging authors tackle the tough passages in Scripture, explain difficult concepts, and confront complex interpretations in a way that helps the Gospel make sense in your life.
On the Cutting Edge
Keep up to date on the latest news in biblical research, including archaeological and historical findings.
A New Kind of Bible Study
Encounter God by yourself or with other believers with an ongoing Bible study in each issue.
On Teaching
Get advice on how to preach or teach the Bible in any setting from well-known pastors and teachers who use the Bible every day.
Tool Box
Learn how to effectively use the latest Bible study tools with our how-to guides.
In the News
Keep informed about the latest news in biblically related topics, discoveries, and events.
Thoughts from the Ancients
Read the Bible together with those who have come before you, and learn from the wisdom of the early church—in its own words.
Word Studies
Get a close-up view of the Bible! Each issue contains insights about specific words found in the Bible and tutorials on how to do word studies.
If Only Someone Would Explain It to Me
Enrich your understanding of the Bible with explanations of biblical and theological concepts by top scholars.
Did You Know?
Discover interesting facts about the place of the Bible in the contemporary and the ancient world.
What They Don't Tell You in Church
See things you never noticed in biblical passages you have read dozens of times.
Biblical Humor
The funniest stories and the best comics related to the Bible, useful for any setting.
Book Reviews
Stay on top of the latest books about Bible study. Each issue contains reviews of books and commentaries to equip you in your study of God's Word.
Excerpts from the March–April 2016 Issue!
Bryan Loritts—Portrait of a Diverse Church
'The most segregated hour of Christian America is 11 o'clock on Sunday morning.' Sixty years later, that statement by Dr. Martin Luther King Jr. is still true for many churches. But Bryan Loritts, pastor for preaching and mission at Trinity Grace Church in New York City, is part of a growing movement to guide American churches through the process of becoming multiethnic communities, and he's hopeful about the progress he's seen.
—Jesse Strong
Mending the Educational Divide: Paving a Future for Sri Lankan Christianity
Lal Senanayake, president of Lanka Bible College in Kandy, Sri Lanka, grew up in a small Sri Lankan Buddhist village with 11 brothers and sisters. He laughs when he thinks back to his childhood impressions of Jesus. 'The only thing I knew about Christianity was that Jesus died because he was stealing sheep. My friends and I had seen pictures of the crucifixion of Christ, and we also saw pictures of him with a lamb in his hand. So we connected the two.'
—Jesse Strong
Ordinary Obedience
For years, my life seemed far too ordinary for God to be involved in it. It was difficult to feel his presence in the common rhythms of work, church, eat, sleep. I knew the truth of his omnipresence, but he still felt distant. In the perceived absence of his voice, I began to seek people's approval rather than God's. I became the whitewashed tomb that Jesus spoke of in Matthew 23:27: outwardly doing good but not obeying the Lord in my heart, mind, and soul.
—Aubry Smith
From Bitter to Blessed
My wife and I were devastated when we learned that our second and final attempt at in vitro fertilization had failed. While we knew the procedure offered no guarantees, we had hoped and prayed that God would use this long, emotional, and expensive process to bless us with a family. Instead, it seemed that all of our trusting, praying, and waiting was for nothing. When you expect to receive good things from God but get bad news instead, it's difficult to know how to react. What's an appropriate response to personal tragedy?
—Miles Custis