The Challenge of the Gospel: Reflections on the Sunday Gospels (3 vols.)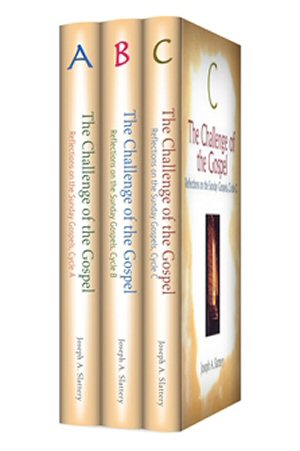 The Challenge of the Gospel: Reflections on the Sunday Gospels (3 vols.)
•
Runs on Windows, Mac and mobile.
Your Custom Discount
Reg. Price $32.99
Sale Price $24.99
Your Price $24.99
You Save $8.00 24%
Your Price
What's Pre-Pub?
$24.99
Reg.: $32.99
Print: $47.85
Overview
In this series of reflections on the Gospel Readings, Joseph A. Slattery challenges us to deny ourselves, take up our cross each day and to follow in the footsteps of Jesus. By pointing out the ways the Gospel message must be lived to bear fruit in our lives and in the world, Father Slattery afflicts the comfortable and comforts the afflicted by challenging us to take that message to heart and to put it into practice every day. All who consult these volumes will find their lives and liturgical worship meaningfully enhanced by a careful consideration and application of the thoughts and sentiments expressed by Father Slattery. Priests and deacons will likewise find much that will be helpful in their homily preparation.
In the Logos editions, these volumes are enhanced by amazing functionality. Important terms link to dictionaries, encyclopedias, and a wealth of other resources in your digital library. Perform powerful searches to find exactly what you're looking for. Take the discussion with you using tablet and mobile apps. Your software brings the most efficient and comprehensive research tools together in one place, so you get the most out of your study.
Key Features
Provides reflections on the Gospel Readings for years A, B, and C
Offers perspective from a priest who has ministered in multiple countries
Focuses on the Gospel message of love of God and neighbor
Praise for the Series
Father Slattery understands that the true gift in preaching is discovery. . . . His Sunday reflections are exercises in reflection as a means of spiritual development. The reflections are not exhaustive exegeses but are rather lessons learned from his encounters with the world and the Scriptures. They are lessons learned from his own experiences. But having been ordained in Dublin, ministered in Virginia, studied at Catholic University, lectured in Pretoria, and teaching in Namibia, Father Slattery's experiences are neither shallow nor parochial. The reflections average two pages in length.
—Catholic Library World
Product Details
Title: The Challenge of the Gospel: Reflections on the Sunday Gospels
Author: Joseph A. Slattery
Series: The Challenge of the Gospel
Publisher: Alba House
Volumes: 3
Pages: 507
Christian Group: Catholic
Resource Type: Sermons
Topic: Preaching Resources
Individual Titles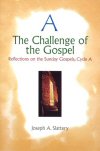 The challenge of the Gospel message is to so love God and neighbor that we change the less desirable aspects of ourselves and the world into the ideal that God had when he created the earth and all that dwells therein. Each Sunday some aspect of that challenge is placed before us in these brief reflections on the Gospels for Cycle A of the liturgical readings.
Pastor, missionary, and diocesan administrator, Joseph Slattery has written a number of helpful reflections on the Lectionary cycles. This latest volume focuses on the Sunday Gospels in the A cycle. The approach is not that of a commentary on the biblical texts but of reflective essays for each Sunday that draw on the inspiration of the biblical texts and already provide application to Christian life. Homilists looking for leads or others simply wanting some solid spiritual reading will appreciate this volume.
—The Bible Today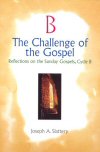 Issues of social justice and peace frequently surface in the Gospel of Mark which so dominates the readings for this cycle of the liturgical year. These thoughtful reflections challenge us to look more carefully into the meaning of our lives and to ask ourselves what God is calling us to do as his instruments here on earth. Priests and deacons will find much material that will be helpful in their homily preparation. And the average person in the pew will find much to ponder here for their own growth in the Spirit.
With particular attention to passages from Mark's Gospel, this volume presents reflections on the lectionary readings for Year B chosen for Sundays and feast days in the liturgical cycle. They emphasize issues of social justice and peace, as well as challenges to look more carefully into the meaning of life and one's relationship with God.
—New Testament Abstracts

In this third and final volume of his reflections on the Sunday Gospels, Joseph A. Slattery shows how St. Luke—whose writings dominate the readings for Cycle C—manifests the compassion and love of Jesus for the poor, the downtrodden and the outcasts of this world.
This volume completes a trilogy of books on the Sunday gospel selections of the lectionary cycles. The readings themselves are referenced but not included, and this is not intended as a commentary on the biblical text itself. Rather, the author draws on his experience as a parish priest and as a missionary to Africa to present full-blown meditations or brief homilies inspired by the biblical passages and by his rich pastoral background and sensitivity. Those looking for solid spiritual reading and homilists searching for good ideas will appreciate this book.
—The Bible Today
About Joseph A. Slattery
Joseph A. Slattery is an Irish-born priest, author, and professor. Emigrating from Dublin, Ireland, Fr. Slattery was ordained in America in 1966, for the diocese of Richmond, Virginia. He received his PhD in religious studies from the Catholic University in Washington, DC in 1980 and coauthored a catechetical series for grades seven through twelve entitled I Call You Friends with Margrit Banta. After spending several years in parish and adult education work he was named director of ministry to Priests for the Southern African Catholic Bishops' Conference while lecturing part-time at St. John Vianney National Seminary in Pretoria (1997-2002). He took leave from the Richmond diocese to teach courses in biblical and pastoral studies at St. Charles Lwanga National Seminary in Windhoek, Namibia.