Bible Study Magazine—July–August 2015 Issue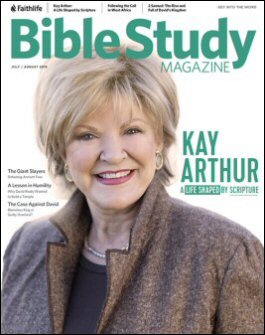 Bible Study Magazine—July–August 2015 Issue
Overview
Get Bible Study Magazine now by purchasing the July–August 2015 back issue for $3.95. That's 20% off the newsstand price of $4.95!
Bible Study Magazine is a print magazine (not an emagazine) published by Lexham Press. Six times a year, Bible Study Magazine delivers tools and methods for Bible study as well as insights from respected teachers, professors, historians, and archeologists.
Read pastor profiles, author interviews, and stories of individuals whose thoughtful engagement with Scripture has shaped their thinking and defined their ministries. Bible Study Magazine reveals the impact of God's Word in their lives—and the power of Scripture in yours.
Each Issue of Bible Study Magazine Includes:
Feature Stories
Discover new ways to connect the Bible with your ministry and life through in-depth interviews and articles from the biggest names in the church and biblical scholarship.
Bible Study Tips
Explore the Word—thoughtful and engaging authors tackle the tough passages in Scripture, explain difficult concepts, and confront complex interpretations in a way that helps the Gospel make sense in your life.
On the Cutting Edge
Keep up to date on the latest news in biblical research, including archaeological and historical findings.
A New Kind of Bible Study
Encounter God by yourself or with other believers with an ongoing Bible study in each issue.
On Teaching
Get advice on how to preach or teach the Bible in any setting from well-known pastors and teachers who use the Bible every day.
Tool Box
Learn how to effectively use the latest Bible study tools with our how-to guides.
In the News
Keep informed about the latest news in biblically related topics, discoveries, and events.
Thoughts from the Ancients
Read the Bible together with those who have come before you, and learn from the wisdom of the early church—in its own words.
Word Studies
Get a close-up view of the Bible! Each issue contains insights about specific words found in the Bible and tutorials on how to do word studies.
If Only Someone Would Explain It to Me
Enrich your understanding of the Bible with explanations of biblical and theological concepts by top scholars.
Did You Know?
Discover interesting facts about the place of the Bible in the contemporary and the ancient world.
What They Don't Tell You in Church
See things you never noticed in biblical passages you have read dozens of times.
Biblical Humor
The funniest stories and the best comics related to the Bible, useful for any setting.
Book Reviews
Stay on top of the latest books about Bible study. Each issue contains reviews of books and commentaries to equip you in your study of God's Word.
Excerpts from the July–August 2015 Issue!
Kay Arthur: A Life Shaped by Scripture
Long before writing more than 100 Bible studies or co-founding Precept Ministries, Kay Arthur stood in the living room of her rented condo and shook her fist at God. Arthur had married young and had two children. But her husband's unrecognized and therefore untreated bipolar condition led to their divorce. The end of her marriage dissolved what little familiarity she had with God. "My ideal was shattered. I stood in the living room, shook my fist in the face of God, and said, 'To hell with you, God. I'm going to find someone to love me.' I went to look for love—and I discovered that sin will cost you more than you ever expected to pay."—Jessi Strong
Following the Call in West Africa: Yacouba Sanon
Sanon is excited to train the next generation of scholars and pastors within their cultural context and in their local language. "The religious landscape in West Africa has changed since the 90s: The church is growing fast, the urban middle class is growing fast, and there are more educated people in churches. "There are many African-initiated churches that are led by pastors who have little or no theological training. Pastors without access to education have a hard time meeting the needs of people with university degrees. So my classes are full of young people willing to learn. It's encouraging to see people who have started some kind of ministry—pastoring or teaching somewhere—realize that they need additional education. Several of my students lead churches, but they did not have previous formal training. So they are able to recognize the mistakes they used to make in interpreting the Word."—Jessi Strong
Not Your Average Bible Study: We Are Refugees: 8 Weeks in 1 Peter
If you knew that the end of all things was at hand, what would you do? This question drives the ending of Peter's letter, as he places us at the judgment seat of God. Peter has told us what God has done—how he was willing to die for us as a man and even was willing to go to the deepest darkness to proclaim the good news of salvation. He tells us that Jesus is now our risen Lord. Peter has explained what it means to follow Jesus despite persecution and difficulty, and he has shown us the cosmic scope of God's work since ancient times. With this holistic perspective in mind, we are asked how we will respond. In this 8-week study, we will explore some very personal advice from Peter on how to live as a believer in Jesus. Essentially, Peter asks us, "Do you love Jesus, really?"—just like Jesus had asked him (John 21:15–19).—John Barry
Special Section: The Rise of Fall of David's Kingdom
Defeating Ancient Foes
The story of David's victory over the Philistine giant Goliath is wellknown (1 Sam 17). But Goliath wasn't the only giant to fall in David's time. In 2 Samuel 21, David's mighty men defeat four Philistine warriors who are described as mammoth in size (21:16–22). Who were these giant men, and why is their defeat important? The answer lies in the backstory.—Michael S. Heiser
The Case Against David
The story of David and Bathsheba, one the Bible's most infamous and scandalous narratives, often serves as a cautionary tale for married couples. A surface reading of 2 Samuel 11 might lead us to conclude only that David and Bathsheba were guilty of adultery and together faced God's judgment. Yet the narrator of 2 Samuel uses several techniques to emphasize King David's culpability, exposing not only his adulterous actions, but his abuse of power.—Greg Trull
We have a limited supply of back issues of the July-August 2015 Bible Study Magazine. Get your copy while you still can!
Key Features
Kay Arthur: A Life Shaped by Scripture
Following the Call in West Africa: Yacouba Sanon
Not Your Average Bible Study: We Are Refugees: 8 Weeks in 1 Peter
Special Section: The Rise of Fall of David's Kingdom
Product Details
Title: Bible Study Magazine—July–August 2015 Issue
Editor-in-Chief: Rebecca Van Noord
Academic Editor: Michael S. Heiser
Art Director: Christine Gerhart
Graphic Designers: Jim LePage, Patrick Fore, and Josh Warren
Advertising Sales: Kevin Bratcher
Marketing: Dan Pritchett, Phil Gons, Katie Monsma, and Scott Lindsey
Series: Bible Study Magazine
Publisher: Lexham Press
Resource Type: Magazine
Topic: Biblical Studies