Zondervan Exegetical Commentary on the New Testament (ZECNT) (10 vols.)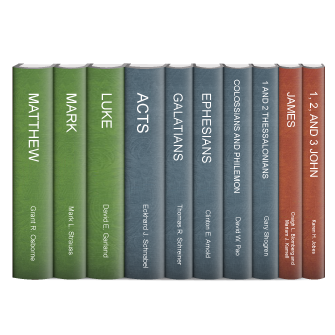 Zondervan Exegetical Commentary on the New Testament (ZECNT) (10 vols.)
•
Runs on Windows, Mac and mobile.
Overview
Examine the Greek New Testament in unparalleled depth with the Zondervan Exegetical Commentary on the New Testament. This is the only commentary series with a theology in application section and identification of the main idea for each section. Each volume provides an exegetical outline with verse-by-verse commentary, designed to offer the most thorough examination of the text and themes of Scripture.
The aim of the series is not to review and critique every possible interpretation of a passage, but rather to exegete each passage of Scripture succinctly in its grammatical and historical context. Each passage is interpreted in the light of its biblical setting with attention to grammatical detail, literary context, flow of biblical argument, and historical setting. These texts are written primarily for pastors and Bible teachers, but its attention to contemporary issues in the church makes it a focused resource for anyone teaching, preaching, or studying these passages.
Since the Zondervan Exegetical Commentary on the New Testament is fully integrated with Logos, Scripture passages link to your English translation for quick reference, or to your Greek texts for original-language study. You can also read it along with your Bible dictionaries, encyclopedias, and the wealth of other Bible study tools in your digital library.
Acts by Eckhard J. Schnabel won the Christian Book Award for best Bible Reference of 2013
Key Features
Examines the biblical text in its original context
Provides verse-by-verse commentary
Includes thorough introductions
Product Details
More details about these resources