Mobile Ed: PD171 Biblical Soul Care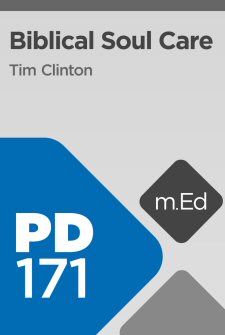 Mobile Ed: PD171 Biblical Soul Care
•
Runs on Windows and Mac.
Overview
For those who have a passion for helping others and who would appreciate the foundation of Bible-based counseling training, Dr. Timothy Clinton offers PD171 Biblical Soul Care. PD171 presents the intersection of psychology and faith in the practice of counseling and explores the increasing need for a response to the stresses of twenty-first century American life. The course draws on numerous biblical passages to augment psychology's explanations and treatment suggestions for a distressed person's needs and is replete with examples from Dr. Clinton's experience as a practicing counselor. This course will help you become better prepared for the counseling demands in your ministry and life in general.
Learning Objectives
Upon successful completion you should be able to:
Discuss the stressors that have caused an increase in psychological problems in contemporary culture
Describe the effects those stressors have had on marriages and human wellbeing in our culture
Explain attachment theory as a model of human relationship development
Explain the process of change
Discuss specific problems, such as suffering, anger, addiction, and depression in relation to their causes, effects, and treatment options
Course Outline
Unit 1: Becoming a Life Coach
A Calling to Help People
Modern Day Life: People Are Hurting, Part 1
Modern Day Life: People Are Hurting, Part 2
People Are Searching
Answering God's Call
Strength for the Journey
Developing an Eternal Perspective
Bible Passages for Developing Soul Care
Unit 2: Attachment Model
Made for Relationships
Attachments vs. Close Relationships
You/Me Model
Ambivalent Attachment
Disorganized Attachment
Secure Attachment
Breaking Free
Unit 3: "A" Model
A Model for Breaking Free
Losing Heart
Aloneness
Alienation
Adulteries of the Heart
Recovery of the Heart
Attachment
Unit 4: Lessons Learned in the Counselor's Chair
You Can't Treat What You Don't See
Entering into the Darkness Is Dangerous and Difficult Work
The Past Isn't the Past If It Affects the Present
It's about Light, Not Darkness
You Can't Give What You Don't Have
It's All about Relationships
It Takes a Village
Unit 5: Change Your Life
New Year's Resolutions
Stay Teachable; Take Action
Be Passionate; Choose to Be Happy
Be Forgiving and Compassionate; Be Persistent
Unit 6: Love on the Rocks
Marriage on the Rocks
Everyday Pressures That Tear at Love, Part 1
Everyday Pressures That Tear at Love, Part 2
Distancing
Disaffection
Trading Our Sorrows for New Life
Love and Safety
United with Purpose
Unit 7: Personal and Professional Considerations
Knowledge
Helping Skills
The Heart
Mistakes
Pain
Counseling as Discipleship
Core Skills
Common Impediments to Healing
Unit 8: God and You
What We Know about God
What God Knows about Us
God Knows Our Future
Unit 9: Suffering
God Never Wastes a Wound
Why Suffering?
His Presence Is Enough
Help in Times of Trouble
Unit 10: Anger
Definition of Anger and Key Thoughts
Action Steps
Unit 11: Addiction
Definitions of Addiction and Key Thoughts
Characteristics of an Addiction
Unit 12: Depression
Types of Depression
Symptoms and Treatment of Depression
Product Details
Title: PD171 Biblical Soul Care
Instructor: Tim Clinton
Publisher: Lexham Press
Publication Date: 2015
Product Type: Logos Mobile Education
Resource Type: Courseware, including transcripts, audio, and video resources
Courses: 1
Video Hours: 8
About Tim Clinton
Tim Clinton, EdD is the president of the nearly 50,000-member American Association of Christian Counselors (AACC), the largest and most diverse Christian counseling association in the world. He is professor of counseling and pastoral care and executive director of the Center for Counseling and Family Studies at Liberty University in Lynchburg, VA. Licensed in Virginia as both a professional counselor and a marriage and family therapist, Dr. Clinton now spends a majority of his time working with Christian leaders and professional athletes. He has authored over 20 books and is recognized as a world leader in faith and mental health issues. Dr. Clinton has been married to the love of his life, Julie, for more than 30 years. They have two children, Megan and Zach.
Getting the most out of Mobile Ed
Mobile Ed's integration with Logos Bible Software creates an unparalleled learning environment. Lectures are fully searchable and linked to the rest of your library. We transcribe every word so you can focus on adding your own reflections as you watch and read along. Suggested readings open with a click, and video tutorials show you how to use Logos to research your topic even further.
With any Logos base package, you will be able to view the lectures and interact with the transcripts. For the best learning experience, we recommend Logos Platinum.
Readings for the courses are often tailored to Platinum because the larger library provides access to a wide range of suggested resources and increases search results for further study.
The Platinum collection best matches the resources used in video tutorials. It includes a breadth of commentaries, original-language studies, and over 1,400 resources to deepen your study.
More details about these resources