Bible Study Magazine—March–April 2015 Issue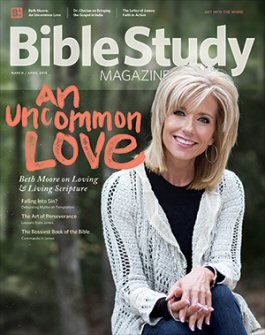 Bible Study Magazine—March–April 2015 Issue
Overview
Get Bible Study Magazine now by purchasing the March–April 2015 back issue for $3.95. That's 20% off the newsstand price of $4.95!
Bible Study Magazine is a print magazine (not an emagazine) published by Lexham Press. Six times a year, Bible Study Magazine delivers tools and methods for Bible study as well as insights from respected teachers, professors, historians, and archeologists.
Read pastor profiles, author interviews, and stories of individuals whose thoughtful engagement with Scripture has shaped their thinking and defined their ministries. Bible Study Magazine reveals the impact of God's Word in their lives—and the power of Scripture in yours.
Each Issue of Bible Study Magazine Includes:
Feature Stories
Discover new ways to connect the Bible with your ministry and life through in-depth interviews and articles from the biggest names in the church and biblical scholarship.
Bible Study Tips
Explore the Word—thoughtful and engaging authors tackle the tough passages in Scripture, explain difficult concepts, and confront complex interpretations in a way that helps the Gospel make sense in your life.
On the Cutting Edge
Keep up to date on the latest news in biblical research, including archaeological and historical findings.
A New Kind of Bible Study
Encounter God by yourself or with other believers with an ongoing Bible study in each issue.
On Teaching
Get advice on how to preach or teach the Bible in any setting from well-known pastors and teachers who use the Bible every day.
Tool Box
Learn how to effectively use the latest Bible study tools with our how-to guides.
In the News
Keep informed about the latest news in biblically related topics, discoveries, and events.
Thoughts from the Ancients
Read the Bible together with those who have come before you, and learn from the wisdom of the early church—in its own words.
Word Studies
Get a close-up view of the Bible! Each issue contains insights about specific words found in the Bible and tutorials on how to do word studies.
If Only Someone Would Explain It to Me
Enrich your understanding of the Bible with explanations of biblical and theological concepts by top scholars.
Did You Know?
Discover interesting facts about the place of the Bible in the contemporary and the ancient world.
What They Don't Tell You in Church
See things you never noticed in biblical passages you have read dozens of times.
Biblical Humor
The funniest stories and the best comics related to the Bible, useful for any setting.
Book Reviews
Stay on top of the latest books about Bible study. Each issue contains reviews of books and commentaries to equip you in your study of God's Word.
Excerpts from the March–April 2015 Issue!
Beth Moore: An Uncommon Love
Speaker and Bible study author Beth Moore is passionate about equipping her students in Bible study. "When I get a chance to speak specifically with young women, I tell them that with a minimum understanding of Scripture, you can come to a saving knowledge of Jesus Christ. But you cannot be equipped in your calling unless you have an ongoing relationship with God and his Word. You cannot be a disciple of God and sidestep his Word. Every believer is called to study the Bible. And no matter what our ministry area is—whether we minister to single moms, the poor, students, senior adults—whatever we are called to, we are equipped through the Scriptures."—Jessi Strong
The Gospel in a Diverse Place
Dr. Jacob Cherian is on a mission to educate pastors and lay-people in his home country of India, where Christianity is on the rise, but resources are scarce. Most Western Bible study material is naturally geared toward Christians from a Western background. But Cherian is part of a growing group of scholars dedicated to providing resources for Christians in South Asian cultures. They have unique insight into the relevancy of Scripture in this context. "Proverbs are ancient wisdom. India also has traditions of proverbs. In Tamil Nadu, a state in southern India, there was a famous poet, and there are people who follow the teachings of that poet as a religion. So commentators or scholars in south India writing on the book of Proverbs must compare and interact with this poet."—Jessi Strong
Not Your Average Bible Study—We Are Refugees: 8 Weeks in 1 Peter
Our newsfeeds fill with stories of humanity's depravity. Our friends share how their spouses and loved ones have wounded them. Our church seems to be going down the wrong path. What can one person do about all of this mess? "I can't even get my own head clear," we think, "so how can I help anyone else?" First Peter has answers. Writing to persecuted Christians (perhaps around the early ad 60s), Peter says that there is hope. By the great mercy of God our Father—and by the power of Jesus Christ, our Lord—we can persevere. Peter explains that we're made to change our world—and that starts with Christ changing us.—John D. Barry
Special Section—Faith in Action: James
The Father of Lights
The book of James deserves its reputation as one of the more practical, down-to-earth books in the New Testament. But while mining its riches for Christian living, we can easily overlook the powerful theological statements tucked away in this short letter. This one appears in the first chapter: Every good gift and every perfect gift is from above, coming down from the Father of lights with whom there is no variation or shadow due to change (Jas 1:17).—Michael S. Heiser
Taming the Tongue
Flippant remarks can sometimes have unintended consequences. James' teachings on "the tongue" illustrate how our words can cause incredible devastation. Although his comments are addressed to teachers (3:1), they apply to every Christian. We will be judged for our words (Matt 12:36–37), and though they should reflect God's perfect character, they are often harmful and destructive instead.—Matt Morton
We have a limited supply of back issues of the March-April 2015 Bible Study Magazine. Get your copy while you still can!
Key Features
Beth Moore: An Uncommon Love
The Gospel in a Diverse Place
We Are Refugees: 8 Weeks in 1 Peter
The Father of Lights
Product Details
Title: Bible Study Magazine—March–April 2015 Issue
Editor-in-Chief: Rebecca Van Noord
Academic Editor: Michael S. Heiser
Art Director: Christine Gerhart
Graphic Designers: Jim LePage, Patrick Fore, and Josh Warren
Advertising Sales: Chris Cano and Kevin Bratcher
Marketing: Dan Pritchett, Phil Gons, Katie Monsma, and Scott Lindsey
Series: Bible Study Magazine
Publisher: Lexham Press
Resource Type: Magazine
Topic: Biblical Studies