Live in Liberty: The Spiritual Message of Galatians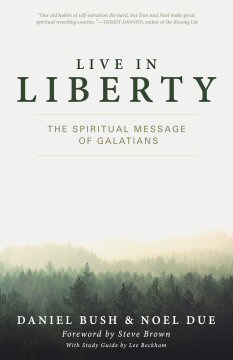 Live in Liberty: The Spiritual Message of Galatians
•
Runs on Windows, Mac and mobile.
Liberty through the Gospel
A systemic problem plagues the local and global church: we habitually lose the gospel. The gospel has been equated with everything from personal prosperity to laws for virtuous living. But all such perceptions paralyze the mission of the church, which is aimed at finding true abundant and joyful life in Christ.
In Galatians, the Apostle Paul engages in a passionate defense of the gospel. It may be a short book, but the consequences of its teaching are truly enormous. Martin Luther found such joy and peace in its pages that he said, "The Epistle to the Galatians is my epistle. To it I am as it were in wedlock. It is my Katherine"—Luther's beloved wife.
The critical message of Galatians takes us into the heart of an experience—the enjoyment of God's presence and everlasting peace—one which sets us free to love and be loved. In Live in Liberty, Daniel Bush and Noel Due bring out the spiritual message of Paul's words, helping you apply it to your mind and soul so that you may experience the liberating presence of God. Also included is a study guide by Lee Beckham.
Praise for Live in Liberty
Dan and Noel winsomely invite us to cultivate a habit of believing the Gospel. That means looking constantly to Christ Jesus alone for acceptance, assurance and even adoption as the Father's sons. Our old habits of self-salvation die hard, but Dan and Noel make great spiritual wrestling coaches. Keep this book by your 'prayer chair.' Follow daily these 24 engaging encounters with Galatians and see how a habit of Christ will grow joyfully through you. Chock full of great quotes from both the old and the new masters of spiritual insight, Live in Liberty flows with a fresh writing style, knitting us in mind and heart to two companions along the way of grace.
—Rev. Dr . Gerrit Dawson, senior pastor, First Presbyterian Church, Baton Rouge, Louisiana
This skillful exposition of Paul's Epistle to the Galatians oscillates between two terms: "reformation" and "self-reformation." It is an ancient tension, and it is still with us. Relief is found in Christ and his cross. In every generation, the church threatens to lose the good news. This gripping book helps readers rediscover it. It deserves to find wide use among earnest seekers, study groups and college classrooms.
—Rev. Dr. Robert W. Yarbrough, Professor of New Testament, Covenant Theological Seminary
St. Paul's passionate defense and explanation of the new life and freedom that we have in Christ, is the heart of his letter to the Galatians. In this book Daniel Bush and Noel Due reignite this message—affirming that Christ brings to humans hearts and lives freedom, life, hope and peace. This book will inform and inspire readers who delight in the gospel.
—Noel Noack, bishop, Lutheran Church of Australia, Queensland District
Contents
Foreword by Steve Brown
Preface
Back to the Gospel
No Gospel at All
Not Man's Gospel
Gospel Shaped Unity
Staying in Step with the Gospel
Justified by Faith
Defeating the Legalist Within
Children of Abraham
The Righteous Live by Faith
The Promise Is for Keeps
Why then the Law?
Every Christian's Biography
Fully Adopted
Don't Sell Your Birthright
Who's Your Mama?
Christ Has Set Us Free
Running in the Pack
Liberty Is Not License
Walk by the Spirit
What Controls You?
Keeping in Step
The Truly Spiritual Life
Sowing to the Spirit
Boasting in the Gospel
The Live in Liberty Study Guide by Lee Beckham is included with your purchase of the digital edition as a stand-alone Logos resource.
Product Details
Title: Live in Liberty: The Spiritual Message of Galatians
Authors: Daniel Bush and Noel S. Due
Publisher: Lexham Press
Publication Date: 2015
Pages: 318
Format: Logos Digital, Paperback
Trim Size: 5.5x8.5
ISBN: 9781577996293
About the Authors
Daniel J. Bush is teaching pastor for NorthPointe Church, a new church plant in northern Kentucky. Dan holds a B.Sci. from Michigan Technological University, the M.Div. and Th.M. degrees from Trinity Evangelical Divinity School, and a Ph.D. in systematic theology from the University of Aberdeen (Scotland).
Noel S. Due is regional resourcing pastor for the Lutheran Church of Australia based in Cairns, Queensland. He has ministered as a pastor, lecturer, conference speaker for over 25 years. Originally a schoolteacher, Noel holds the degree of B.Th. (Hons) and the Graduate Diploma of Pastoral Studies from Flinders University of South Australia, and a D.Min. from Reformed Theological Seminary (Jackson, Mississippi).
Lee Beckham has over 25 years of lay ministry experience with churches, campus ministries, and military Christian fellowships. For the past 14 years, he has served as a ruling elder at Alexandria Presbyterian Church (Alexandria, VA), with responsibilities in administration, evangelism, missions, and lay counseling. He holds a B.Sci. from Rose-Hulman Institute of Technology and an M.Sci. from Georgia Institute of Technology.
Sample Pages from Live in Liberty
More details about these resources